Sliding doors have become a popular architectural feature in modern homes and commercial spaces, offering a perfect balance of functionality, aesthetics and space-saving design. In this article, we'll delve into the world of Sliding doors, exploring their various types, benefits and standard sizes. 
Whether you're considering incorporating Sliding doors into your home or office, or just simply curious about this innovative door solution, this in-depth analysis will provide you with valuable insights to make informed decisions and fully appreciate the beauty and versatility of these stunning doors.
What are Sliding Doors?
Sliding doors are a type of Patio door that moves horizontally along a track. To open and close the doors, you just need to simply slide them along the track, as opposed to swinging them via hinges (something you would need to do if you had French doors). Their space-saving design and aesthetic appeal make them a popular choice for both interior and exterior applications.
Sliding doors are made from materials such as glass, wood, aluminium or composite and are often used to create a stunningly seamless transition between indoor and outdoor areas, providing abundant natural light, as well as stunning panoramic views. They're also frequently used as part of patio/ balcony entrances, allowing quick and easy access to outdoor spaces.
Thanks to their sleek and modern design, Sliding doors have quickly become a popular architectural feature in contemporary homes, offices and commercial spaces. They boast the ability to enhance the aesthetics of a room while offering practical functionality and versatility.
Whether used as room dividers, closet doors or exterior access points, it's clear that Sliding doors have become a trend that is continuing to grow.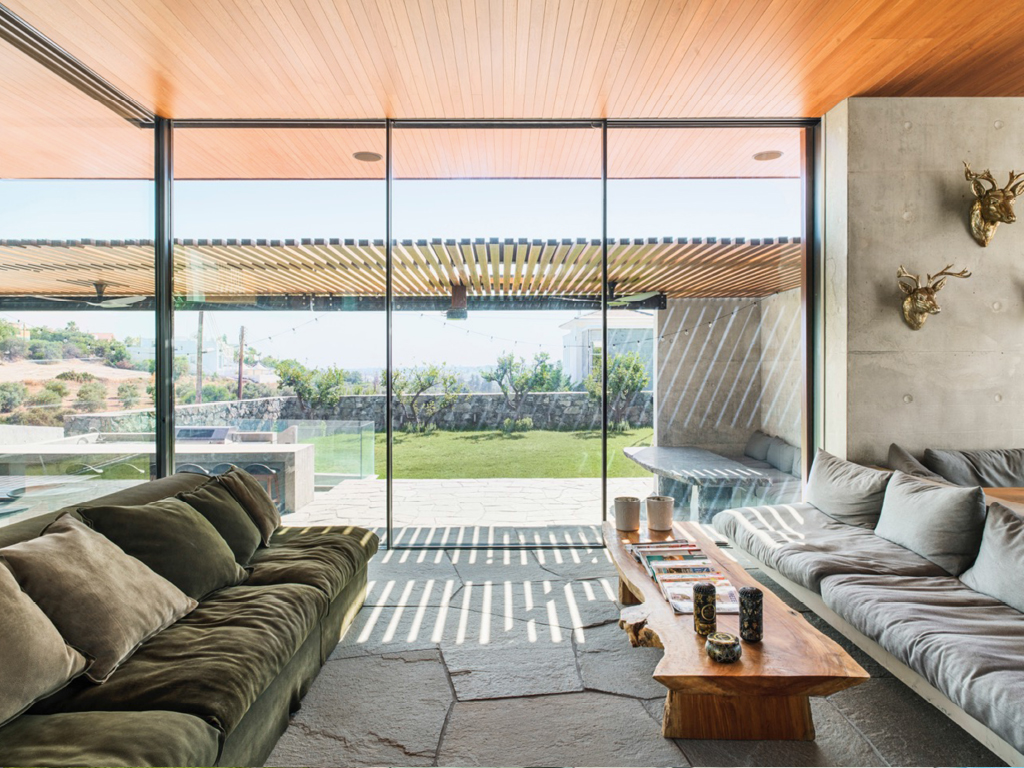 Sliding doors are extremely popular for their space-saving design.
Why should you choose Sliding doors?
Sliding doors offer many advantages over traditional hinged doors:
Space-saving design: With Sliding doors not needing swing clearance, this makes them the perfect choice for those who have limited space as they will allow for floor space and more flexible furniture placement.
Larger views: Sliding doors, particularly those constructed of aluminium, are capable of some very large sizes. For example, Cortizo Cor Vision Sliding Doors can achieve doors as wide as 2.7 metres and up to 3 metres high! This really offers stunning panoramic views of your outdoor space, and is the main reason sliding doors are starting to take over bi-folds in terms of popularity.
Natural light & views: You'll often find Sliding doors, particularly those made from glass, provide an abundance of natural light. They're also great for offering a panoramic view of the surrounding environment, whether you have a beautiful garden or a scenic landscape, or even a bustling cityscape.
Seamless indoor-outdoor connection: As mentioned previously, Sliding doors create a seamless transition between indoor and outdoor spaces, allowing you to enjoy the benefits of both areas simultaneously. This enhances the overall flow and connectivity of your living or working environment.
Easy operation: With Sliding doors being designed to glide smoothly along their tracks, they're effortless to open and close. This is extremely advantageous for those with limited mobility who require something easy to use. Lift and slide sliding doors take this a step further, as the doors jack up onto the tracks and make sliding even a 300kg door almost effortless.
Energy efficiency: Another benefit of choosing these doors is that they can improve the insulation of your space, especially if you choose energy efficient glass panels. They minimise heat loss in colder months and reduce heat gain in warmer months, therefore enhancing the overall energy efficiency of your home and possibly also reducing heating and cooling costs.
Stylish & Versatile: With a range of materials, designs and finishes to choose from, you can choose a style that compliments your interior or exterior decor. Depending on your preferences, the doors can either add a touch of modern elegance or a classic charm to your space.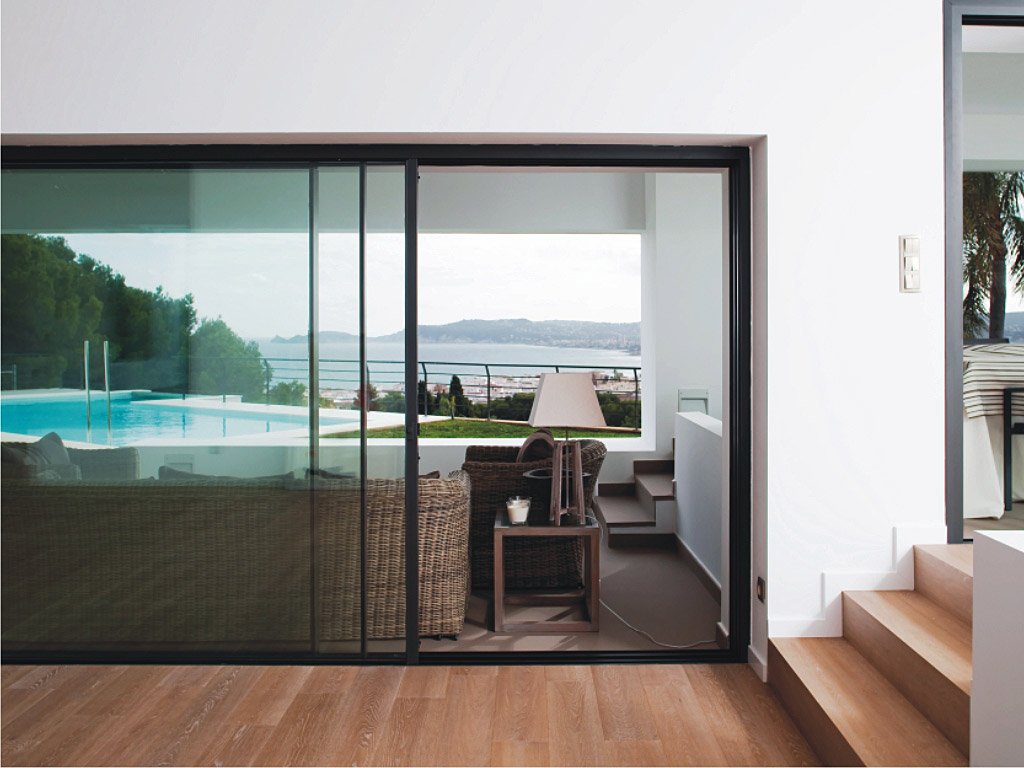 Besides maximising floor space, Sliding doors also instantly upgrade the home's overall aesthetics.
Why might Sliding doors not be right for you?
To help you with your decision on whether to go for these doors or not, here are a few reasons for why they might not be right for you:
Cost considerations – Sliding doors, especially those with high-quality materials and security features can be more expensive than traditional hinged doors. If you're on a tight budget, the initial cost may be a deterrent.
Maintenance challenges – Whilst the doors are generally low maintenance, they still need to be checked for dirt or obstructions in the tracks as these can hinder their movement.
Weather resistance – Certain types of Sliding doors, especially those with large glass panels may not provide the same level of weatherproofing as traditional solid doors. In regions with extreme weather conditions such as hurricanes or heavy snowfall, the doors may not be as energy efficient or protective.
The different types of Sliding doors
Here's a list of the main types of Sliding doors currently available:
Sliding patio doors
Bi-folding doors (a number of glazed doors that 'slide and fold')
Pocket sliding doors (doors that slide away into a hidden cavity in the wall)
Stacker sliding doors (sliding doors that stack on top of each other when opened) 
If you're struggling to choose between Sliding and Bi-folding doors, click here to read our article on this.
What is the standard size for Sliding doors?
It's always key to remember that whilst the doors come in a variety of standard sizes, they can also be custom made. This usually depends on the size of the room, along with the ability to accommodate door styles.
The general standard size for a glass Sliding door is normally about 2032mm in length, with the width being between 1524-1828.8mm, however it all depends on the amount of space available for the installation.
Are Sliding doors easy to break into?
Sliding doors, like any other type of door, can be vulnerable to break-ins if they are not properly secured. By adding different security measures, you can make them just as secure as any other type of door.
The following factors should be considered when looking into the security of Sliding doors:
Material Quality: The strength and durability of the door material plays a significant role in its security. Always opt for high-quality doors that are made from strong materials like aluminium for example.
Locking Systems: Install a reliable and sturdy locking system specifically designed for Sliding doors. Look for a Sliding door that offers an insurance approved multipoint locking system and ideally a 3 star euro cylinder. This will ensure the doors are resistant to attack. Make sure the lock has been installed properly and is functioning correctly.
Security Film or Laminated Glass: Consider adding a security film or using laminated glass for your Sliding doors. These measures will make it more difficult for intruders to break the glass and gain entry into your property.
Security Bars/ Grilles: Another option is to install security bars/ grilles on the Sliding doors as these physical barriers can provide an additional layer of protection.
Security Systems: Integrating motion sensor alarms or connecting your doors to a comprehensive security system can deter potential intruders. If triggered, the alarm will sound, quickly alerting you.
By implementing appropriate security measures, you can significantly enhance the security of the doors and minimise the risk of break-ins.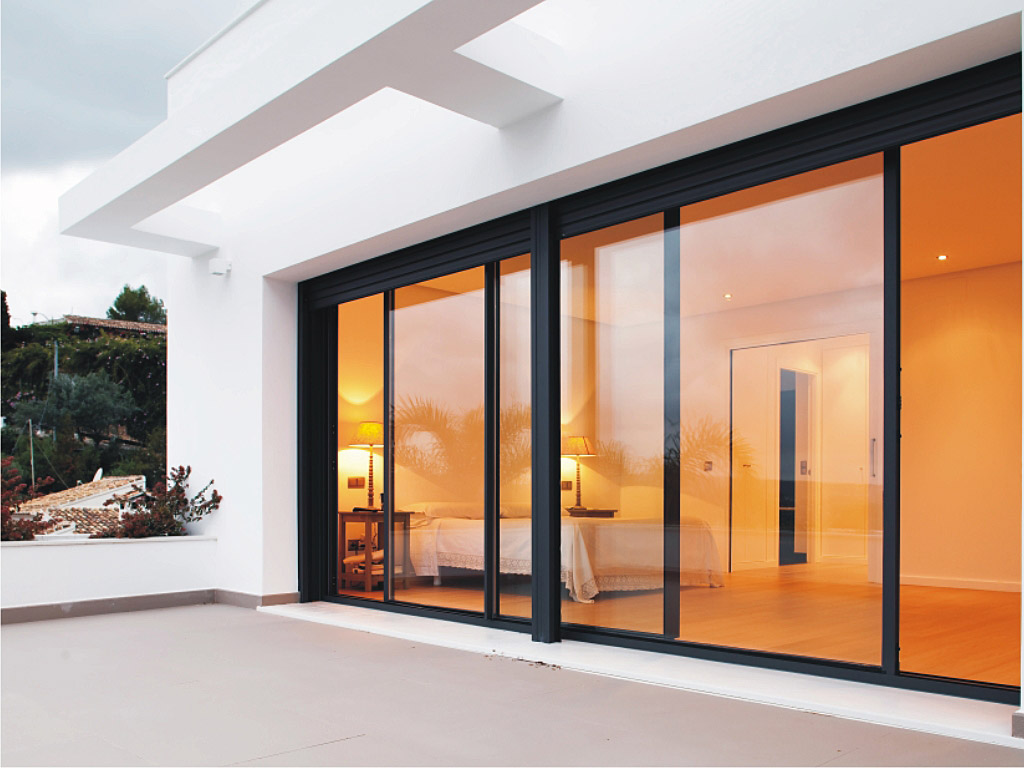 The Cortizo Cor Vision 2 pane Slimline Sliding door focuses on as little visible frame as possible.
Are Sliding doors high maintenance?
High quality doors in general, are low maintenance by nature. At the same time, it's always worth taking some time out once a year at least to check the doors and make sure they're operating properly and nothing is catching.
One pretty easy measure you can take to help reduce the possibility of door operation problems in the near future is to ensure that the track is always clean. This is as easy as removing any visible dirt, hoovering the track and wiping it down with a wet cloth.
Anything that needs major maintenance will be really obvious to spot and if you do spot something, you'll just need to contact your installer for advice.
Overall, Sliding doors offer practicality, aesthetic appeal and a large range of functional benefits that make them an attractive choice for both residential and commercial properties.
Find the perfect sliding door for you
As a crucial component of any living space, doors serve not only as entryways, but also as a means of ensuring security, privacy and energy efficiency.
Choosing the right doors for your home is vital because they contribute to the overall comfort and ambiance of each room. From the grand entrance doors that set the tone for your property's exterior to the interior doors that complement your interior design, making informed decisions is essential.
With Sliding doors becoming an increasingly popular choice for many homeowners, as well as the many benefits they offer to a home, they really are something to consider.
If you need a good place to start, we highly recommend our popular collection of Smart Visoglide Aluminium Sliding Patio Doors.
Still undecided on whether Sliding doors are the right choice for you? Just contact our team or call us on 01642 309576.
FAQs about Sliding Doors
What is the difference between Patio doors and Sliding doors? 
Sliding doors are a type of Patio door that consist of 2 or 3 panels that slide over one another, with one panel always remaining in the same place.
Are Sliding doors secure?
Like any other type of door, Sliding doors can be vulnerable to break- ins. However, as long as you put the right security measures in place (e.g. choose strong materials, opt for locking mechanisms/  security systems etc), you make the doors instantly more secure. 
How much are Sliding doors?
The prices of Sliding doors depend on the size you need. 
For our stunning collection of Sliding doors, the prices range from around £2,250 to £5545.
Do you need planning permission for Sliding doors?
If you're getting Sliding doors as a replacement, it's unlikely that you'll require planning permission. 
However, if your new doors are part of a home remodelling or you're getting an extension built, although most don't need planning permission, it's always recommended to double check with your local planning authority before you start.
What is the difference between sliding doors and normal doors?
Sliding doors operate on tracks, with one panel generally fixed in place, whereas normal doors open inwards or outwards using a hinge, just like traditional front doors and interior doors do.