Choosing a new door for your home can be an exciting but also very difficult decision with so many door designs to choose from. If you're looking for a type of door that is both stylish & functional, then Patio doors could be the perfect choice for you.
What is a patio door?
Originally designed for access to patios, decks or outdoor areas, Patio doors are a type of large door that either slides or swings open, offering convenient access between spaces. They're also constructed with a large amount of glass to maximise the amount of daylight entering the room, as well as to help provide unobstructed views of the outside environment. The glass panels are often supported by frames of material such as wood, vinyl, aluminium or fibreglass which provides a good level of structural integrity and insulation.
They're definitely a great type of door to choose if you're wanting to open up your home to let some light and fresh air in. With Patio doors, you're bringing the outdoors indoors, without the need to spend anything close to the cost of a conservatory or external extension. Over recent years, patio doors have become a very popular choice for residential buildings with popularity expected to increase even further.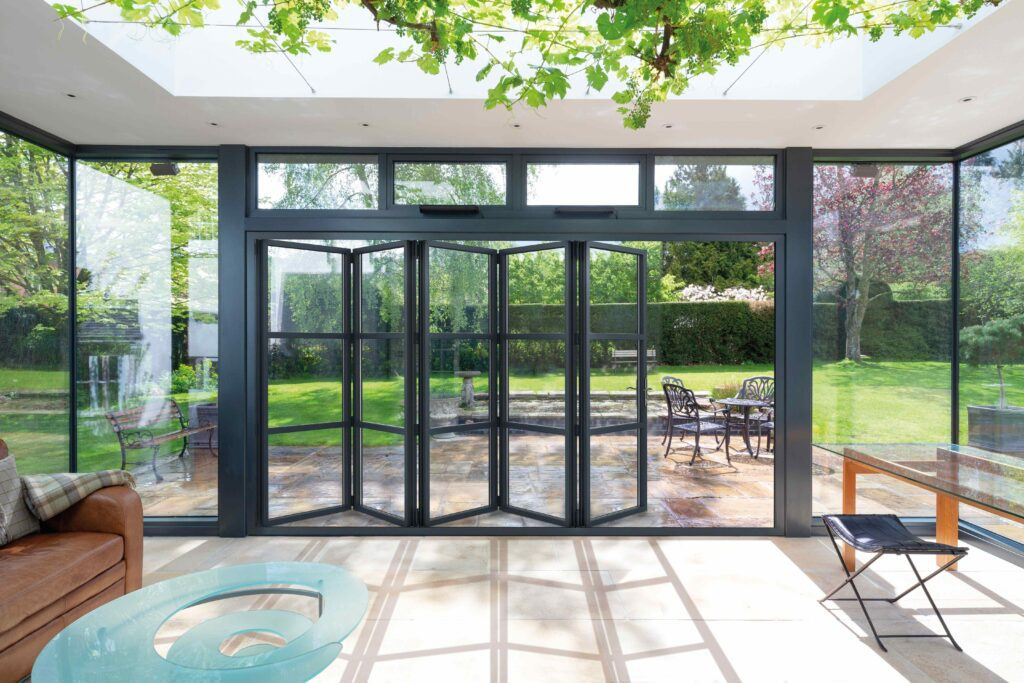 Check out our stunning range of crittall-inspired Bi-folds from our industrial styled collection.
What are the different types of patio doors?
There are 3 main types of patio doors; French, Sliding & Bi-fold. Each door has something unique to offer for a home and garden, with various forms and functions that will appeal to different people depending on their different needs.
French Patio Doors
Characterised by their classic, elegant appearance, French patio doors typically consist of two hinged panels that swing open from the centre (they can either swing outwards or inwards depending on your preference). The doors often have a frame dividing the glass panels, known as mullions, which can add a stunning decorative touch.
If you'd like to know how much French patio doors cost, click here to read our article on this.
Sliding Patio Doors
Sliding patio doors usually consist of two or three panels that slide and overlap with one another, with one panel always remaining in the same place. One of the main reasons why people opt for sliding doors in their homes is down to the fact that they don't take up any space when the doors are opened. Also, this design means the doors won't move or slam shut by the wind (this can be an issue with French doors). Sliding doors also offer the most interrupted view of the outdoors with large panes of glass in each section and you'll usually find the doors fitted onto anti-lifting tracks to prevent intruders from being able to lift them out.
Bifold Patio Doors
Folding patio doors, also more commonly referred to as Bi-fold doors, are designed with multiple panes that fold and stack against one side of the door frame when opened. They create a wide opening and can span an even larger width compared to any other type of door. Often used to create a seamless transition between indoor and outdoor spaces, Bi-fold patio doors are the newest type of door to enter the UK market, loved for the views and accessibility they offer.
As this type of door is a little more complex to open and shut, you'll often find them fitted with a traffic door for quick entry and exit when you don't want to open up the doors completely.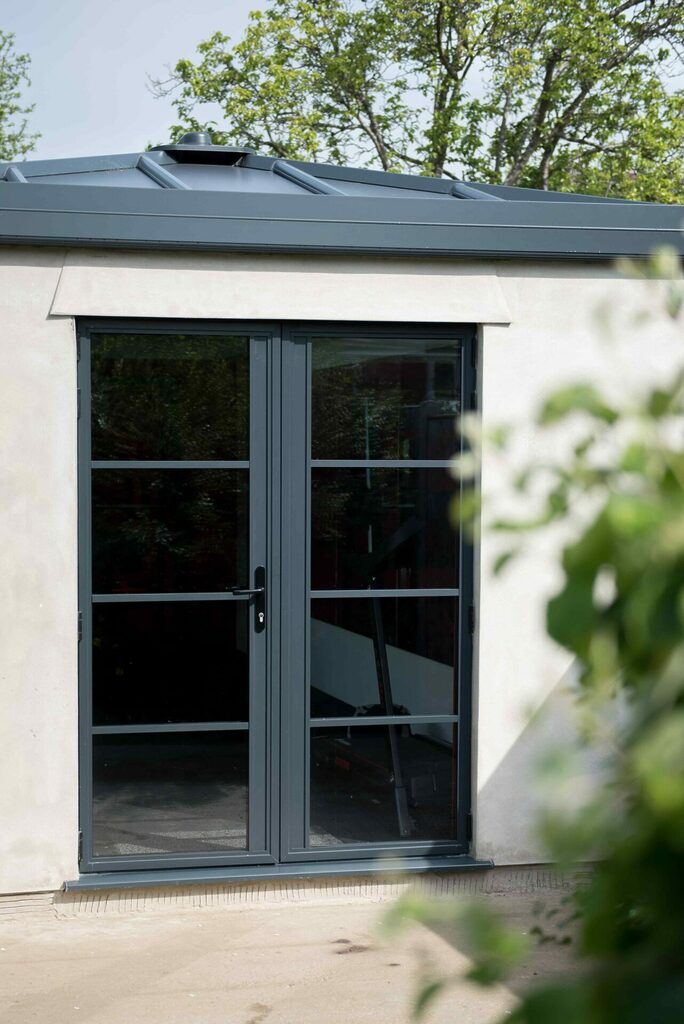 If you're in need of a door style that will add to your home aesthetics, French doors are the perfect choice.
Why should you choose patio doors?
Here are some of the reasons why you should choose Patio doors for your home.
Natural light: As they're mostly made from glass, Patio doors will allow natural light to brighten up your living room, making your interiors instantly so much more inviting. This can leave you less reliant on artificial lighting and possibly help save money on your energy costs.
Views & aesthetics: As they offer unobstructed views of your outdoor surroundings, Patio doors will let you enjoy your beautiful gardens, scenic landscapes or cosy backyard all from the comfort of your own home.
Smooth transition: If you love hosting gatherings at home then Patio doors are the doors for you. With their ability to provide a seamless transition between indoor and outdoor areas, they make it super convenient to move between spaces.
Ventilation & fresh air: Opening Patio doors can significantly improve ventilation by allowing fresh air to circulate throughout your home. This helps with regulating indoor temperatures, removing stale air and creating an overall more comfortable environment.
Increased space: Patio doors are a great help for maximising space utilisation as they don't require extra clearance for swinging, something you'll need if you choose to go for traditional hinged doors. If you have smaller rooms, patio doors will help you utilise your space effectively.
Value & appeal: Many potential buyers often appreciate the presence of Patio doors for all of the reasons listed above, therefore meaning the doors can become a pretty attractive feature that sets your home apart in the real estate market.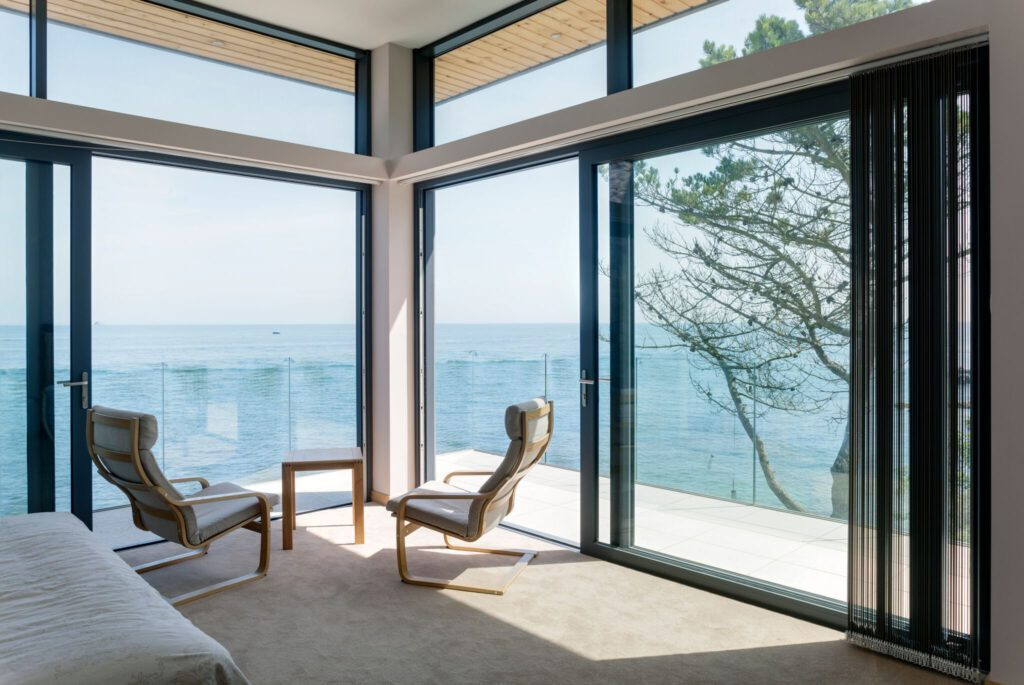 With Sliding patio doors you can still enjoy all of your outdoor views, without having to compromise on area space.
What is the standard size for a patio door?
The standard sizes for Patio doors can vary depending on different factors such as the manufacturer, region, and specific product line and whilst there isn't one overall patio door size in the UK, there are a handful of standard sizes widely used across the industry. It's important to understand that these dimensions are approximate and can vary:
Sliding Patio doors usually come in 3 standard dimensions:
1.5m (60 inches) with a frame size of 148.8cm x 198.75cm (59.5 x 79.5 inches)
1.8m (72 inches) with a frame size of 178.75cm x 198.75cm (71.5 x 79.5 inches)
2.4m (96 inches) with a frame size of 238.75cm x 198.75cm (95.5 x 79.5 inches)
The standard dimensions for a set of hinged patio doors are 178.15cm x 198.75cm (71.25 x 79.5 inches).
Custom door sizes and shapes vary according to what you want and If you already have space available, choose the door based on the space size. If you have a large area of space available, you can choose whether you want to go for 3 panels instead of the standard 2 or whether you want to go for a more interesting shape like an archtop.
Struggling with sizing or in need of some guidance on what to choose? Just get in touch with our friendly team – we're happy to help!
Are Patio doors easy to break into?
No matter what type of Patio door you choose, you should always be confident in its strength and security. Modern designs and technological advancements mean that over the years, Patio doors have become stronger than ever, especially those made using aluminium frames. (You can also purchase both wooden and uPVC doors with aluminium cores)
In terms of security, it's worth noting that French doors are the most secure Patio door as they have a range of features that make them even more secure overall. Not only are they set within a frame, but the doors also contain pivots, hinges and have a central locking point too. This means the doors are less likely to cave in.
By carefully considering the frame material, glass and locking mechanisms, you'll increase the security of the door from the get-go. Don't forget the regular cleaning and maintenance checks too!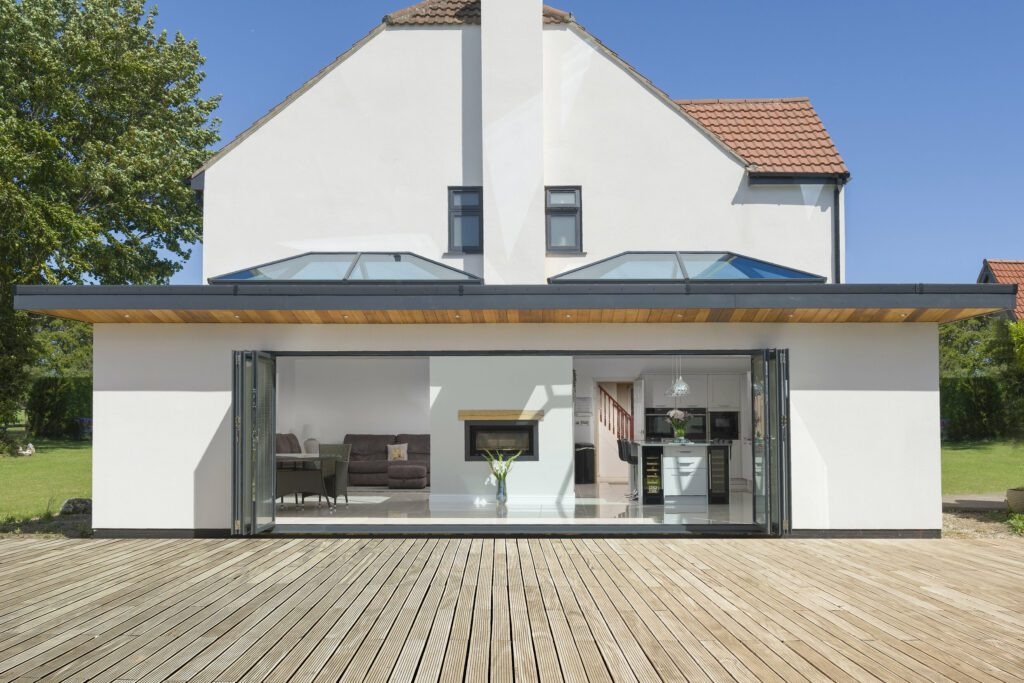 Here's a Korniche aluminium wide span Bi-fold helping to open up the inside space to the outside.
FAQs about Patio Doors
What counts as a patio door?
The term 'patio doors' covers any door that either opens out onto your patio/ garden/ indoor living area or simply slides open/ closed.
What is the difference between a Patio door and a French door?
When it comes to the difference between French doors and Patio doors, French doors are a type of Patio door that are typically hinged and open out, taking up garden/ patio space. 
What is the difference between a patio door and entry door?
Most entry doors (also known as front doors) are made from fibreglass or steel, whereas most Patio doors are made using very high efficiency glass, along with vinyl framing components.
What is the difference between a sliding doors and patio door?
Sliding doors are a type of Patio door that consist of 2 or 3 panels that slide over one another, with one panel always remaining in the same place.