Choosing a type of door for your home is a decision that shouldn't be taken lightly. Whilst it may seem like a straightforward task to begin with, as you start to consider the various options available, you'll soon realise that it can be a very challenging process. The large range of styles, materials, functionalities and design elements available can make the process pretty overwhelming and with the door being an investment for your home, it's important that you make the right decision.
We've put together this article to outline the key differences you need to remember, helping you to make a more informed decision.
A set of stunning lift and slide Reynaers CP130 sliding doors from GFD Homes…
Choosing between bifold vs sliding doors
Patio doors are a brilliant option for those wanting to make their home feel much more open and airy. When you opt for patio doors, you're essentially bringing the beauty of your home outdoors, indoors, without the need to spend a huge amount of money on adding a conservatory or extension. 
Bi-Fold doors and sliding doors are 2 very popular types of patio doors often considered and chosen by many homeowners.
Whilst there are a range of differences between the two, the main thing to remember is that Sliding doors consist of glass panels which slide horizontally, creating a sleek, space-saving design. Bi-fold doors however, feature glass panels connected with hinges which allows them to fold and stack against one another, a bit like an accordion (yes, we're talking about the musical instrument).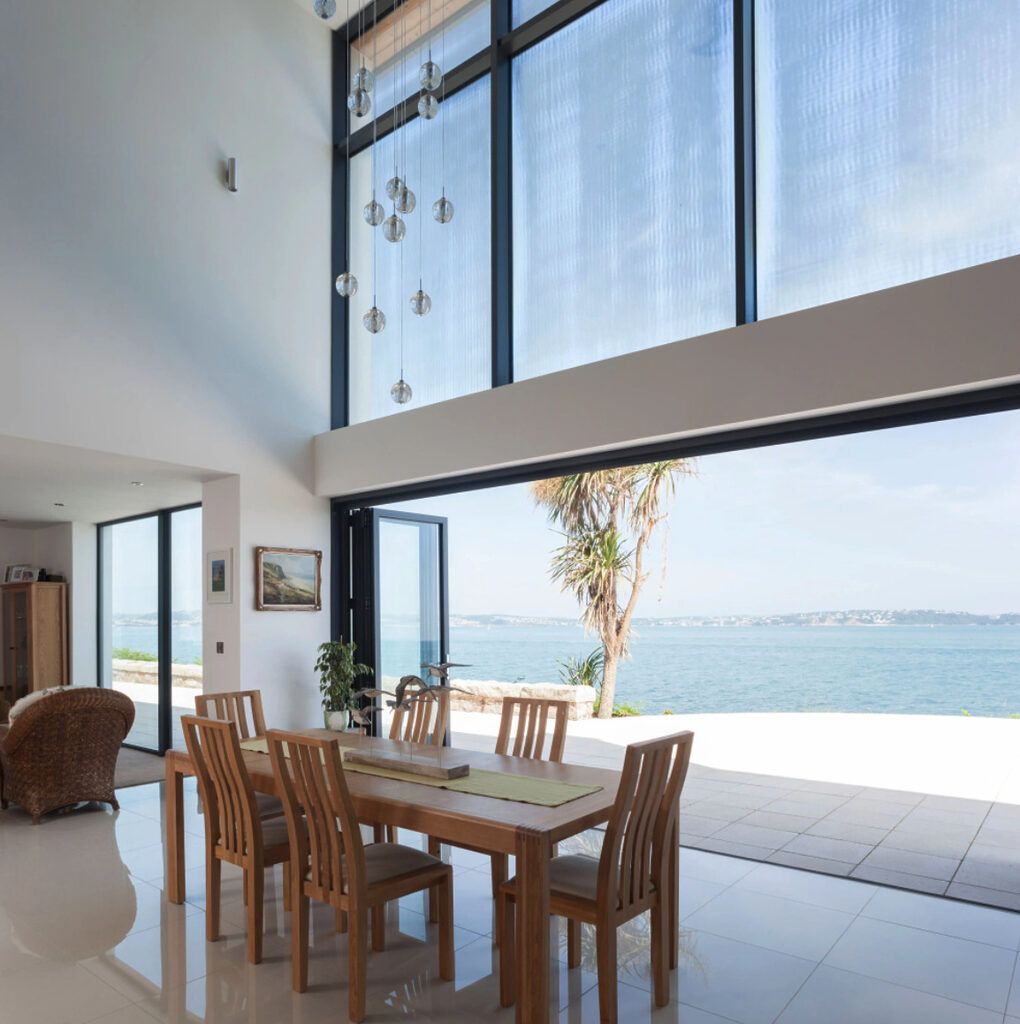 Bi-folds are loved for their contemporary look; simple, subtle and a little sophisticated.
How do you want your door to open?
If you're unsure which type of door to choose, one of the first questions to ask yourself is how you want the doors to open.
In terms of operation, Sliding doors move pretty smoothly as they slide and overlap with one another, with one panel always remaining fixed in place. This ingenious design makes sure no additional space is required inside or outside the home for when the doors are opened.
Bi-Fold doors are the latest edition to the UK market and the design consists of a series of panels that all fold back onto each other, elegantly. With the ability to open up a significant section of a wall, they create an illusion of an unobstructed flow between exterior and interior spaces.
How much security would you like from a door?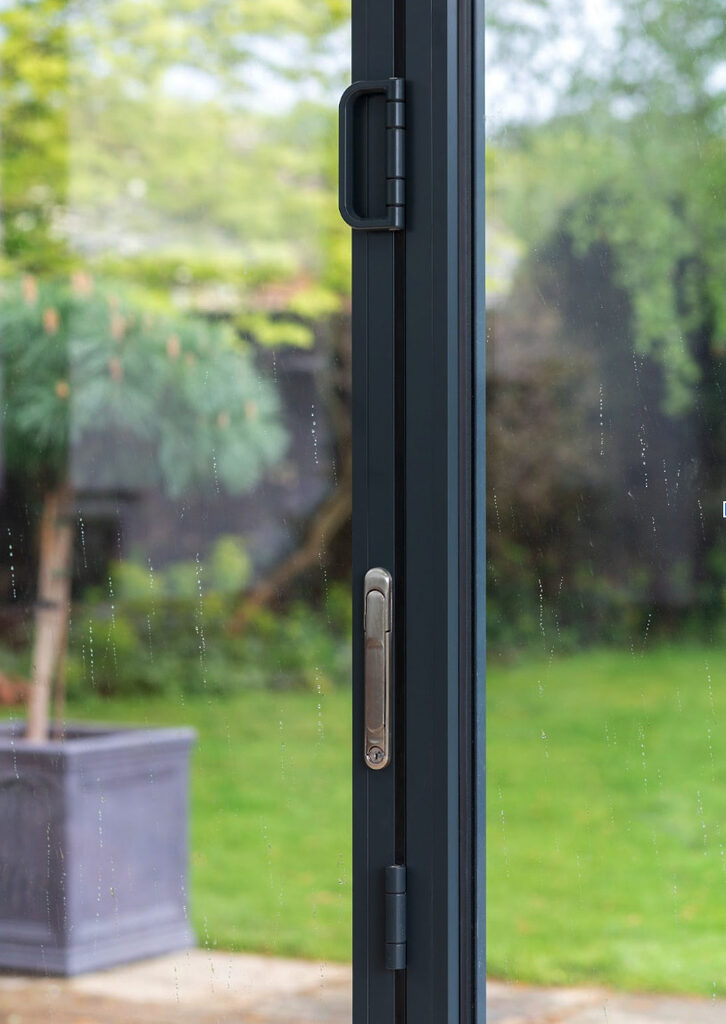 Don't forget to consider the different security features available for each type of door.
Security is undoubtedly one of the most important key features to consider when looking for a new type of door for your home.
When comparing the security of each door, make sure you consider all the various factors that contribute to their overall safety. Whilst any door can be made more secure through the addition of locks for example, certain characteristics may in fact influence their vulnerability differently.
Here's a breakdown of the security features of Bi-Fold & Sliding doors.
Bi-Fold doors:
Structural Integrity: The security of bi-fold doors depends on the quality of their construction. Doors made from sturdy materials, such as aluminium or steel provide greater resistance against forced entry. Additionally, reinforced frames and robust hinges contribute to the overall strength and security of the door.
Glazing Options: Bi-fold doors commonly feature large glass panels and the type of glazing used can affect their security. Opting for laminated or toughened safety glass adds an extra layer of protection against break-ins as these glass types are more difficult to shatter, therefore offering enhanced security.
Locking Mechanism: Like Bi-fold doors, Sliding doors usually also feature a multipoint locking system too. You may also want to consider adding additional security features to make the doors even more secure.
Glass Security: Since sliding doors often have large glass panels, the security of the glass is an important consideration. Opting for laminated or tempered glass can make it more difficult for intruders to break through. These glass types are designed to resist impacts and are more secure than regular glass.
Frame Construction: The construction of the sliding door frame can impact its security. Choosing doors with sturdy frames, such as those made of aluminium or steel can enhance their resistance to forced entry. Reinforced frames and anti-lift devices can also improve security.
It's worth noting that the security of each door also depends on proper installation by experienced professionals. Poor installation can compromise the effectiveness of the locking mechanisms and overall structural integrity, making them more susceptible to break-ins.
Investing in additional security measures like alarms, security bars, and surveillance systems can further enhance security and provide peace of mind.
If you're in doubt of the product security features and need some advice, you can give our friendly team a call on 01642 309576 and they'll be happy to help.
How big would you like the doors to be?
For spaces less than 4 metres wide, Bi-fold doors are likely the optimal choice. In such openings, Bi-fold doors have a remarkable visual impact compared to sliding doors as they offer a larger opening, creating a truly impressive and transformative effect. This helps to give the wow-factor to the space.
On the other hand, Sliding doors are perfect for larger openings, allowing a person with an opportunity to take full advantage of the expansive glass when the doors are closed. This maximises the sense of space and provides an uninterrupted view.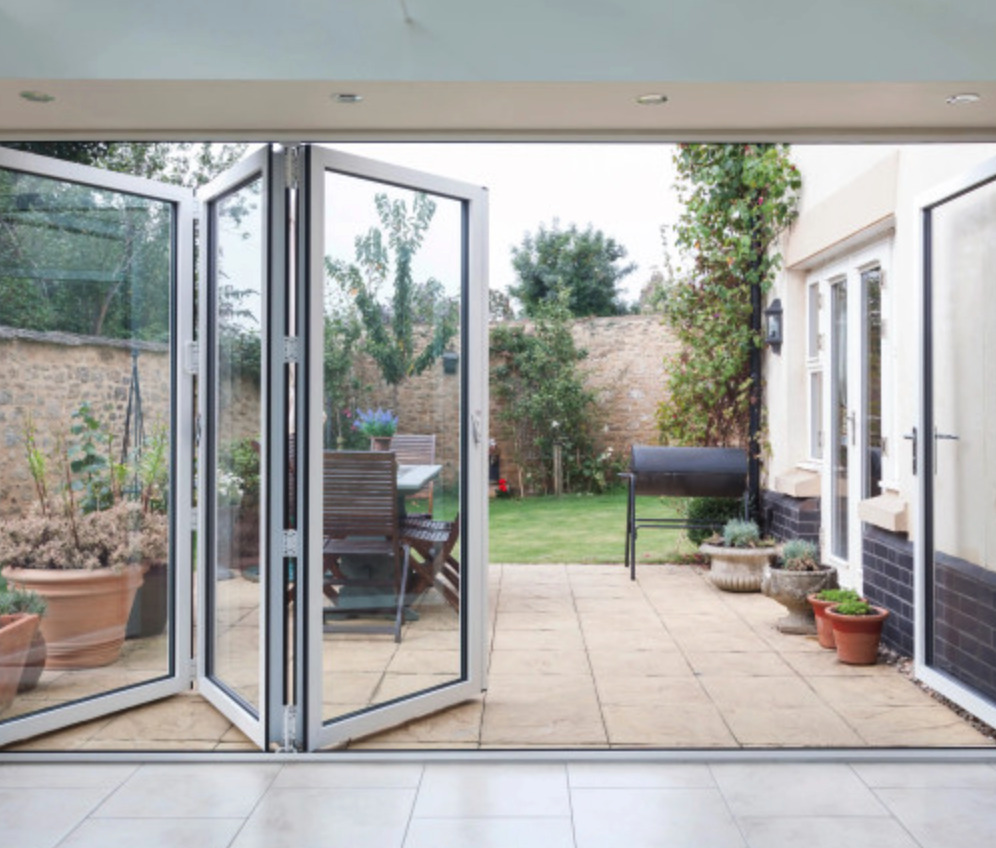 With Bi-folds a little trickier to use, you'll often find them fitted with a traffic door for quick access.
Do you want a view of the outside?
Perhaps one of the most crucial things to consider when choosing between either one of these stunning door options is the view of your outside space or garden.
Many often agree that Sliding doors can provide more of a panoramic view due to their minimal frame design and larger glass panels. That said, it can also be argued that Bi-fold doors give a full and clear transition from the inside to outside due to there not being a fixed pane in place when open. When you open your windows, you're enjoying a frame-free view (if this is something you want).
Bifold vs sliding doors prices
The cost for Bi-fold and Sliding doors mostly depends on their size. If you're comparing standard sizes you'll probably find that the prices are roughly the same, however if the door size starts to get big, Sliding doors will most likely be the more expensive option as larger glass units can get very expensive.
It's always recommended to compare prices for each type of door by asking different companies to measure up your home space and provide quotes.
If you're thinking of purchasing a Bi-fold or Sliding door, feel free to look through our collection by visiting our website.
If you can't decide which to choose and need some help, just click here to contact us.
FAQs about bifold vs sliding doors
Are bifold doors more secure than sliding doors?
Whilst both types of doors can be made to offer more protection, Bi-fold doors usually have more locking points along the track, potentially making them the more secure option out of the two. Their multiple locking points allow them to distribute the force much more evenly, making it harder for intruders to force the doors open.
No matter which type of door you choose, always choose high-quality doors and consider additional security features like toughened/ laminated glass, security screens and multi-point locking systems to ensure full protection for your home.
Are bifold doors high maintenance?
Bi-fold doors are relatively low maintenance, just make sure to clean and care for them regularly to help them last. It's also advised to give your Bi-folds a thorough service once a year which includes wiping down the frames and lubricating the locks.
How do you get privacy with bifold doors?
One way you can get privacy with Bi-fold doors is by opting for our Integral Blinds. These are blinds that are encased within the double-glazing unit, meaning they collect no dust at all. With no need for cleaning and minimal maintenance, they're a perfect option for Bi-fold doors.
Do you need planning to fit bifold doors?
If you're getting Bi-fold doors as a replacement, it's unlikely that you'll require planning permission.
However, if your new doors are part of a home remodelling or you're getting an extension built, although most don't need planning permission, it's always recommended to double check with your local planning authority before you start.