When it comes to upgrading your home's entrances and indoor-outdoor connections, sliding patio doors have long been a popular choice.
They offer convenience, great views and easy access to your outdoor spaces. However, there are alternative door options worth considering to give your home a unique and distinctive touch.
In this article, we'll dive into a selection of great alternatives to sliding doors for internal and external uses, each with its own charm and functionality.
Sliding patio door alternatives
Here are some popular alternatives to sliding patio doors for external use:
1) French Doors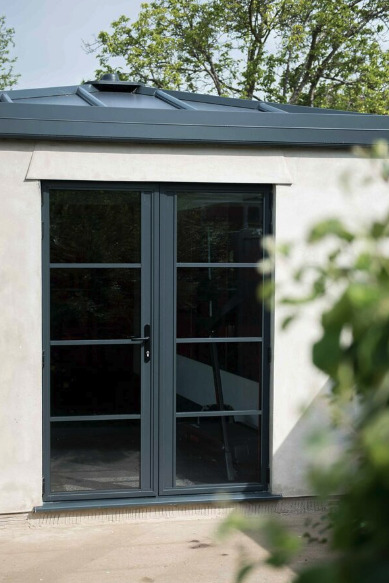 Our Industrial Style French Doors are perfect for homeowners wanting a clean, modern finish.
French doors are timeless and offer a touch of elegance to any space. These doors consist of two hinged panels that can swing outwards or inwards, depending on preference.
French doors are perfect for creating a seamless transition between your indoor and outdoor living areas. Their traditional design features multiple glass panes that allow an abundance of natural light to flow into your home, while still providing an unobstructed view of your surroundings.
2 ) Pivot Doors
Pivot doors are a contemporary and eye-catching choice for those looking to make a statement with their entrance. Unlike traditional hinged doors that wing on one side, pivot doors rotate on a central axis. This unique design creates a striking focal point and the larger door size allows for a grand entrance.
Pivot doors often feature bold, minimalistic aesthetics, making them an ideal choice for modern homes.
3) Dutch Doors
Dutch doors (also known as a stable door) are a charming choice for those seeking a touch of nostalgia and practicality. These doors are divided horizontally, allowing the top and bottom halves to open and close independently. They are perfect for maintaining security, while letting in fresh air and sunlight.
Dutch doors are not just for farmhouses; they can be customised to match any architectural style.
4) Bi-Folding Doors
Made from the highest quality, the Korniche Bi-folding door range is one of the most innovative doors available.
Bi-folding doors provide a seamless connection between your indoor and outdoor spaces. They consist of multiple panels that fold and stack neatly to one side when opened, creating a wide and unobstructed opening.
Bi-folding doors are highly customisable in terms of size, configuration and materials.
5) Single Door with Fixed Sidelights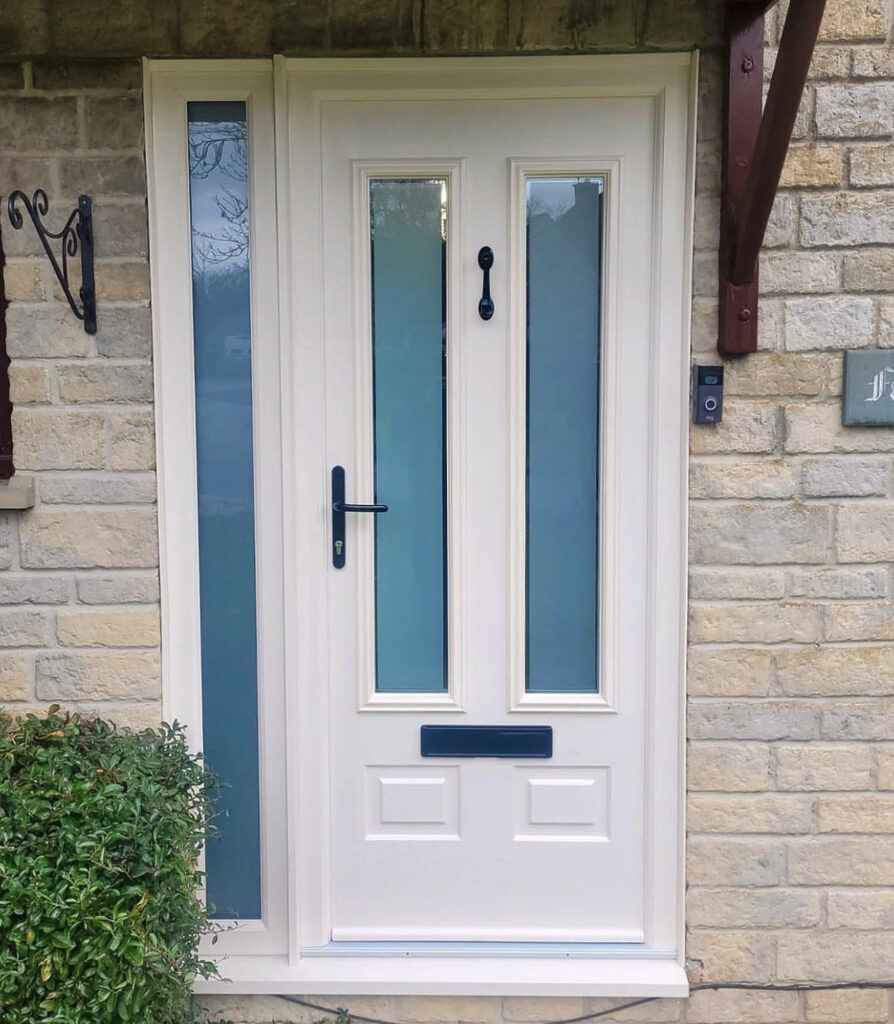 Here's a Comp Door Aston featuring a fixed panel on one side (you can also opt for a door without fixed panels too).
For a sleek and modern alternative, consider a single door with fixed sidelights. This design features a single hinged door, complemented by fixed panels on one or both sides.
The result is a streamlined and contemporary look that allows plenty of natural light to floor your space.
Here are some popular alternatives to sliding patio doors for internal use:
6) Shoji Sliding Screens
Originating from Japanese design, Shoji sliding screens bring a sense of serene and minimalist aesthetic to your living space. These screens consist of wooden frames with delicate rice paper or translucent panels.
Shoji screens provide privacy without completely obstructing light, creating an ambiance of tranquillity and understated elegance.
7) Accordion Doors
Accordion doors are a space-saving wonder that can instantly transform a room's layout. These doors consist of hinged panels that fold together when opened and extend to create a continuous partition when closed.
Accordion doors are versatile and come in various materials, making them suitable for both residential and commercial spaces.
8) Centre Swing Patio Doors
Centre swing patio doors provide a unique twist on the traditional hinged door. Unlike the usual side-hinged doors, these doors swing open from a central pivot point.
This design offers a timeless and elegant look, making it a distinctive addition to any home.
9) Glass Roll-Up Doors
Glass roll-up doors, often associated with industrial spaces, have made their way into modern residential design. These doors consist of transparent glass panels that roll upward, similar to a garage door.
They create a striking and dynamic connection between indoor and outdoor areas.
10) Sliding Barn Doors
Sliding barn doors are a charming addition to any home, evoking a rustic and countryside feel. These doors, often made of wood, slide along a track mounted above the doorway.
They are known for their space-saving qualities and the ability to add a touch of nostalgia to any room.
Find your next sliding patio door alternative today
(Image Source: GFD Homes – Showroom)
In conclusion, when it comes to finding the best alternative to sliding doors, there are several options that can add unique character and functionality to your home. Whether you prefer the timeless appeal of French doors, the modern statement of pivot doors, or the seamless integration of bi-folding doors just to name a few, there's a perfect alternative for every style and preference.
It's essential to consider your home's architectural style, available space and personal taste when making your choice.
Whichever option you select, your new door will undoubtedly enhance the beauty and functionality of your living space from the get-go.
For more information on any of our sliding doors, entrance doors, french doors, or bi-fold doors, feel free to contact our team on 01642 309576.
FAQs about Sliding patio door alternatives
How secure are sliding patio doors?
Sliding doors are very secure if made from the highest quality, however, like any other type of door available, can still be vulnerable to break-ins if not properly secured.
By choosing to add different types of security measures (such as locking systems and security film or laminated glass etc) to your sliding doors, you can make them just as secure as any other type of door.
Are sliding patio doors safe to use?
Yes, sliding patio doors are generally safe to use when properly maintained and used according to the manufacturer's instructions.
To help ensure safety, we'd recommend making the following considerations:
Proper installation to ensure the door is installed correctly and functions as expected.
Regular maintenance to ensure smooth operation and safety.
Safety glass such as laminated or tempered to reduce injury if it breaks.
Childproofing locks or alarms to prevent children opening the doors unsupervised.
Just like any household feature, patio sliding doors should be used with care and kept in good condition to ensure safety.
What colours are available on sliding doors?
The available colours for sliding doors can vary depending on the manufacturer and materials used.
At GFD Homes, all our sliding doors are made from high-quality Aluminium and you have the option to choose from our standard range of colours (black, white or grey), as well as the option to choose from any RAL colour.
Are sliding patio doors suitable for exposed locations?
Although sliding patio doors can be suitable for exposed locations, it's essential to consider the specific conditions and choose the right type of door:
Impact-resistant doors if you live in an area prone to strong winds or hurricanes as these have been designed to withstand high winds and debris impact.
Weatherproofing by ensuring the doors have proper weather stripping ad seals to prevent drafts and water infiltration.
Quality installation to make sure the doors are securely in place and will provide optimal protection against the elements.
To make sure you choose the right sliding door for your home, don't hesitate to reach out to our team.
What sliding door options do you have?
In our GFD collection, we have the following sliding door options:
1) Smart Aluminium Sliding Doors: This range offers a selection of stunning sliding doors that will make great additions to the modern home.
2) Reynaers Aluminium Lift & Slide Doors: With a unique life and slide operation, Reynaers aluminium doors can be operated with minimal effort, as the door is jacked up onto rollers that take the weight of the door.
3) Cortizo Aluminium Slimline Sliding Doors: Representing a new breed of sliding doors that focus on as little visible frame as possible, the Cortizo range allows you bring the outdoors indoors. Corner door and pocket systems are also available with this range.
All our sliding doors come with a 10 year guarantee as standard, as well as the option for bespoke sizes too.