Are you currently in the process of completing a few renovations? Are you looking for the perfect door to choose for your home?
Whilst choosing a door may seem like an easy and straightforward task initially, the amount of styles and colours available make it a pretty difficult decision to make.
With Patio Doors & French Doors becoming an increasingly popular choice amongst homeowners and many struggling with which one to go for, we've created this article to help you decide which one may be the best option for you.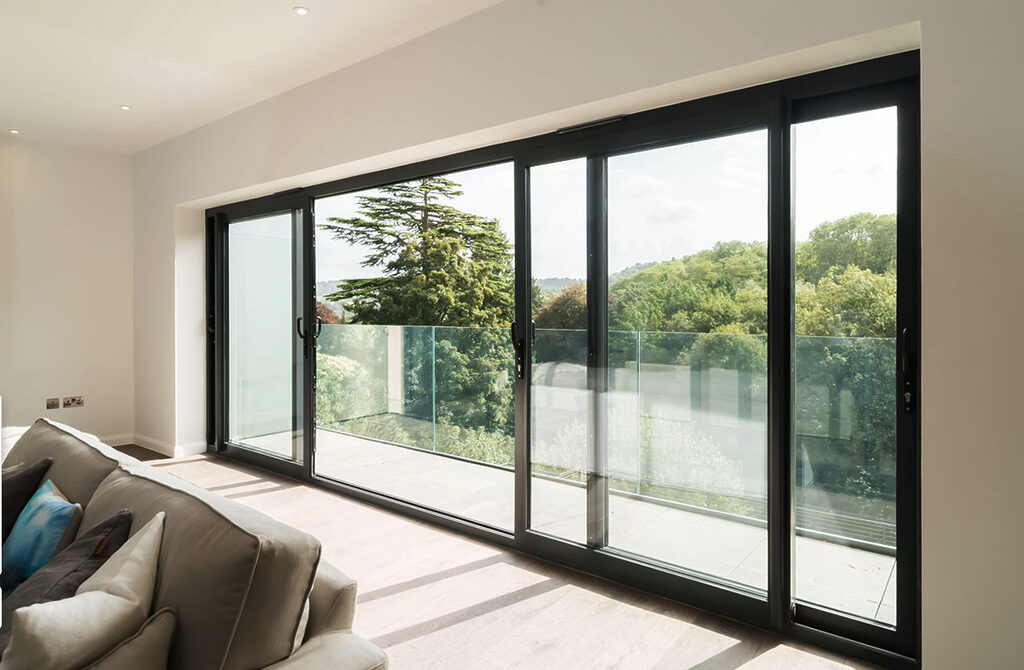 If you have a stunning garden view, Sliding Doors will let you enjoy this all from the comfort of your home.
Choosing between French Doors vs Patio Doors
Before delving into how each type of door differs, it's important to understand what each type of door is.
To start, French Doors and Patio Doors are both types of wide exterior doors currently in trend and they're used to either enter or leave a building. French Doors are known for their stunning architectural design that originated in France many years ago, whereas Patio Doors are simply sliding doors known for the small amount of space they take up when opened up.
One of the main differences between the two types of doors comes down to the way in which they open, explained below.
How do you want your door to open?
French Doors are traditionally hinged double doors, meaning they will usually open out onto your patio/ garden area and take up some space. In most cases though, you can get them installed to open inwards instead (as seen in the image below).
Also known as Sliding Doors, Patio Doors work by sliding along a track to one side, meaning they won't take up any precious space when opened. 
As they're both fairly large doors, it's important to take into consideration the amount of space you have available. For example, If you have the room to leave a large swing arc clear for the door opening, French doors will give your home a beautiful style as these doors are considered a design feature in themselves. However, if you don't have much room, it may be best to opt for Sliding Patio Doors, so you can get the same amount of wide opening and sunlight, with no worries about having to clear the space each time you open the doors.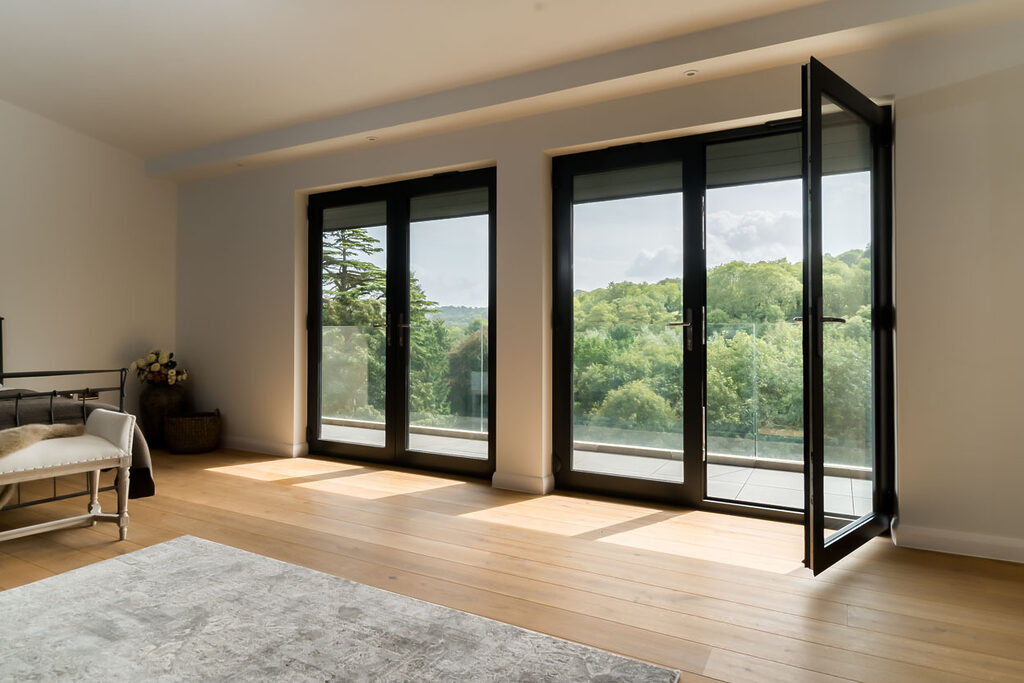 You can opt for inward opening French Doors if your property doesn't allow you enough space for outward opening.
How windy does it get?
If you live in an area where you have a lot of windy weather, choosing outwardly opening French Doors may not be the best option as they can be a slight nuisance with strong gusts of wind able to make them swing and potentially even rip from their hinges (but this is only in countries with severe windy weather conditions).
With Patio Doors however, you don't really need to worry about windy weather damaging the doors too much as their design makes them less susceptible to wind damage.
Do you want to have an opening you can control?
Whilst both types of doors allow for openings that can be somewhat controlled, with French Doors, this is limited. You either open 1 door or both doors, with no option to have them opened half way and remain in the same place (unless you place something in front to stop them swinging back).
However, Sliding Patio Doors are great for allowing you with the ability to fully control the amount of opening on the door, so you can have exactly the right amount of airflow you want. One thing to bear in mind is that if you have sliding doors that work on an overlapping basis, you can only gain access to 50% of the aperture area as one door will always be in the closed position.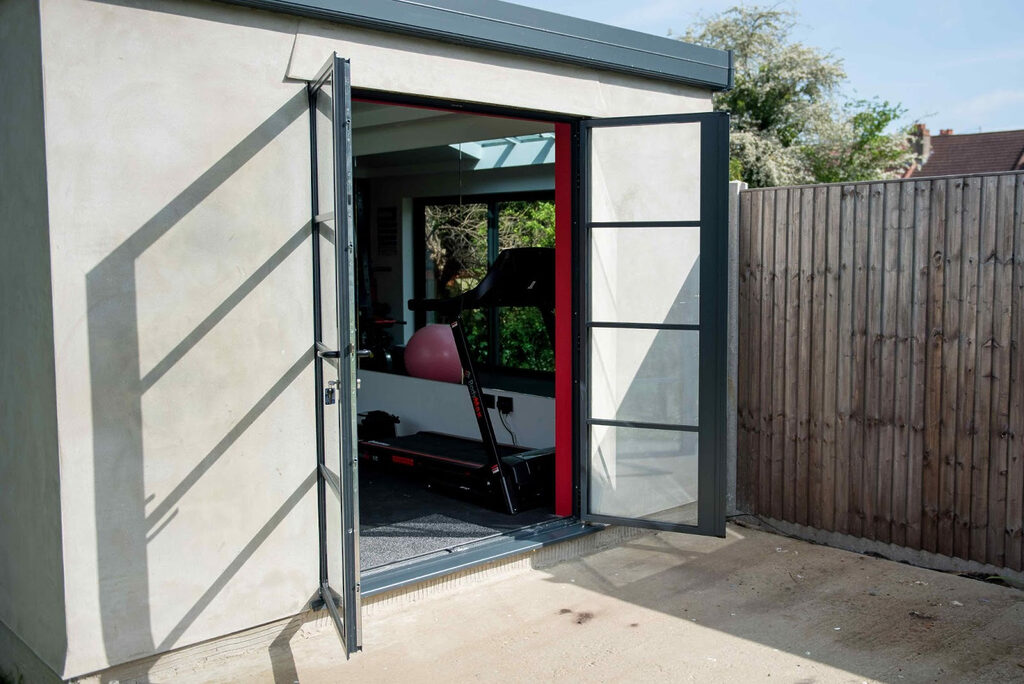 We also have a stunning range of Crittall Inspired/ Industrial Style French Doors in our collection too!
How big would you like the doors to be?
Another great thing about Sliding Patio Doors is that they can be as big as you want them to be, with almost no limit on size. Extra large sizes, bespoke shapes and unique configurations are all available and the doors can be fitted to much wider openings, whereas with French Doors, although you can have bespoke sizes made, you're more limited in terms of sizes.
Do you want an unobstructed view?
When you have a stunning view or a beautiful garden that you take pride in, the desire to showcase it naturally arises. As both doors serve as expansive glazed entrances, they will let you accomplish just that. Patio Doors offer a generous expanse of glass, creating a large window-like opening that allows you to appreciate your outdoor spaces. Similarly, French Doors are wide glazed doors that provide a similar effect.
However, there is a notable difference between the two. Sliding Patio Doors offer a much broader field of visibility in terms of overall area, but they have a fixed frame.
Despite having a glazed area equivalent to two door sashes, French Doors feature a movable mullion. This mullion is a central pillar that opens alongside the secondary sash and once both doors are opened the view remains unobstructed.
Therefore, if an unimpeded view when the doors are open is your top priority, French Doors are an ideal choice. If you don't mind the presence of frames that may interrupt the view, Patio Doors can be a suitable option.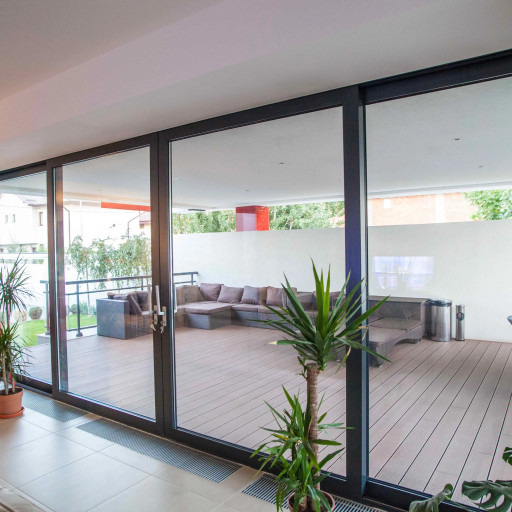 With Sliding Patio Doors, you won't have to worry about compromising on your patio space.
French doors Vs Patio doors prices
The cost of French Doors versus Patio Doors can vary depending on various factors such as the material, size, design and any additional features you choose. Generally speaking, if you're comparing the same material/ brand, then French Doors are usually cheaper.
Patio Doors cost more due to the running tracks and square meterage of glass involved, whereas French Doors are more cost effective as they are hung on hinges and have less glass meterage due to limitations on height and width sizes achievable.
If you're still not sure which type of door to choose and need some help, just get in touch with us via our live chat option or call us on 01642 309 576 – our friendly team is here to help you!
FAQs About French & Patio Doors
Are Patio Doors cheaper than French Doors?
No, you'll often find Patio Doors being the more expensive option if they have larger glazed areas. For example, a two pane sliding door at 4 metres wide will need specialist glass due to the overall size. 
If you'd like some more information on the cost of French Doors, click here to read our article.
Is it better to have French Doors or Sliding Doors?
When it comes to choosing between French Doors & Patio Doors, the 'better' option all depends on your specific priorities and the characteristics of your space. Weighing up all the different factors discussed in the article should help you to decide which type of door may be the best option for you. 
Are French Doors cheaper than Sliding Doors?
In most cases, you'll often find Sliding doors being the more expensive option, especially if they're made from high-quality materials and have strong security features.
Do I need planning permission for either type of door?
Most replacement doors do not require planning permission, unless you are planning on knocking down part of a wall to enlarge the opening size or working on a grade listed building, in which case you would need planning permission. Before you go ahead and start the project, always consult with your local council or planning office first.