Roof lanterns serve as an excellent addition to an existing house or a wonderful inclusion in your plans for a new house design. They offer various advantages, including:
Enhancing the visual appeal of your property and adding to its aesthetics.
Introducing ample natural light into any room.
Creating a sense of spaciousness for the area beneath.
Expanding the room's openness by maximising the available natural light.
In this article, we explore the different aspects involved in choosing the right roof lantern for your needs. We provide valuable advice on what to consider and look out for before making a purchase decision.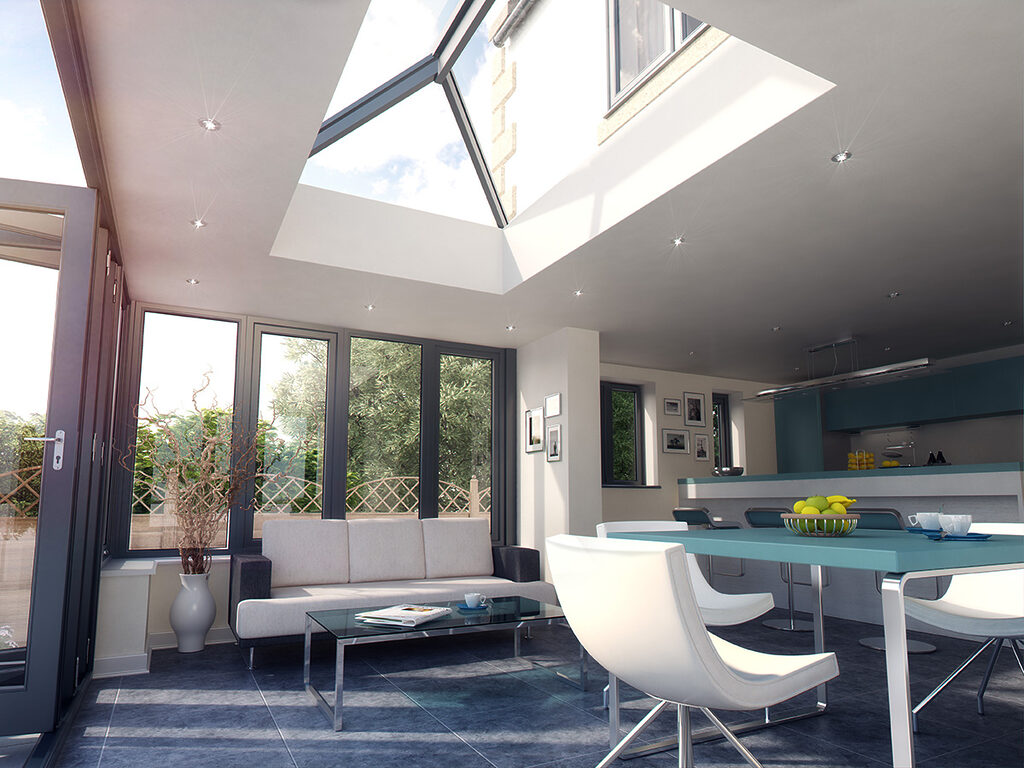 Our Korniche Roof Lanterns make a stunning addition to any home, with bespoke sizes available too.
What is a Roof Lantern?
These remarkable structures have a rich history rooted in 16th-century Renaissance architecture. Over the years, roof lanterns have undergone continuous adaptation and improvement, evolving from leaky wood-framed structures in the 18th and 19th centuries to the durable and weatherproof options of today, featuring sleek aluminium frames.
In modern times, roof lanterns have become a striking focal point in spaces like orangeries or flat roof structures. Picture a central island in a kitchen or a dining room table bathed in glorious natural light, creating an inviting and warm atmosphere. With advancements in construction techniques and materials, today's roof lanterns are not only visually stunning but also incredibly sturdy and resistant to the elements.
The roof lantern is available in a variety of configurations, but the elongated pyramid shape reigns supreme as the most popular style. Its contemporary glazed roof design blends seamlessly with a range of living spaces and homes, adding a touch of elegance and modernity.
Embrace the beauty of natural light and elevate your living spaces with the timeless allure of a roof lantern. Experience the harmony of design and functionality as these architectural wonders infuse your home with warmth, ambiance, and a touch of enchantment.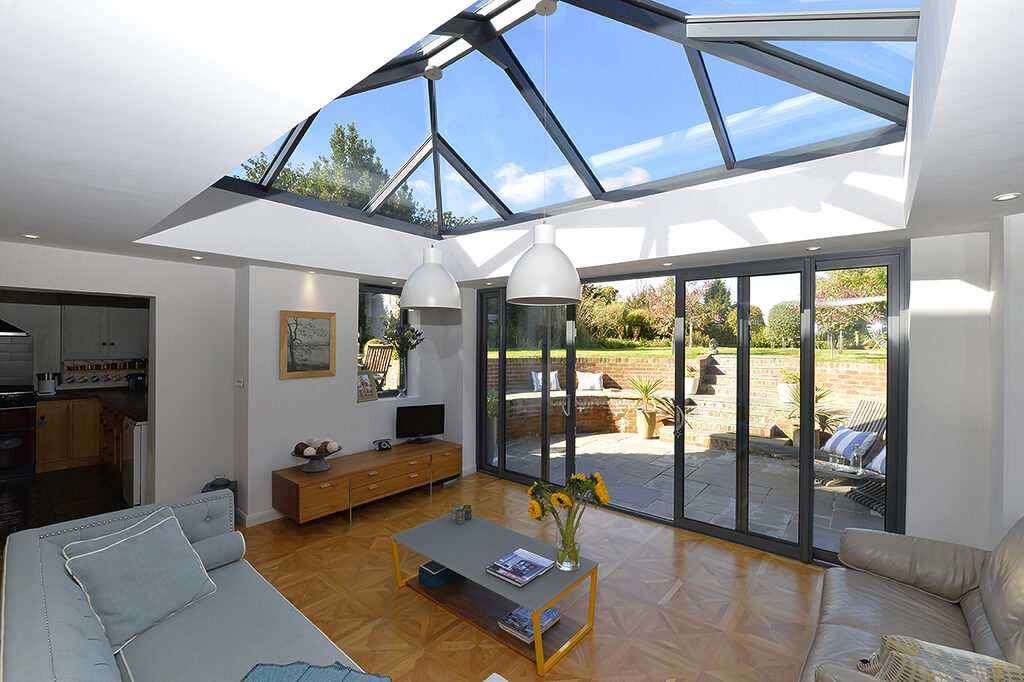 Combining sliding doors and roof lanterns in a single area truly blurs the boundaries between indoors and outdoors, seamlessly integrating the outside with the inside.
What is a roof lantern made of?
There are many options on the market that use different materials and have different USPs, specifically, we stock Atlas and Korniche which are aluminium structures.
The Korniche system presents an aesthetically pleasing solution for roofing needs, boasting a high thermal performance. The Korniche roof lanterns, known for their slim and elegant design, are custom-made to fit perfectly. These lanterns have undergone enhancements to establish themselves as the most robust and durable option available. With a focus on providing an unobstructed view, the Korniche lanterns feature a minimalist structure, offering large glass spans and fewer rafters compared to alternative models. In fact, with a width of only 57mm, the spans and ridge sections are among the slimmest in the market.
Crafted from aluminium, the Korniche lanterns prioritise high thermal efficiency right from the bottom of the roof. An insulated barrier is created between the aluminium sections by employing fully thermally broken eaves beams.
Furthermore, the lantern utilises a top-quality T-bar that enhances insulation by effectively sealing the gap between the profiles and the finishing caps, further improving the thermal break of the roof lantern. This meticulous design ensures exceptional thermal efficiency, eliminating cold bridges between external and internal profiles. The Korniche systems also feature top-of-the-line seals and gaskets, guaranteeing weatherproofing capabilities even in the harshest conditions.
Combined with high-performance double glazing, these lanterns minimise heat transfer to an impressive extent. To suit various interior and exterior preferences, a range of self-cleaning glass options with exceptional performance are available, including blue, aqua, bronze, tinted, neutral, and clear glass. The glass options boast U-values ranging from 1.0 to 1.2, reflecting their energy efficiency.
The standard colours offered for the Korniche system are White Gloss, Anthracite Grey Matt, and Jett-Black Matt. Additionally, the option for a bespoke colour of your choice is also available, ensuring a personalised touch to complement any architectural vision.
Opening up your ceilings is a great way to enjoy the nature around you, reminding you of your surroundings while you're in the comfort of your own home.
What are the benefits of a roof lantern?
Roof lanterns offer a multitude of benefits that make them a popular choice for homeowners. Here are some key advantages below.
Introduces natural light
Roof lanterns are designed to maximise the amount of natural light entering a room. Their glazed structure and strategic placement allow sunlight to flood in, brightening up the space and creating a welcoming ambiance.
Stylish and modern
With their sleek and elegant design, roof lanterns serve as a visually stunning architectural feature. They can instantly elevate the aesthetics of a property, adding a touch of sophistication and modernity to both traditional and contemporary designs.
Energy efficient
Modern roof lanterns often feature advanced thermal insulation technology, including thermally broken frames and high-performance glazing. These elements help minimise heat loss during colder months and reduce heat gain in warmer seasons, improving energy efficiency and potentially lowering heating and cooling costs.
Conclusion
By offering an abundance of natural light, enhancing aesthetics, creating a sense of spaciousness, promoting energy efficiency, and providing versatility, roof lanterns are a highly desirable addition to any property. They combine functionality with elegance, transforming living spaces into vibrant and inviting areas filled with natural light.
If you're interested in purchasing a roof lantern for your home and would like some information on how much they cost, click here to read our article on this.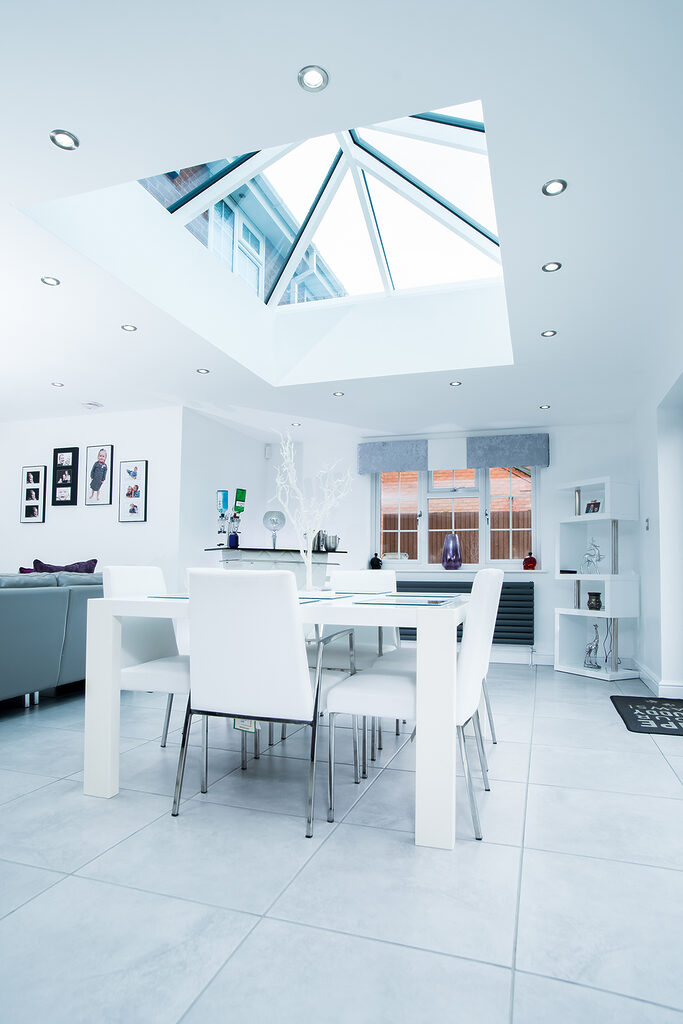 FAQ's about roof lanterns
Do you need planning permission to install roof lanterns?
In most cases, obtaining planning permission is unnecessary when installing a roof lantern, as long as you adhere to the permitted development guidelines below:
1. The roof lantern should not protrude more than 150mm beyond the sloping plane of the current roof.
2. The height of the roof lantern should not exceed the highest point of the existing roof.
3. If the roof lantern is positioned on a side elevation roof slope, it must incorporate obscure glazing.
4. Unless the height is at least 1.7m above the floor, no openings are permitted in the roof.
By following these permitted development rules, you can typically proceed with installing a roof lantern without the need for additional planning permission.
However, every project is different and we recommend speaking to your local council or planning officer to check on this before going ahead.
Can you add a roof lantern to an existing roof?
If you are incorporating a roof lantern into a new extension or a new house construction, compliance with building regulations should be addressed as part of the overall project.
However, if your intention is to install a roof lantern into an existing roof, it is necessary to obtain approval from building control and undergo inspection. Ensuring the structural integrity of the roof lantern opening is crucial, as it may require rearrangement of the roof joists to accommodate the new addition.