The choice to add bi-fold doors to your home is a way to instantly light up and open a large room. These alternatives to French and sliding doors have been around for decades and remain as popular as ever in 2022 with many new build developers specifying them across the UK. Bi-fold doors allow a stream of light to enter your home and fill any room, making them perfect for long summers and houses that love to entertain guests on a regular basis.

If you've never lived in a house with bi-fold doors and are looking to install them in your home, this article will help you understand why homeowners are still loving the bi-fold lifestyle.

We'll cover everything you need to know about what makes bi-folds popular, the benefits of installing them in your home, and the different material and glazing options.

Why are bi-folds popular and how do they work?

The term bifold doors refers to a number of glazed doors designed to span wide openings. The doors are hung together in various configurations and 'slide and fold', allowing you access to the whole aperture.
When the panels are completely stacked the room opens up typically onto a garden or patio, allowing light and fine weather into the room. The folded panels remain compact leaving a fully clear and open entrance.

The door sashes in bi-fold doors slide easily on a runner mechanism built into the bottom of the doors, which makes them very easy to operate despite the weight of the doors. Many people compare bi-folds with sliding doors; they are similar but the key difference lies within the fact that sliding doors don't fold back onto themselves and thus can't give you access to the whole opening.
Bi-fold benefits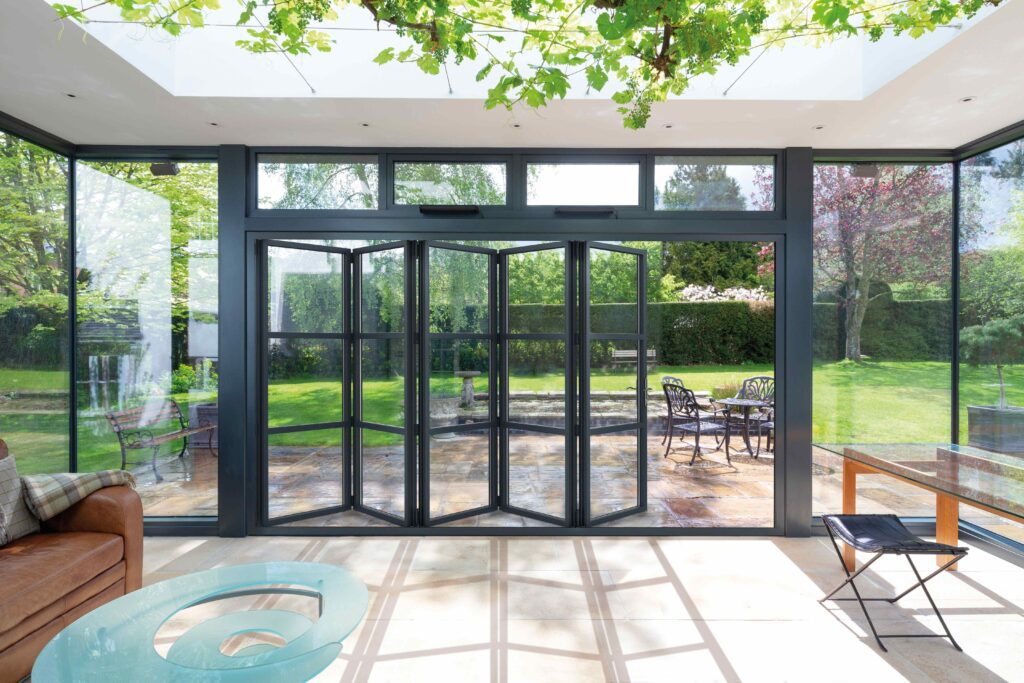 There are countless benefits to bi-fold doors in the home, hence why they remain so popular in the modern age. Not only are they convenient, but they also create a light and open atmosphere in any room, helping to make special occasions and celebrations feel even more joyous. Find just a few of the benefits of installing bi-folds below:
Opens up the home to the garden
One of the primary benefits of installing bi-fold doors is how much they can open up a room. There truly is no other door option that gives such an open-plan effect to a home, allowing floods of light and air in.
Bi-fold doors also allow excellent views of your garden and are perfect during the summer for easy access outside. They also allow a steady flow of cool air to tackle hot temperatures throughout the house during the warmer months of the year.
Ideal for entertaining
If you're a household that loves hosting and entertaining your friends and family at regular dinner parties, then your home isn't complete without bi-fold doors.
Bi-folds allow you to open the whole aperture, which is not only aesthetically and visually pleasing, but also allows for more space when you have a party of people in the home.
High security
While you may be worried about the security of having such an open aperture within the home, bi-fold doors are some of the most secure you can install. Typically, all modern bi-fold doors come with a high-security multi-lock system, as well as an in-line tracking system that makes the door and panels near impossible to lift.
The doors can also be fitted with laminated security glass if security is a requirement. Either way, you can have peace of mind that bi-fold doors act as a secure entrance to your home.
Different material options when buying bi folds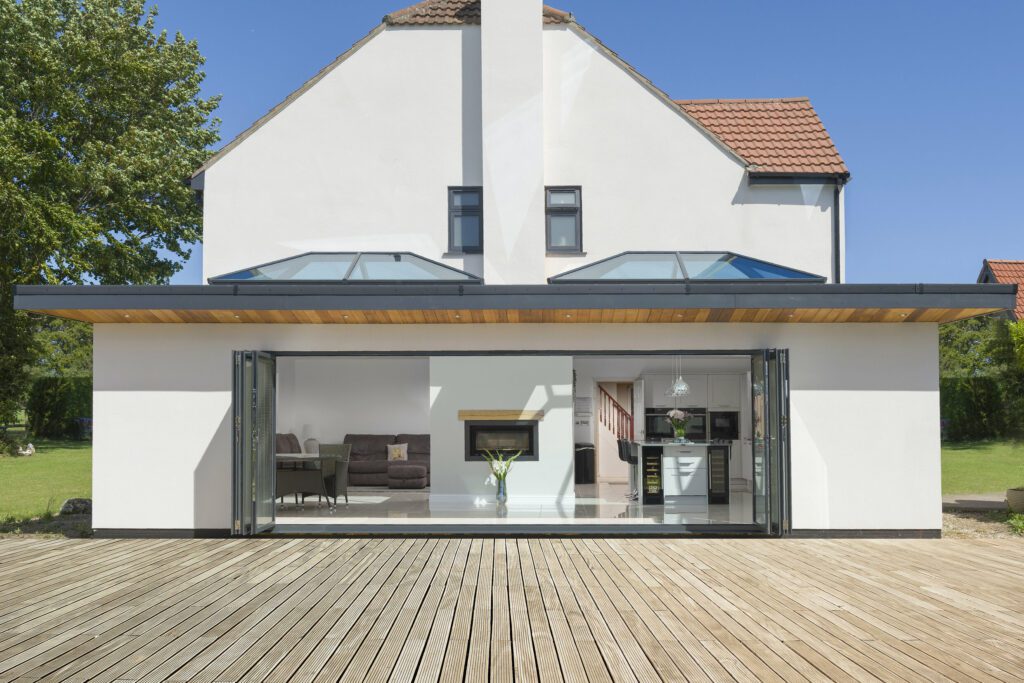 When looking to install bi-fold doors, you have a range of materials to choose from. It's important to be aware of these options to know which suits both the needs and style of your home. Find below the different options when buying bi-folds:
Timber
Timber bi-folds are popular as they are visually pleasing, especially on period or traditional properties. You can also specify timber in a range of colours, so it's easy to make these doors work with a range of interior styles.
Timber bi-folds do require maintenance from the homeowner, as timber will naturally weather when exposed to the elements. Expect to have to give the doors a coat of paint and possibly treatment on an annual basis. Whilst timber bi-folds are a secure and sturdy investment, they don't come cheap and are the most expensive bi-folding material you could opt for.
uPVC
If you are more constrained by budget, UPVC bi-folds are a more affordable option. They do require very little maintenance apart from cleaning every now and again. UPVC frames can look a little wider and bulkier compared to other materials, but they do have excellent thermal properties.
While uPVC bi-folds are more affordable, they are prone to dropping due to the nature of the material, which can result in more call-backs to your installer or having to re-adjust them yourself. Due to the number of call-backs encountered on uPVC bi-folds, their popularity is waning and many installers simply do not offer them anymore.
Aluminium
Aluminium is the strongest and most durable material you could invest in for your bi-fold doors. Not only do they look incredibly modern and chic in every home, but they also are incredibly hardy and built to stand the test of time.
Many years ago, aluminium doors fell out of fashion due to their poor energy ratings, but as all modern-day aluminium systems now use a thermal break technology, they now perform almost as well as uPVC and meet all 2022 building requirements for energy efficiency.
Aluminium bi-folds were once a very expensive product, but in recent years the demand for them has seen the prices become much more affordable, and a cheaper option than timber. For a bi-folding door that will offer the best strength, security and appearance and perform reliably for years, we believe aluminium is the clear winner.
Glazing options with bi-folds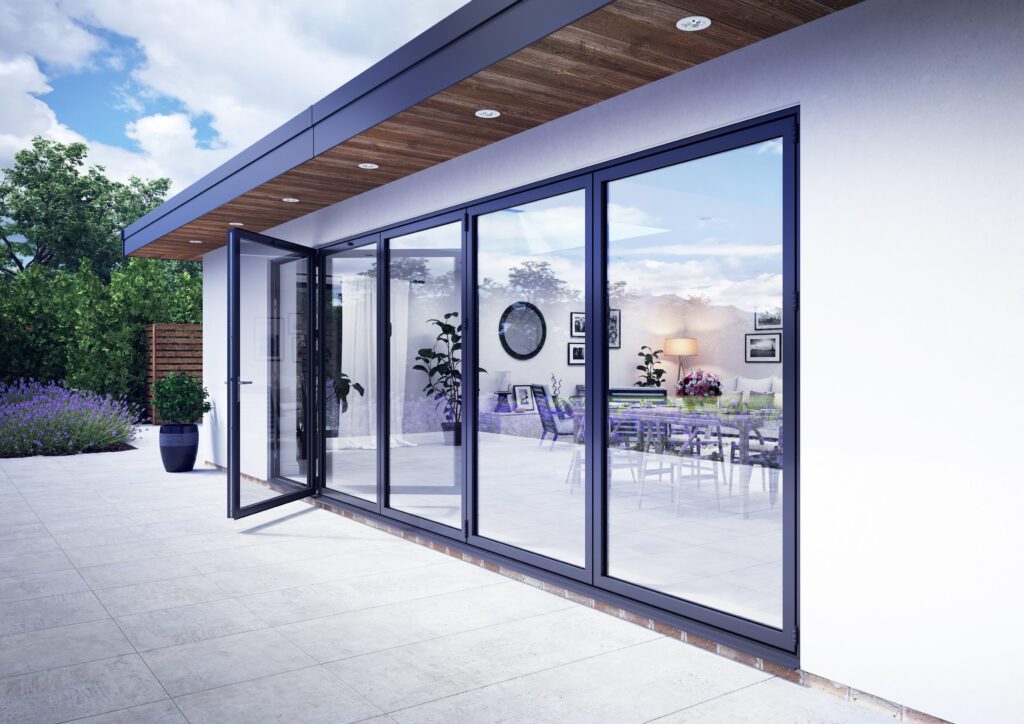 As well as the frames, you also need to consider your glazing options when it comes to bi-fold doors. These choices are numerous and can be completely tailored to your home's individual needs.
Just some of the options available to you with bi-fold doors are laminated safety glass, tinted glass and integral blinds which save the need for sourcing curtains or separate blinds. Of course, even a standard double-glazing option will likely help with your home's thermal efficiency.
To conclude, there are countless reasons that bi-folds remain popular in 2022. From the stylish and sophisticated appearance to the functionality that an open aperture presents. We predict that this impressive product will be around for quite some time to come.
If you want to view our aluminium bi-folding door options, take a look at our GFD Homes website for a range of the industry's leading options.