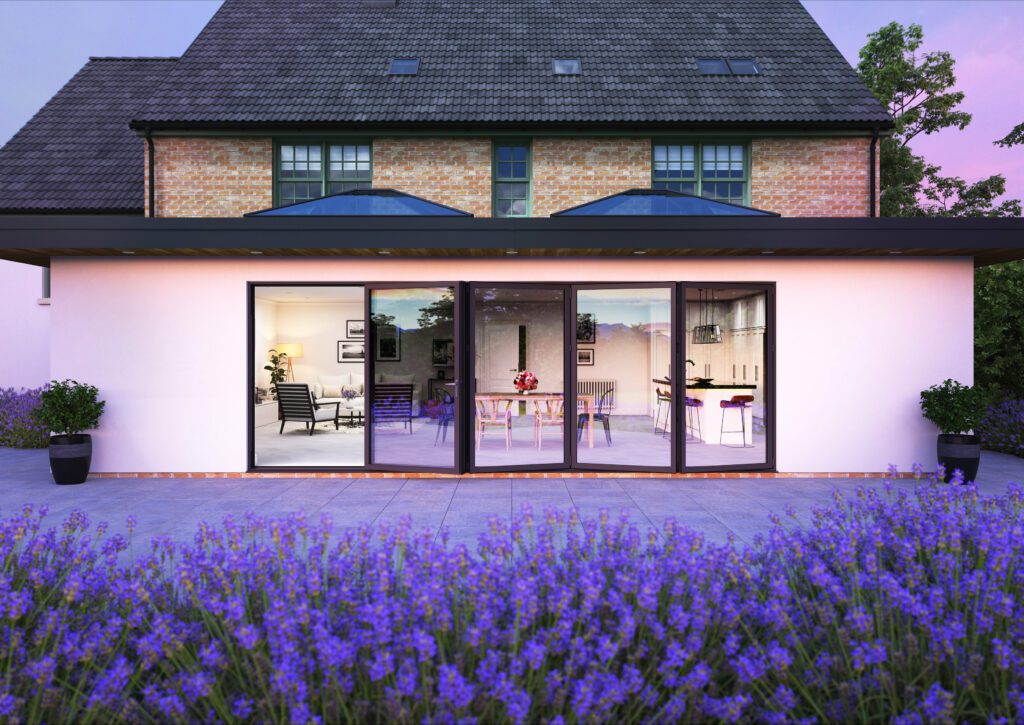 The window and door industry has certainly gone through some changes over the years. Thankfully, the mundane 'white uPVC' look that dominated the 80's, 90's and even early 2000's is finally coming to an end…
Window and door manufacturers in the UK have had to up their game, and thankfully inspiration from Europe and beyond has now brought in some exciting new trends.
The massive surge in home extensions over the past few years has also breathed new life into our white plastic industry, with demanding architects demanding products that fit stylistically with their vivid imaginations. Couple that with prestigious extensions and builds, funded by affluent homeowners, and we now have exotic products such as corner sliding doors, large curtain walled frames and pivot entrance doors becoming the norm.
Put simply, this is the most exciting time we can remember for the fenestration industry. Homeowners now have an abundance of choices for either renovations or extensions/self-builds, with previously unattainable products now affordable.
With so many products on the market now, we've been analysing the latest trends and buying habits amongst our customers, and indeed the whole market. Here's what we believe are ten of the hottest rising trends amongst design-savvy homeowners.
If you want to get ahead of the curve and be a trendsetter, then read on…
1 – Bright coloured frames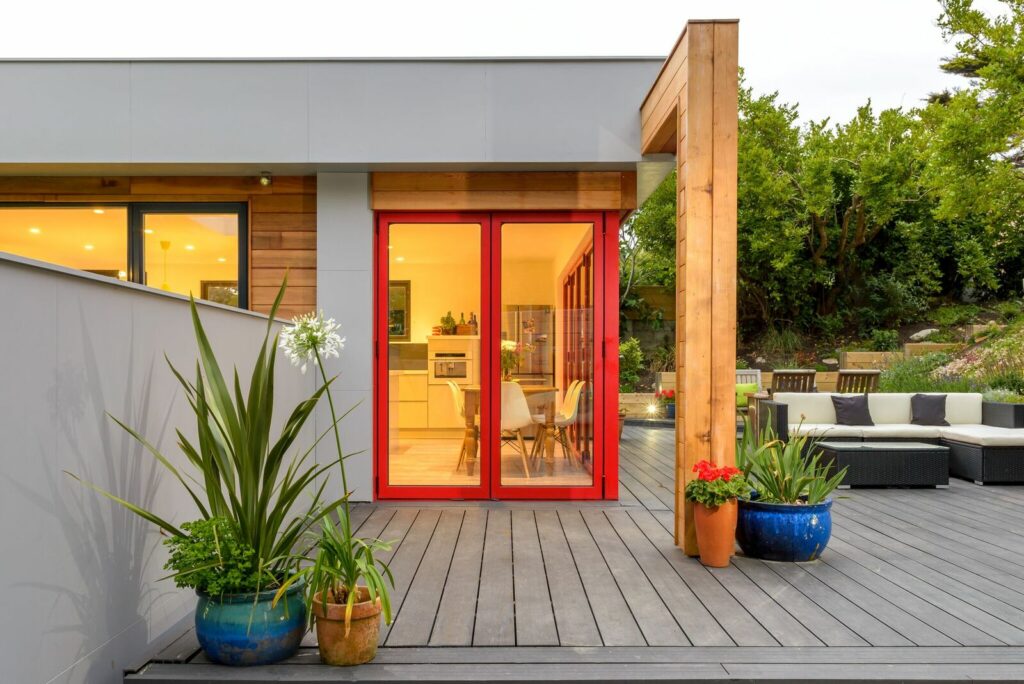 Anthracite Grey (RAL 7016 for the nerds) is now officially our most popular colour amongst windows and doors, finally overtaking plain old 'white', which has reigned supreme basically forever.
Whilst there is no denying Anthracite Grey is a classy and appealing colour, its sudden surge in popularity has naturally led to many people already getting tired of it. Like a pop star who rises to fame too quickly, the backlash is inevitable.
Almost like a childish rebuttal to the dark grey colour, we've noticed a trend of homeowners opting for very bright colours for window and door frames. This trend is most common with aluminium windows, sliding doors and bi-folds.
Aluminium is a powder-coated product and therefore, any colour is possible. Most manufacturers (including us) offer the RAL colour chart, although there are other finishes and colour ranges possible.
Bright colours can work really well against either timber or composite cladding), and especially against bright white render (currently the colour of choice for modern extensions). If you're a fan of shows like 'George Clarke's Remarkable Renovations', you might have seen episodes featuring this trend. A notable episode featured a couple who opted for luminous orange frames against a white rendered wall…much to the dismay of their neighbours! The result, however, was quite unique and looked effortlessly modern and chic.
With over 250 colours to typically choose from on aluminium, this is a trend that we think will grow steadily, as the notion of 'stock colours' (white, grey and black) will start to fade away.
2 – The 'Crittall' look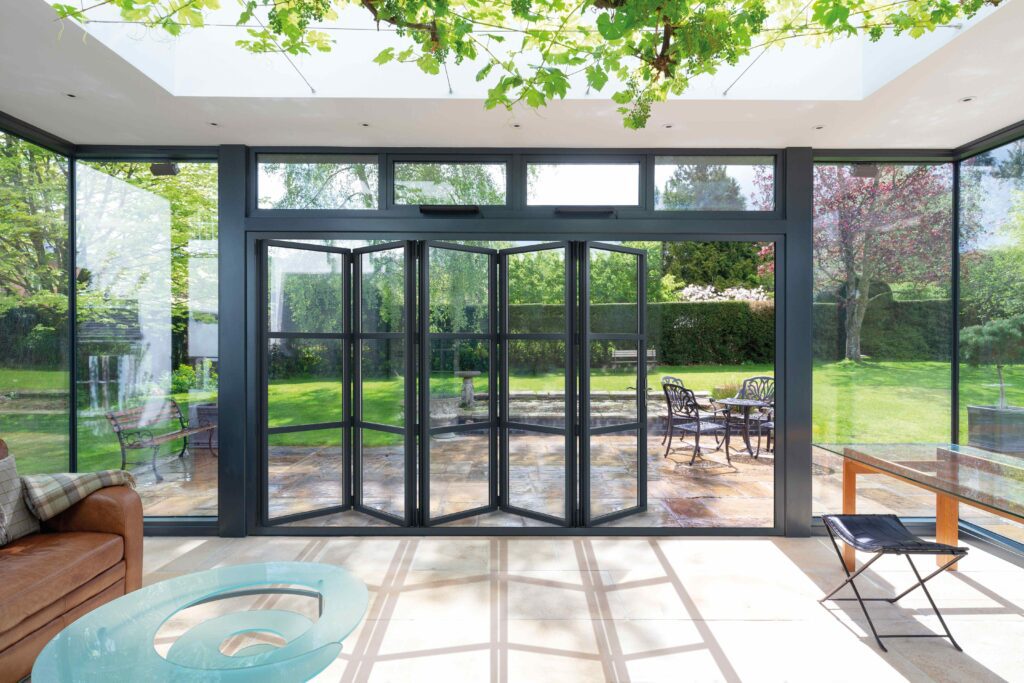 Another hot trend that has been rising steadily over the past couple of years is the 'Crittall' style look. This look is massive on Instagram and has again been featured recently on numerous programs like 'Grand Designs'.
The term can bring some confusion, as Crittall is actually a brand of window, manufactured by Crittall Windows and started by their founder Francis Henry Crittall in 1884. It's a testament to the popularity of the brand that many companies are now imitating the look and feel of their product, using popular terms such as 'steel look' 'industrial look' and 'heritage windows'.
The look of the windows and doors is characterised by slim frames, typically in black. They will usually have bars running through the apertures and mimic a traditional steel window. Although you can technically have them in any colour, they are almost always black, and this with the horizontal bars gives an 'industrial' look which is very 'en vogue' right now.
A lot of customers are now choosing steel look bi-folds over traditional bi-folding doors, as a stylish alternative. The look is certainly a matter of taste, but there's no denying that it gives a unique look and also affords lots of natural light.
We predict we are only seeing the early curve of this 'Crittall look' trend, and its popularity will continue to rise over the coming years.
3 – Slimline windows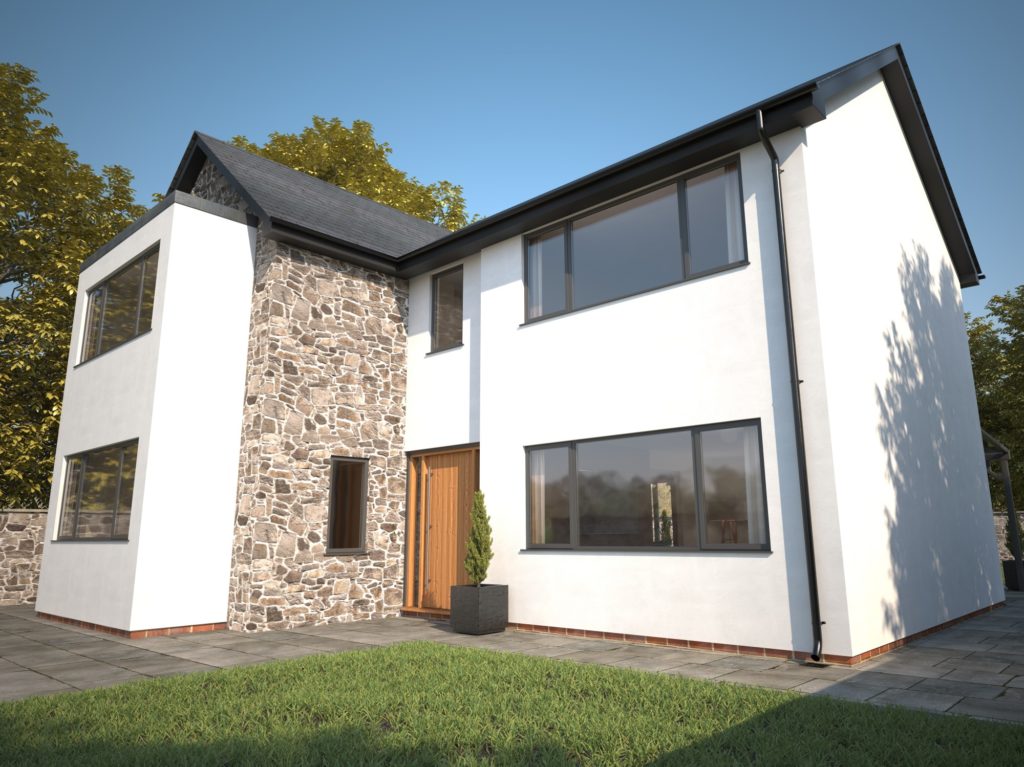 For a lot of customers, choosing a window or door in 2022 is all about having the maximum visible glass area. That means more glass, less frame…
How exactly this trend came about is not immediately clear; it could be the European influence of slimline frames, seen on prestigious modern European homes. It could also be an attempt to improve energy ratings, as the more glass the better the U value.
Although more likely, it's probably because slimline aluminium frames look cool. Although a taste thing, most would agree there is no comparison visually between a modern aluminium window with slimline, dark frames, to a traditional white uPVC window with chunky white profile that protrudes every which way.
Slimline frames can trick the eye into making the window appear bigger than it is, almost like a picture window (discussed more below). Some super-slim frames (like the Reynaers SL68 window) have outer frames so slim (38mm external face and 20mm internal) that they can make the window appear almost 'frameless' from a distance. According to a lot of homeowners, that's a good thing…. who are we to argue?
Slimline windows are undoubtedly one of the biggest growth areas of the industry, and we really can't see this trend curving any which way but up. It does seem like a backward step that homeowners would start to request thicker, chunkier frames to obstruct their views of the outside?
4 – Picture windows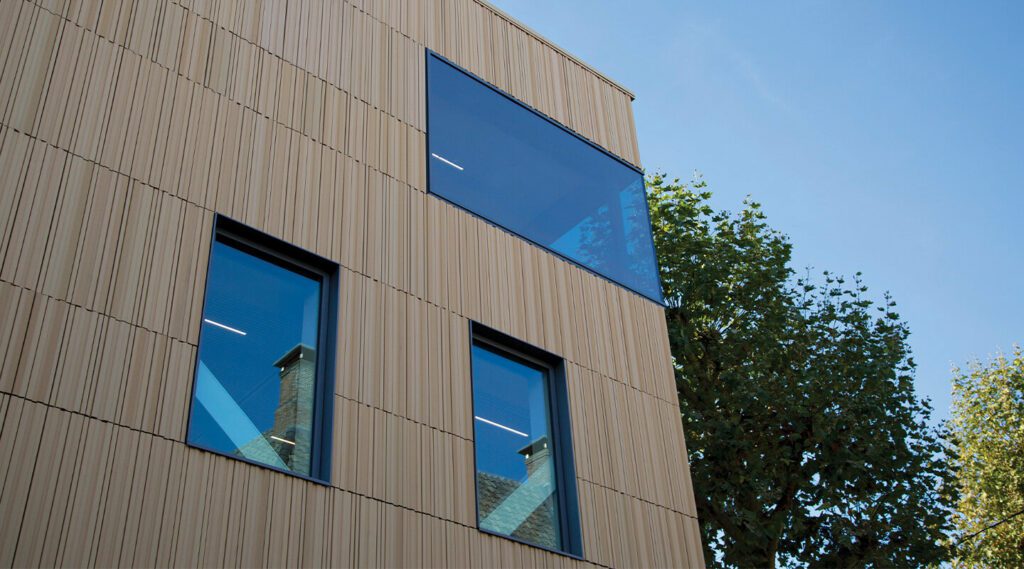 A picture window is described as a large window that does not open, and whilst they are nothing new, the rising trend of glass, glass and more glass has transformed them into a very fashionable prospect.
Like the bright colours and slimline frames already discussed, picture windows are better suited to aluminium windows in modern design. Aluminium is a much stronger material than uPVC, so it is capable of larger sizes and heavier glass load.
This means that we are now seeing windows of 2-3 metres in width or height becoming popular, as they offer large, panoramic views of the outside. Not to mention flooding the home with natural light, which can make rooms appear larger.
A picture window seems counter-productive in a way, as the large fixed glazing panel means there are no opening vents. However, it seems homeowners are happy to compromise, as adding an opening vent would require transom bars and spoil the uninterrupted glazed look.
Picture windows complement both modern and traditional homes, so we expect this trend to continue. Especially given the ability to now cater for very large glazing units on residential properties.
5 – Slimline sliding doors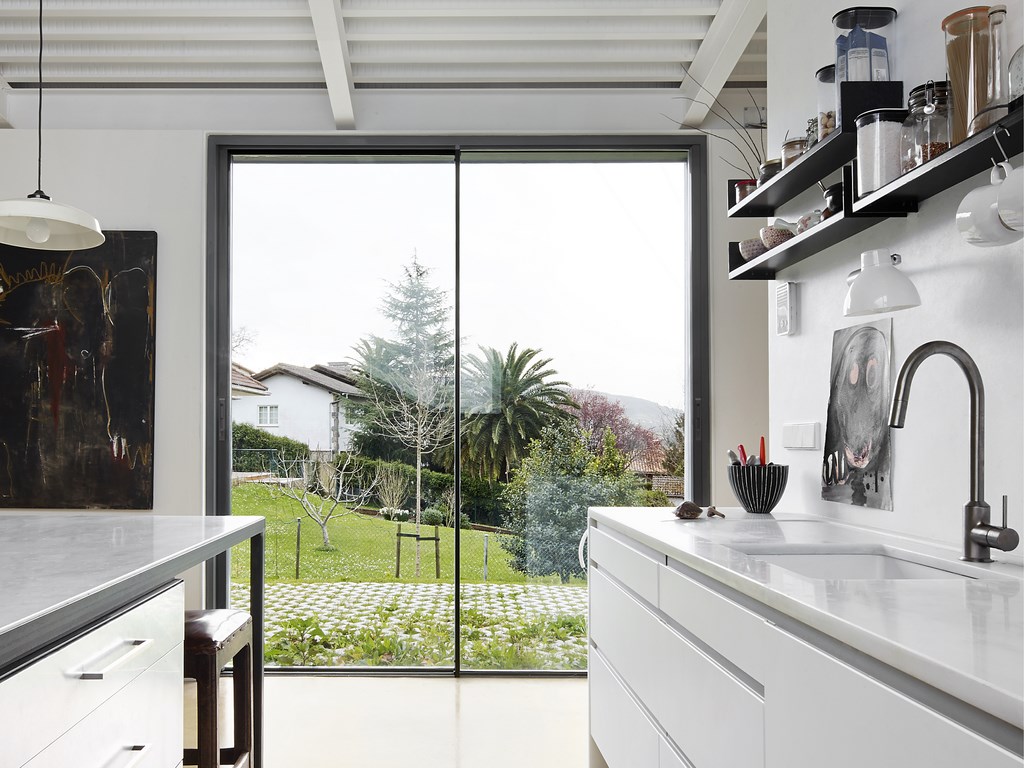 Sliding doors are fast replacing bi-folding doors in terms of popularity. Not only do the Google trends reflect this statement, but go to any trade show in 2022 such as The Fit Show or Grand Designs, and you'll likely see a much higher ratio of sliding doors compared to bi-folds.
This trend is something of a 360, as bi-folds pretty much-replaced sliding doors (or 'patio doors' as they are traditionally known in the industry) several years ago. Although bi-folds remain popular, it seems more customers are gravitating back to sliders.
Despite the fact that a sliding door does not allow you to open the full aperture like a bi-fold, this popularity would seem to again be down to the fact that homeowners now want as much visible glass as possible. Modern-day sliders are capable of huge doors of 2-3m in width and height comfortably, which makes for some stunning, unobstructed views.
Slimline sliding doors, such as the Cortizo Cor Vision that is supplied by GFD, are the rising star of this popular new product roster. Featuring slimline outer frames and a very slim intersection between the glass doors of only 20mm (compared to around 150mm on a standard slider), these doors are effortlessly modern and create an openable 'glazed wall' look.
Slimline sliding doors are still a fairly specialist product, despite their increasing popularity. These doors will become more and more in demand as architects and homeowners become aware of their availability (and surprisingly affordability). As it's a specialist product, make sure you speak to the company you are planning to buy from and have them answer all your questions thoroughly.
If you'd like to speak to us about the supply of a Cortizo Cor Vision slimline sider, click here to contact our team.
6 – Flush Sash Windows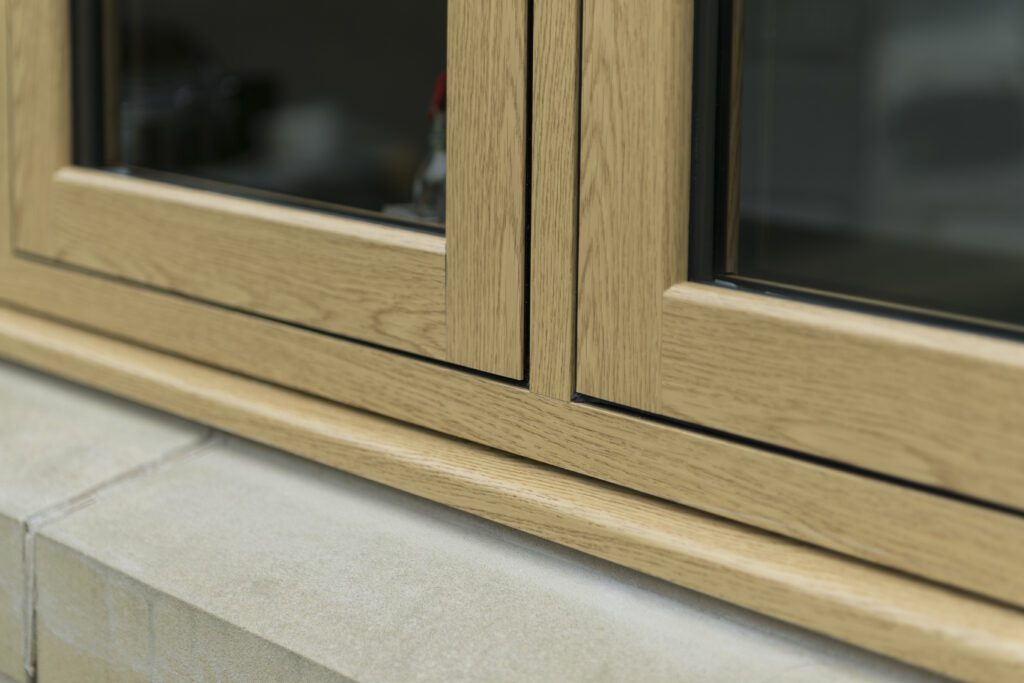 We've talked a lot about slimline frames and getting big glass sizes, but our next trending product is not about that. Flush sash windows were all anybody in the industry was talking about when they started popping up a few years ago.
A flush sash window is what you would expect – rather than the window sashes protruding from the frame on the outside like a traditional window, the sashes (or opening vents) sit completely flush with the outer frame.
When specified on a uPVC window with a foiled finish (such as the Deceuninck Heritage range that GFD supplies), this can create a very traditional-looking window that appears like traditional timber, and a million miles away from an 80's inspired white uPVC window.
There are also aluminium flush sash options on the market as well, as the flush look is also right at home on a modern property. Consider the Smart Alitherm 800 flush sash window range if you are looking for aluminium windows with equal sight lines and a flush external appearance.
The other thing to consider with flush sash windows is that any fixed panes of glass are usually manufactured with a 'dummy sash'. This means that all sightlines run completely level on the window, giving you equal glass lines. For those customers with an eye for detail (or OCD), this is a very attractive feature.
It should be remembered that if you consider flush sash windows, the nature of the above means that there will be a more visible frame than any of the slimline options mentioned above. This is purely a matter of taste, so it's important to consider what you are trying to achieve and the look you prefer.
Although their popularity has been a slow burner, there is still a massive untapped market for this product that will only increase as homeowners become more aware of them.
If you'd like to speak to us about the supply of flush sash windows (in either uPVC or aluminium), click here to contact our team.
7 – Pivot Doors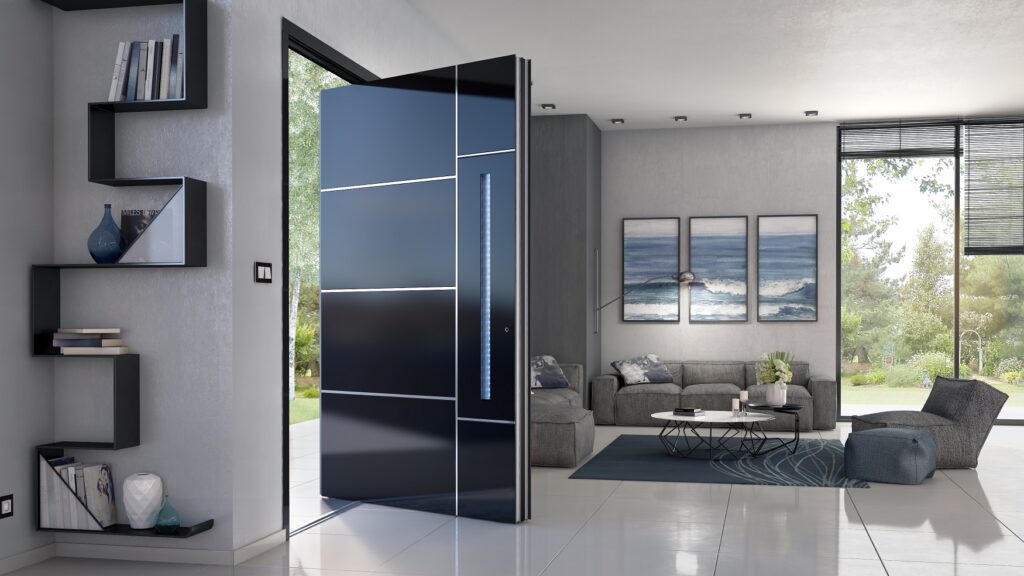 Pivot doors are a dark horse on our list, and might not be a product that some homeowners are aware of yet. Grand Designs fans may have seen them adorning multi-million-pound luxury homes on the show, and whilst they are still at a fairly exclusive price point, there are more affordable options starting to appear.
If you're unfamiliar with what a pivot door is, it differs from a traditional hinged door in that the weight of the door is supported by pivots at the top and bottom of the door leaf. As the floor is taking the lion's share of the weight, this affords you the luxury of specifying very large and heavy door sizes. On a traditional door hinged to the frame, this would not be possible as there would always be a weight restriction.
It's not uncommon to see pivot doors specified up to 4 metres high and 2 metres wide, eliminating the need for glazed side panels or top boxes.
Pivot doors can also be clad in a range of materials, from timber to exotic materials such as copper, concrete, stone and carbon effects. Of course, this all comes at a price, but if you're considering a pivot door the chances are budget isn't your primary concern anyway.
It's still early days for pivot doors, and the exclusive price point will probably keep them out of the mass market for at least a few years (although pivot door customers would probably argue the exclusivity is a good thing). We do know that more affordable options are starting to come onto the market, and once they do it will be hard for many to resist the allure of these very impressive doors.
If you'd like to speak to us about the supply of pivot entrance doors, click here to contact our team.
8 – 1930's Style Entrance Doors
Let's go back to the traditional style, as ultra-modern 'Grand Designs' style products are not for everybody. As entrance door specialists, one style that we have seen consistently popular over the years is the traditional 1930s look.
There is no denying the traditional 1930s, art deco style doors are visually stunning to look at. Traditional 1930's style doors were typically hardwood, painted in bright or pastel colours and featured stained glass windows.
Whilst nice to look at, these doors are not always practical (due to the wood warping, bowing or splitting over time) and do require a lot of maintenance. With composite doors now the most popular entrance door choice in the UK, a range of 1930's designs are now available in composite door options.
An example of a popular design is the Solidor London Door, which can be specified in a range of external colours and traditional coloured glass. This is a worthy compromise for a door that looks and feels like a traditional timber door, with very little maintenance and modern-day security.
Other period designs are also starting to emerge, such as designs like the Solidor Edinburgh door, which offers Victorian-era styling with more glass for customers with narrow or dark hallways.
The 1930s door trend continues to steadily rise, and with a huge proportion of period homes in the UK, we think the options for this style of door will only increase in the coming years.
9 – Smart Entry Systems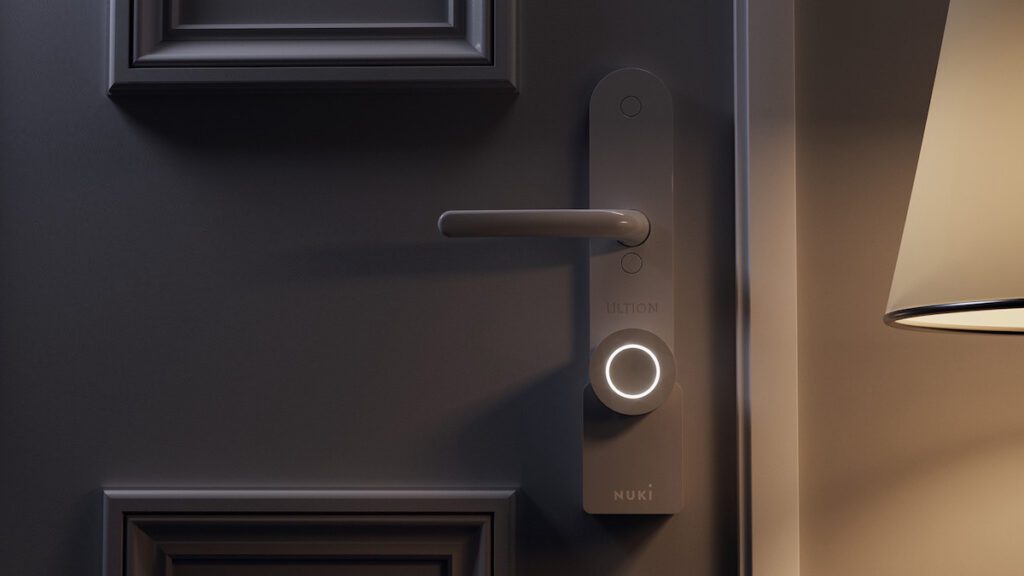 It wouldn't be a list of rising trends without a mention of smart technology. As Smart technology is becoming commonplace in most aspects of our lives, it's inevitably being incorporated into our windows and doors.
Fairly simple products such as the Ring doorbell have made a huge impact across the country, providing a genuinely useful service for a relatively low cost.
There are numerous security devices for windows and doors now utilising smart technology, many being adopted by nationwide security companies such as Verisure. The downside of this of course (aside from the subscription model many require), is that a lot of homeowners don't want obvious devices fitting to their beautiful new window frames.
One trend rising that we've spotted is homeowners choosing smart technology options for their front doors. Although smart products do offer more security (and the front door is a common way for intruders to try and gain entry), as with any smart tech there is also the convenience and 'wow factor' that customers love.
One such product that we predict will become very popular soon is the new Ultion Nuki. Developed by the same company who brought us the 3-star Ultion cylinder (currently the most popular euro lock in the UK), this Smart handle does a host of very clever things that you can brag to your friends about around the barbeque.
This includes keyless entry (the door senses when you are near the door using the app from your phone, and dutifully opens the door for you like some smart-tech invisible butler). You can also control it remotely from a host of devices, including your smartwatch, Ring doorbell or even Amazon Alexa.
There are of course other similar options on the market, and no doubt more will be developed as the smart market is one of the fastest growing across the UK.
We predict you will be seeing more Smart technology being implemented in window and door products over the coming years. It's likely the options will become more powerful and more discreet, so that they don't detract from the design of your specified products.
10 – Integral blinds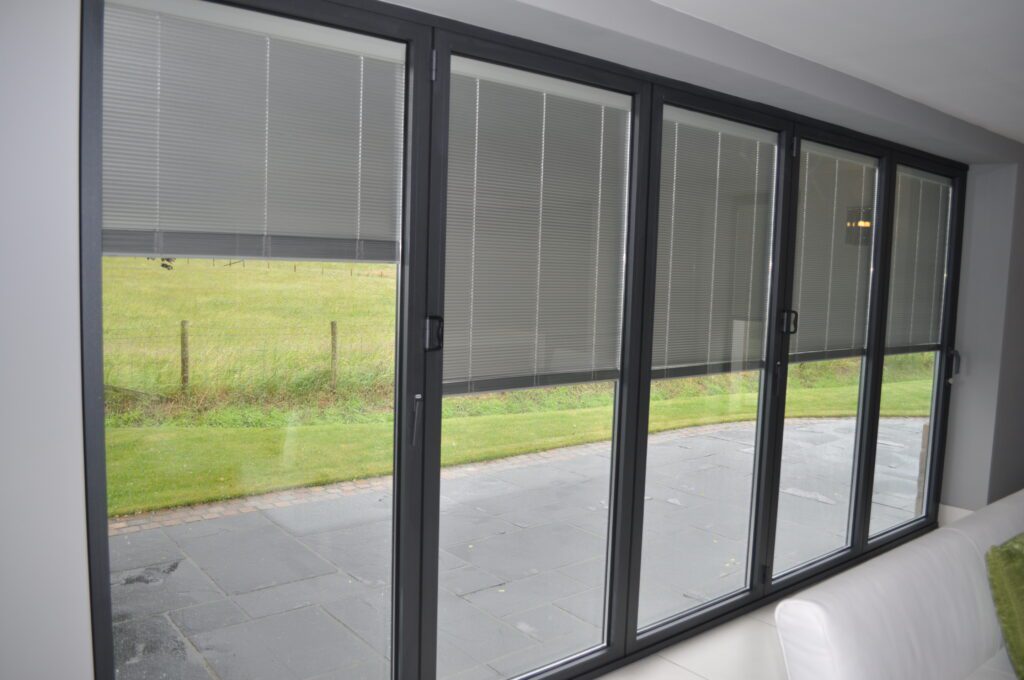 Although they have been around on the market for some time, integral blinds are skyrocketing in popularity these days. There are numerous manufacturers in the UK, at GFD we have used Morley Blinds for many years and consider their product to be the best on the market in its class.
If you haven't seen them before, these are double-glazed glass units with a blind mechanism inside the glass unit. They can be controlled by either a cord (less popular these days as unsightly and a potential hazard for small children), a plastic slider or even electric or solar options.
Integral blinds obviously eliminate the headache of fitting blinds or curtains to a reveal where you might not want them fitting. Many modern homes use the small spaces creatively, so interior fittings can often take up valuable space.
There is also a matter of taste – for example one of the most popular products we see integral blinds fitted in is bi-folds. Bi-folds have a modern look and are often fitted in new extensions, so having the blinds inside the glass is a great compliment to the look of the product. Not to mention very handy on hot days!
Integral blinds are a very solid product, we have seen very little issue with them in general and customers love the functionality. As they are integral to the unit, they don't catch dust like regular blinds, and they are available in a range of colours (even colour match options to your frames if you want).
The blind technology is also constantly evolving, and homeowners can now choose large span openings that can be controlled from either remote control or a wall switch. Pretty fancy!
Conclusion
So, there you have 10 rising trends within the door and window industry. If you're embarking on a renovation or new extension, consider which of these may suit your project. You might just get ahead of the curve, or at the very least get some fresh inspiration!
To speak to one of our team about the supply or further information on any of these products, please contact us.