So, it looks like you're in search of a new front door! (You wouldn't be here if you weren't)
But what do you need to know to help you make the right choice?
Almost everyone is bound to buy a new door at least once in their lifetime and while many doors may appear similar at a glance, beneath the surface lies a world of diversity and variation that can significantly impact your living space.
To help you avoid costly errors and choose the right door for you, let's try imagining this process as if you were visiting a car showroom. You wouldn't be able to walk in saying 'I want to buy a car', without being asked a million and one questions from a showroom employee.
Instead, you'd most likely arrive with a set of specific criteria in mind including the style, brand and features that all align with your lifestyle and preferences. This detailed information is vital in helping the retailer or employee understand your needs and guide you to the best-suited options for you.
By understanding exactly what features you need from a new front door (such as security and energy efficiency etc), you'll ensure that your choice not only enhances the aesthetics of your space, but also fulfils the functional requirements that matter to you most.
In this article, we'll explain why choosing the right new front door for your home is so important, as well as breaking down our GFD Homes composite door range.
(Image Source: GFD Homes – Showroom)
The Importance of choosing the right front door for your home
Before looking at the types of composite doors we offer, here are a few reasons why choosing a new front door can be an extremely important decision:
Security
The front door of your home is the first line of defence against intruders and a recent study revealed that 76% of burglars gain entry into a home through its front doors (Ultion, 2023). This statistic alone emphasises the importance of having a solid, well-designed door with robust locks and security features to deter unwanted visitors and protect your loved ones and belongings.
When it comes to choosing a new front door, Composite doors and solid wood doors are often favoured, not only for the level of durability that they offer, but resistance to forced entry too.
Longevity
Doors are a long-term investment and choosing one made from high quality materials can save you money in the long run. Composite doors are renowned for their durability and resistance to the elements, ensuring they will last for many years without significant wear and tear.
Energy efficiency
The type of door you choose can have a major impact on your energy bills. Well insulated doors, such as those made of composite materials, help regulate indoor temperatures, reducing your reliance on heating and cooling systems and ultimately lowering your energy costs.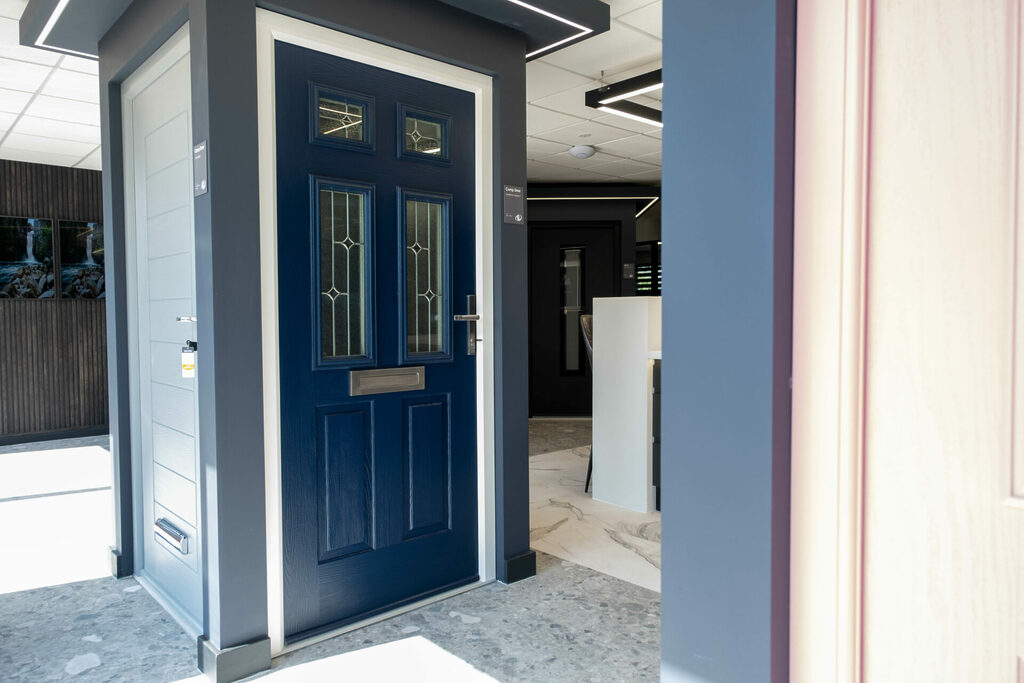 (Image Source: GFD Homes – Showroom)
Understanding our composite door range
Here at GFD Homes, we're proud to have a fantastic collection of high quality composite doors, that includes the following ranges:
The image displayed below shows how each door, despite looking so similar, boasts a distinct set of features and comes with varying price points.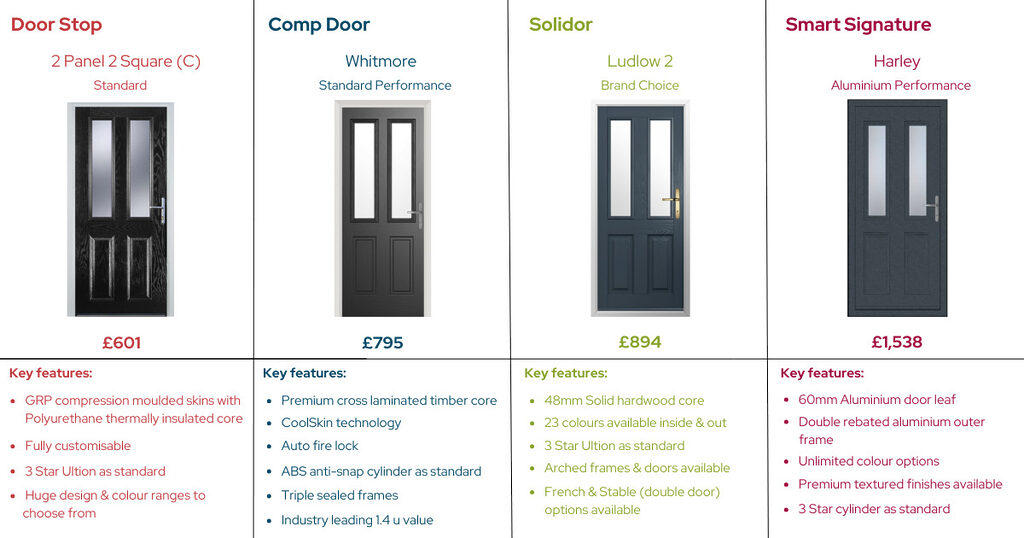 * The doors shown in this example are all of a similar style, to help reflect the differences in features offered.
Door Stop
Much like any reputable standard composite door available in the market, the Door Stop collection is well known for its blend of affordability and high-quality craftsmanship. It presents a wide array of design and colour choices, allowing you to fully tailor your selection to your preferences.
If you seek a door that not only performs its functions well, but also grants you freedom to customise it entirely, the Door Stop range stands as the ideal choice.
Comp Door
In the realm of impressive door brands, the Comp Door takes a prominent stance. It represents a cutting-edge, freshly designed composite door that has been crafted by industry leading experts. Elevating the standards of a conventional door composite door technology, the Comp Door has been engineered to combat seasonal movement.
Positioned at the upper end of standard performing composite doors, the Comp Door collection is your go-to choice if you're seeking a door that seamlessly combines aesthetics with a consistent and impressive year-round performance.
Solidor
Solidor holds the distinction of being the UK's leading supplier of solid timber core composite doors, offering an extensive and captivating selection of composite door options. Spanning from classic to modern designs, this range provides an array of choices, all of which offer top-tier security and stand as market leaders in the realm of composite doors.
If you're in search of a renowned brand synonymous with door industry excellence and are willing to invest a bit more for a wealth of well-crafted features, Solidor is the choice for you.
Smart Signature Aluminium Composite Doors
Emerging as the forefront of the next-generation entrance doors, the Smart Signature Aluminium Composite door firmly positions itself at the upper end of the composite door spectrum. With its substantial 60mm aluminium door leaf, it offers both enhanced security confidence and an array of striking colour choices to cater to your individual preferences.
What's even more remarkable is that you can enjoy all of these benefits without the usual cost associated with aluminium doors, which typically ranges between £3000 – £5000.
So, If you want nothing but the utmost excellence and thrive on being at the cutting edge of industry innovation, the Smart Signature Aluminium Composite Doors collection will allow you to achieve exactly that.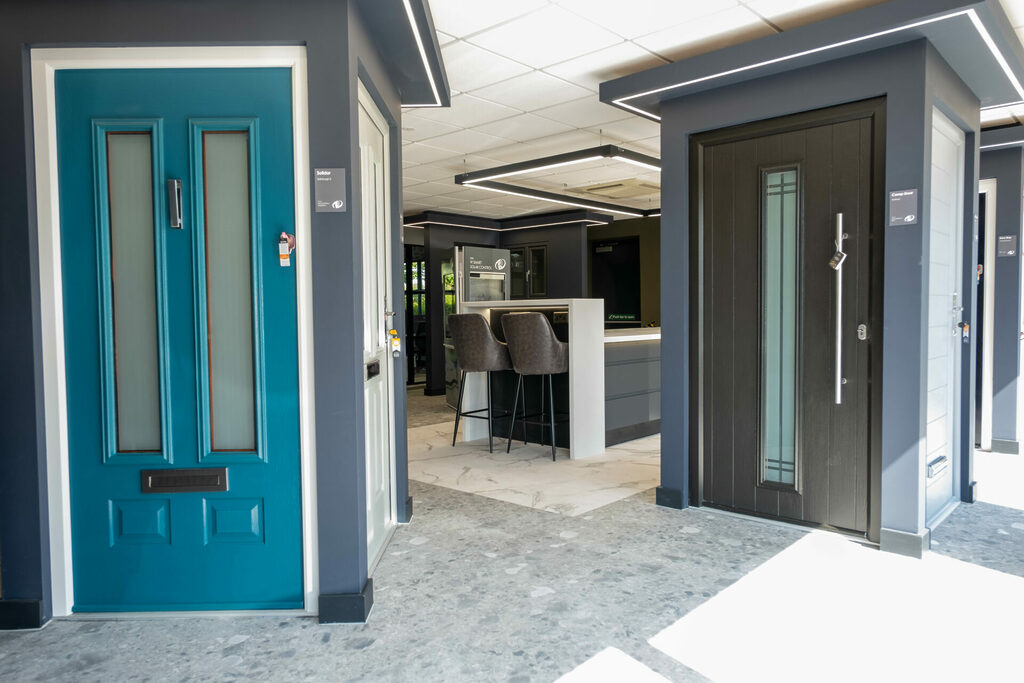 (Image Source: GFD Homes – Showroom)
Making the right decision
When it comes to choosing the perfect front door for your home, several factors should guide your decision making process, including your budget, style preferences and individual needs (e.g. whether you need enhanced security features or the highest energy efficiency rating).
Before reaching a decision, we definitely recommend evaluating the benefits each door range offers and aligning them to your specific priorities.
Always remember that doors priced at the higher end of the scale will come with a range of benefits that warrant the higher price and with any big purchase decision, you want something that will last in quality for years to come, so you don't have to worry about a near-future replacement.
If you're local to our one-of-a-kind Teesside showroom, we'd love to invite you over to see our doors in person. Here you'll have the opportunity to personally test out each door, assessing the quality in real life and helping you to make a more informed decision.
Please note that our showroom operates by appointment only, so if you'd like to book a visit, please contact our GFD Homes team on 01642 309576. We guarantee that you'll be blown away with your experience!
FAQs about exploring the diversity of our composite door range
What doors do you supply?
Here at GFD Homes, we supply the following composite door collections:
Door Stop Composite Doors
Comp Door Composite Doors
Solidor Composite Doors
Smart Signature Aluminium Composite Doors
Which door should I choose?
When it comes to choosing a new front door, it all depends on a range of factors such as your budget, style preferences and the key features you need from a door (such as high security or energy efficiency ratings).
Feel free to call our GFD Homes team for help if you're not sure which one to go for.
Do the doors come in various styles and designs to match different architectural preferences?
Yes! We like to keep things simple and clear! You can effortlessly design and price any door style combination on our door designer and we'll promptly provide you with a 100% accurate price.
With approximately 2 billion design permutations available per brand, we are confidently equipped to offer your home the right style and design to help you achieve the perfection you seek.
Do any of the door ranges come with guarantees?
Yes, you can rest easy knowing that all our doors come with a guarantee as standard.
All doors from our Door Stop, Comp Door and Solidor collections come with a 10 year guarantee, as well as a 5 year guarantee on installation services for those who choose our fitting option.
All doors in our Smart Signature Aluminium Composite Door range come with a 25 year paint guarantee as standard.
Feel free to get in touch with us if you have any more questions on our product guarantees.
Do you have these doors available to view in your showroom?
At our Teesside showroom, we have a range of doors from each of our composite door collections on display.
To book a showroom visit, call us on 01642 309576.