Composite doors have gained immense popularity in the market, thanks to their impressive durability, minimal maintenance requirements, and appealing aesthetics. The doors are constructed with multiple layers, giving them exceptional strength, sturdiness, thermal efficiency, and a long-lasting lifespan.
Comp Door has curated an extensive collection of door designs that are experiencing a surge in demand. Their diverse range of designs caters to both contemporary and traditional homes, ensuring there's a perfect match for every project.
For any door in the Comp Door collection, you have the option to choose from an array of 16 stunning colours, with over 250 potential colour combinations for both the interior and exterior. When combined with their exquisite selection of hardware options available in various colours and finishes, Comp Door doors are truly customisable.
However, with such a wide spectrum of captivating colours at your disposal, making that final decision can be a challenging task.
In this blog, we'll unveil the most favoured colours for composite doors, giving you insights into what choices others are making!
Anthracite Grey
We hold a special fondness for Anthracite Grey, and it's a top pick among our customers as well! This shade reigns as the most frequently chosen door colour, seamlessly complementing every door style we have, including the stunning Harlington door, shown below.
This remarkably adaptable colour effortlessly enhances both contemporary and traditional homes. We're particularly drawn to its rich, darker tone, which makes a striking statement on any door.
(Image Source: GFD Homes – Showroom)
Agate Grey
Agate Grey holds a special place among our favourites, as illustrated in the example below, featuring the Richmond door. Several of our grey shades have earned favour with homeowners for their timeless, classic appeal.
Interestingly, this colour preference has demonstrated immense popularity when paired with the Whitmore-style door, making it an ideal choice for those who appreciate a more traditional aesthetic!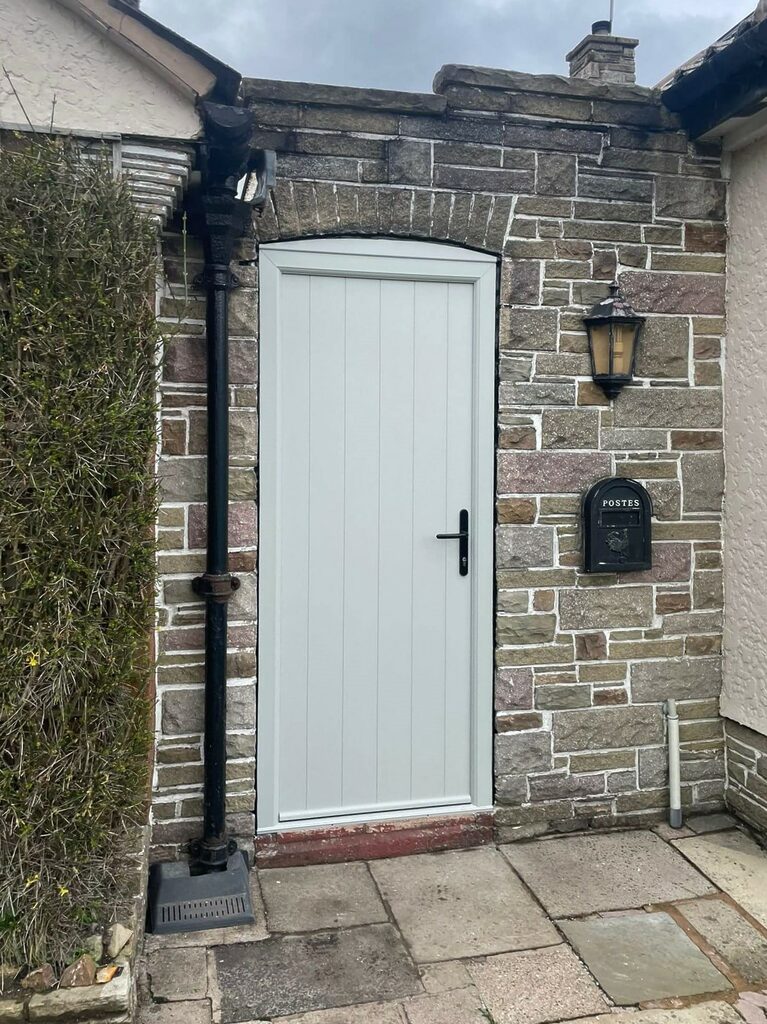 Black
Black composite doors can infuse your home's exterior with an element of grace and sophistication.
The colour Black is known for its versatility, harmonising effortlessly with a wide range of architectural styles.
In this case, our Teesside showroom hosts the striking combination by pairing black with a Rutland style door, as can be seen below. Ranked as the third most favoured colour, black frequently finds its home alongside light brick residences, creating a striking contrast.
This colour consistently emerges as a top choice for our glazed doors. Notably, the Whitmore and the Middleton, our top two doors in a black finish, showcase how this colour is the perfect selection for both traditional and contemporary homes, effortlessly bridging the gap between the two!
(Image Source: GFD Homes – Showroom)
French Grey
French Grey enjoys widespread popularity for its classic and enduring aesthetic. Often matched with the Whitmore door, French Grey boasts remarkable versatility, effortlessly complementing various door styles. It harmonises splendidly with brick, stone, and pebbledash exteriors.
This hue also experiences remarkable demand when coupled with our white frames, lending an elegant and pristine appearance to the overall ensemble. We must add that our chrome hardware options complement this colour exceptionally well, enhancing its appeal even further!
Our Teesside showroom also proudly showcases the Cambridge style Comp Door in French Grey, as shown here.
(Image Source: GFD Homes – Showroom)
Chartwell Green
For those in search of a more vibrant and distinctive appearance, our Blue and Chartwell Green options can provide that eye-catching statement you desire. It's no surprise that these two colours rank among our most popular choices!
Chartwell Green exudes a charming pastel hue, making it an ideal match for cottages. Blue, on the other hand, lends a striking appeal to traditional houses, including townhouses, particularly when paired with glazed door styles like the Wellington and Middleton.
Once again, the Whitmore door (as shown below) leads the pack as the most frequently ordered style in this captivating colour!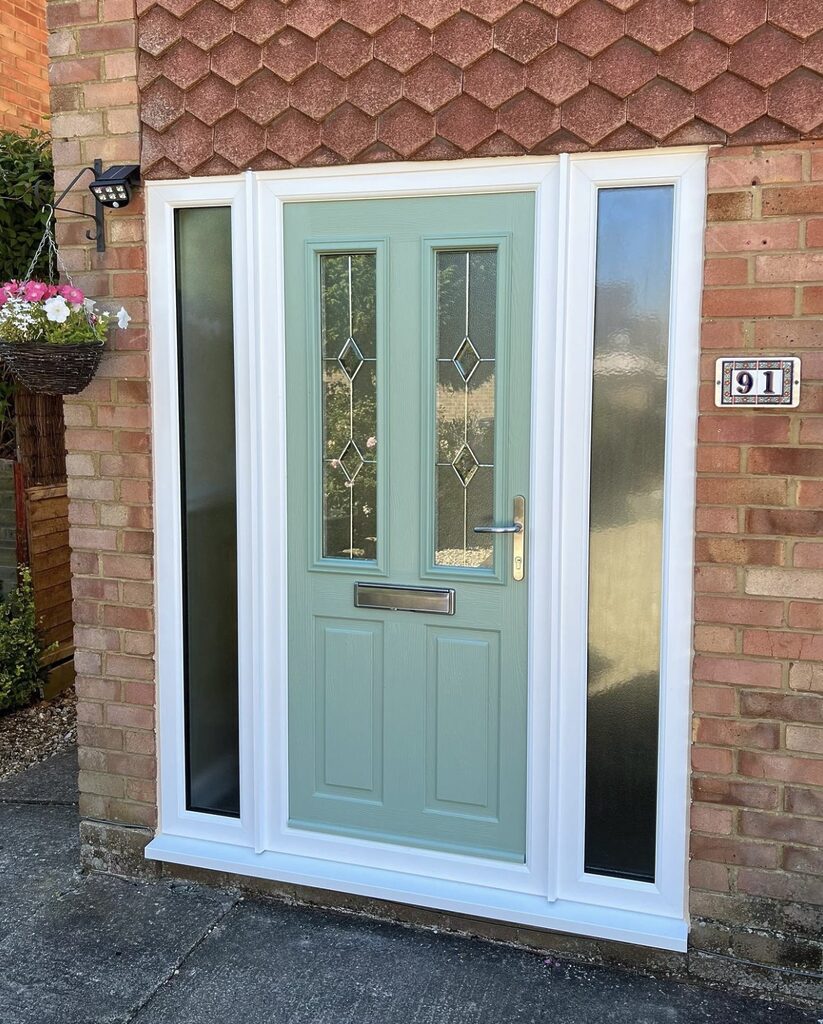 Injecting a splash of colour into your home is a wonderful way to elevate your spirits and infuse your home's exterior with a touch of personality.
If you're on the quest to purchase a new front door and not sure which one to go free, feel free to contact our GFD Homes team for guidance.
If you're local to our one-of-a-kind Teesside showroom, call us on 01642 309576 to book a showroom appointment.
FAQ's about the most popular composite door colour
What custom design choices can you make with Comp Door?
Our online Comp Door designer provides more than 15 stages of design options, allowing you to craft a fully personalised composite entrance door.
To explore these customisation possibilities, visit our website and start designing today for an instant quote.
Is it possible to have a composite door with two different colours?
Absolutely. If you desire a composite door with dual colours to harmonise with both your property's exterior and interior, you can easily achieve this through our online Comp Door designer. Each door we provide is tailored to your specific preferences.
You also have the flexibility to choose from a comprehensive array of design options, including a palette of 16 colour choices for both sides of the door.
Is it possible to customise the colour of my composite door frame?
Certainly. Our online designers allow you to individually select the colour for both your door frame and panel, in addition to choosing your preferred style and accessories.
If you're ready to embark on your design journey, just click here to start browsing through our stunning range of Comp Door composite doors.