Are you in the market for stunning doors and windows that will add elegance and charm to your home? If so, look no further! At our newly designed Teesside showroom, we'd like to invite you to experience the world of high-quality doors and windows in person.
With a range of stunning products that showcase the latest trends in the home improvement sector, we're sure you'll be blown away.
If you're not able to visit our showroom, don't worry! Head over to our GFD Homes website where you can purchase all our products and have them tailored to your specific requirements using our online designer.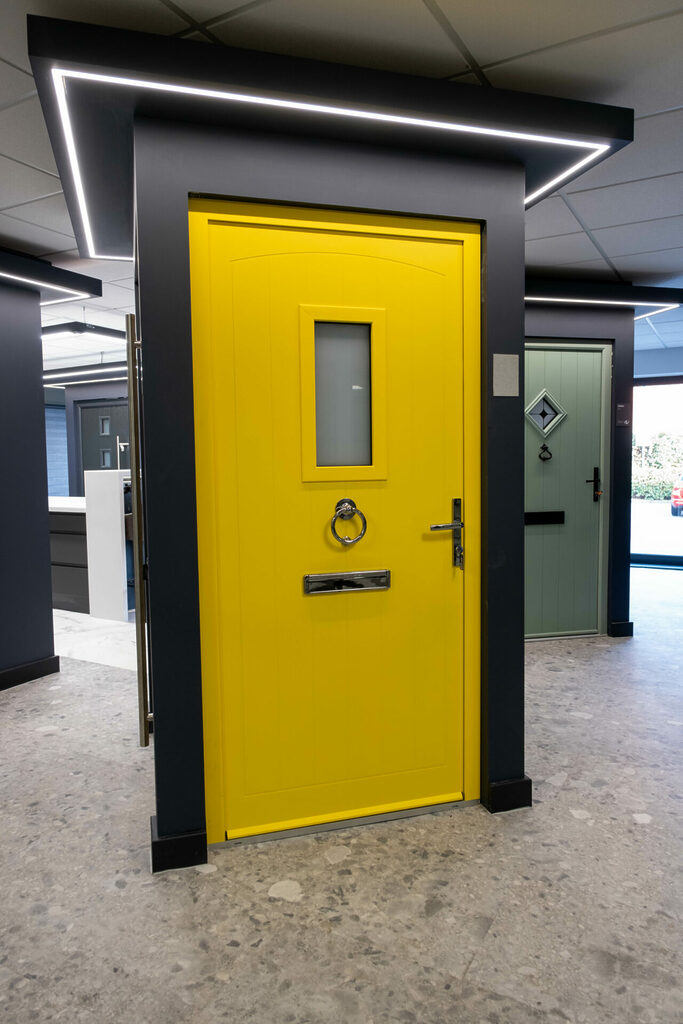 (Image: Smart Signature Broadfield Door – GFD Homes – Showroom)
Explore Our Range Of Exceptional Products
As soon as you step into our showroom, you'll be greeted by a stunning selection of doors, windows and more. Here's a rundown of the exceptional products on display in our Teesside showroom:
1. Solidor Doors
Discover the perfect combination of style and security with Solidor doors. Their exquisite designs are not only visually appealing but also incredibly robust.
2. Comp Door Doors
Our Comp Door range offers a selection of meticulously crafted doors, designed by some of the leading figures in the industry. Experience the ideal entrance for your home with Comp Doors.
3. Smart Aluminium Doors
Embrace modernity with our range of Smart Signature Aluminium doors. These sleek and stylish doors exude contemporary elegance.
4. Door Stop Doors
Explore our collection of Door Stop doors, a leading door manufacturer known for their innovative designs and attention to detail. Each door makes a statement with their uniqueness.
5. Bi-folding Doors
Open up your living spaces to the outdoors with our Bi-folding doors. Enjoy seamless transitions and breathtaking views.
6. Sliding Doors
Experience the convenience and elegance of Sliding doors, a versatile choice that will allow you to experience the beauty of your outdoor views, all from the comfort of your home.
7. Windows
Our showroom is not just about doors; we also showcase a range of high-quality aluminium and uPVC windows that will enhance the aesthetics and energy efficiency of your home.
8. Lanterns & Lights
Illuminate your space with our exquisite Atlas lanterns and lights, adding a touch of sophistication to your interiors.
9. Integral Blinds In Glass:
Discover the practicality and style of integral blinds in glass, the perfect solution for privacy and light control if you have sliding doors, bi-folding doors and even windows.
Booking Your Showroom Appointment is Easy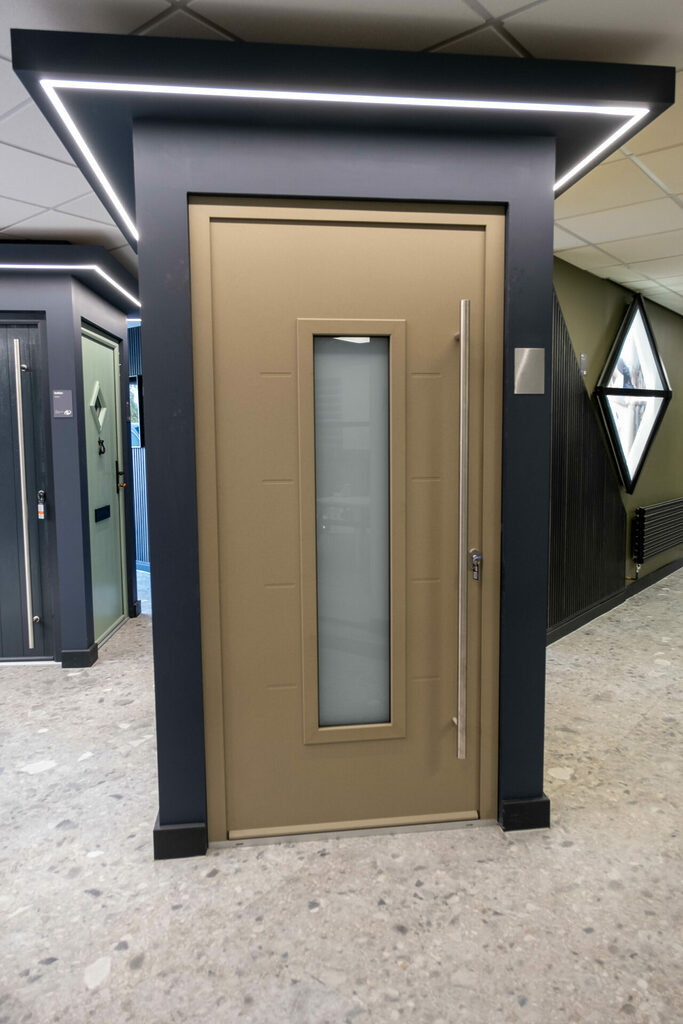 (Image: Smart Signature Carnaby Door – GFD Homes – Showroom)
If you're interested in visiting our showroom, you'll be pleased to hear that booking an appointment is a pretty easy process, whichever method you choose.
Here are all the ways you can book a visit:
Call Our Experts
Give us a call, and our knowledgeable experts will assist you in scheduling your showroom visit. They can answer any questions you may have.
Direct Live Chat
If you prefer instant communication, our live chat feature is at your service. Connect with us directly to book your appointment or seek information.
Email
Drop us an email, and we'll promptly get back to you to confirm your showroom visit.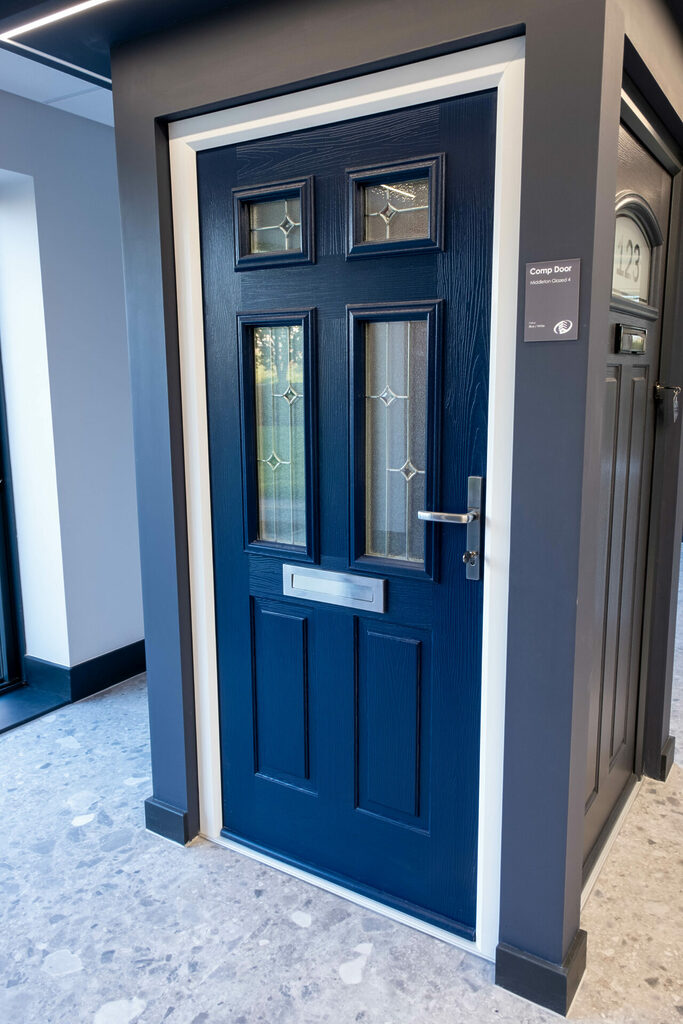 (Image: Comp Door Middleton Composite Door – GFD Homes – Showroom)
The GFD Experience
When you arrive at our showroom, you can expect a warm and welcoming atmosphere from the get-go. Here's what your visit will entail:
Free Parking: Enjoy the convenience of free parking right at our doorstep, ensuring a hassle-free arrival.
Personal Consultation: Discuss your specific needs and preferences with our experts. We'll listen carefully to understand your requirements.
Showroom Tour: Take a guided tour of our showroom, where you can see, touch, and experience our doors and windows first-hand.
In-Depth Discussion: After the tour, we'll sit down with you to answer any questions, explore your budget, and advise the best product for your needs.
No Sales Pressure: Rest assured, there's no sales pressure at our showroom. We believe in giving you the time and space to make an informed decision.
Take Home a Brochure: Before you leave, we'll offer you one of our comprehensive brochures. It's a valuable resource to help you explore your options at your own pace.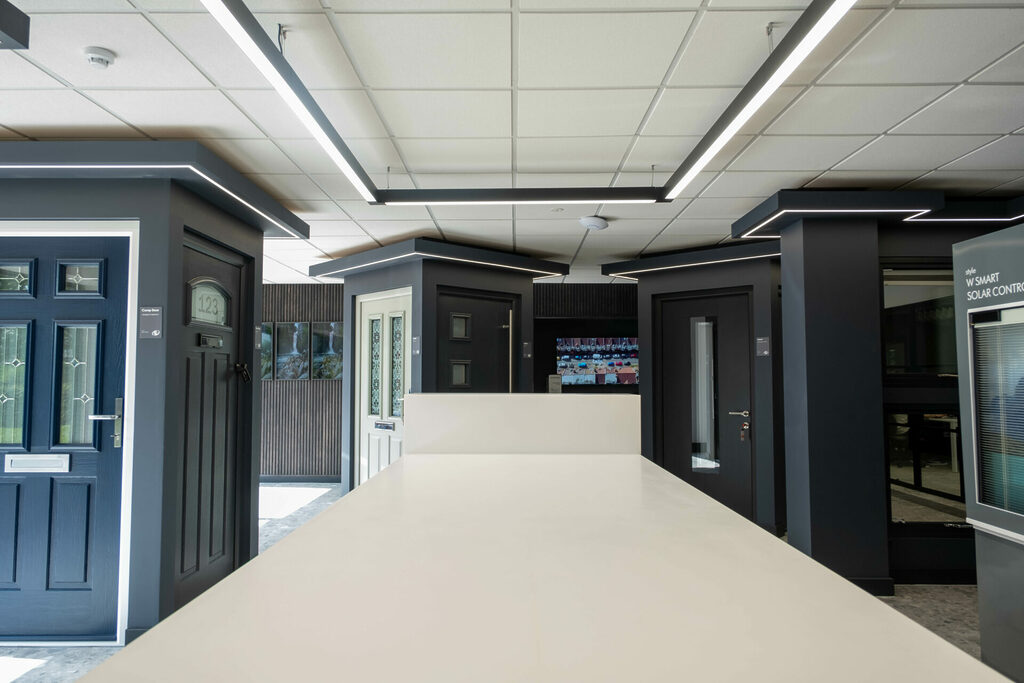 (Image Source: GFD Homes – Showroom)
Using Our Online Designer
If our showroom is too far for you to visit or you'd much prefer to stay in the comfort of your own home whilst finalising your order, we have you covered!
With our online designer, you have the option to fully customise any of our doors and windows with ease. We also have a range of flexible payment options available, just in case you need an alternative method of payment.
Here at our one-of-a-kind Teesside showroom, we're fully committed to helping you find the perfect doors and windows that will allow you to achieve your dream look.
So, if you're ready for the GFD Experience, call us on 01642 309576 to book a showroom appointment today.
FAQs about our GFD Homes Teesside Showroom
Where is the Teesside Showroom?
Our Teesside showroom location is: Teesview, Sabatier Close, Stockton-on-Tees, TS17 6EW
Do I need to book an appointment if I want to visit the showroom?
Yes, If you would like to visit our showroom, you need to book an appointment. This is so that we can make sure one of the team is ready to show you round and answer any questions you may have.
To book an appointment, just call us on 01642 309576.
Can I purchase products directly from the showroom?
When you visit our showroom, our experts will help you choose the right product/ products for you. If you'd like to place your order during your visit, they'll guide you through our online designer, giving you the confidence that you've chosen the right options for what you want.
Alternatively, you can always purchase products directly from our GFD Homes website in the comfort of your own home. 
What should I bring with me when visiting the showroom?
Although you don't have to bring anything with you, photos and measurements of the space or products you need/ are interested in would be great in helping our experts understand exactly what you're looking for or need.
They'll be able to provide much more tailored recommendations to help you achieve your dream look.