It's likely that you're here to understand what is a composite door? Most people only buy one (or two at most!) within their lifetime, so don't worry – you're not alone! We receive these sorts of queries daily from Customers, who've chosen a design but require additional comprehension to make an educated choice.
At GFD Homes, we have Composite Entrance Doors to fit any budget. Our Budget Friendly Door Stop range caters to those looking for a cost-effective solution. If you're after style and elegance, our Solidor Composite Door Range provides an extensive selection of colours and designs. For value along with design, the Comp Door Range is perfect for you. With up to 2 billion door possibilities, GFD Homes can provide something special whatever your requirements or budget.
When it comes to selecting the perfect front door for your home, security and aesthetics are two of the most important factors. With advancements in technology, composite doors have become a popular choice for homeowners, offering a perfect balance of security, durability, and style.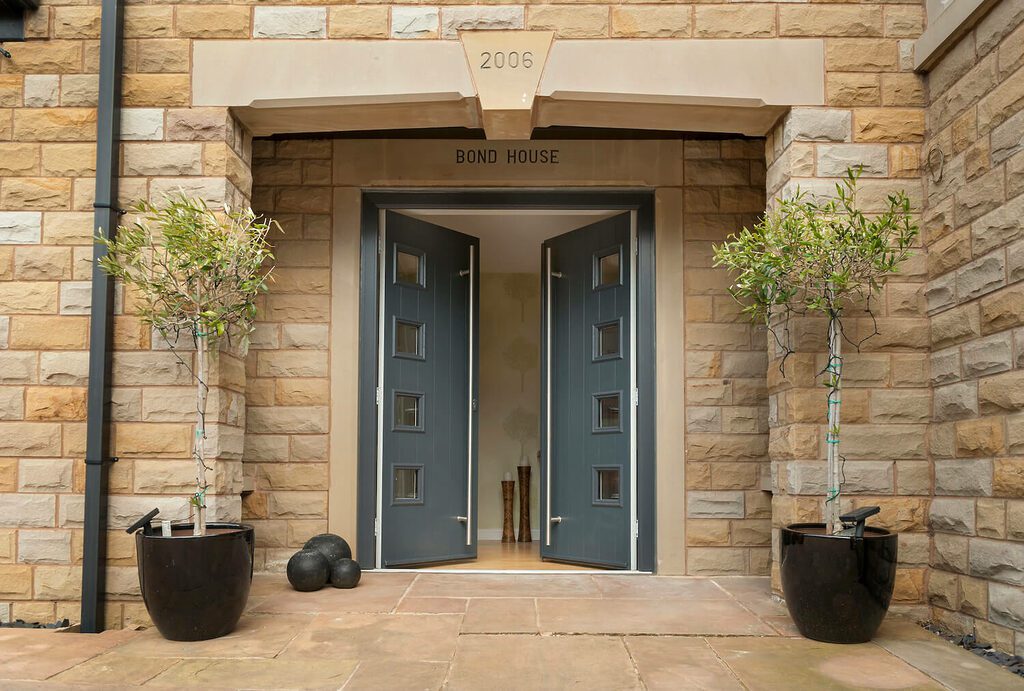 Composite doors can also be specified as double or 'French' doors. Example shown is a Solidor Milano in Anrthracite Grey with designer bar handles.
What is a composite door?
So, what exactly is a composite door? Well, it's a type of front door that is made up of multiple materials. Typically, these materials include wood, uPVC, and glass reinforced plastic (GRP). By combining these materials, composite doors are able to offer a range of benefits that you won't find in traditional wooden or uPVC doors.

Composite doors are incredibly strong and durable. They can withstand all kinds of weather, from scorching hot summers to icy cold winters, without showing any signs of wear and tear. Plus, because they are made up of multiple materials, they offer superior insulation and can help to keep your home warm and energy-efficient.
What is a composite door made of?
Composite doors are typically made up of a variety of materials, including:
A solid timber core for strength and durability
uPVC outer frame for weather resistance and low maintenance
Glass reinforced plastic (GRP) for a durable, long-lasting finish
A high-quality finish that mimics the look of traditional wooden doors
The combination of these materials creates a door that is strong, durable, and long-lasting.
Design Your Very Own Comp Door Here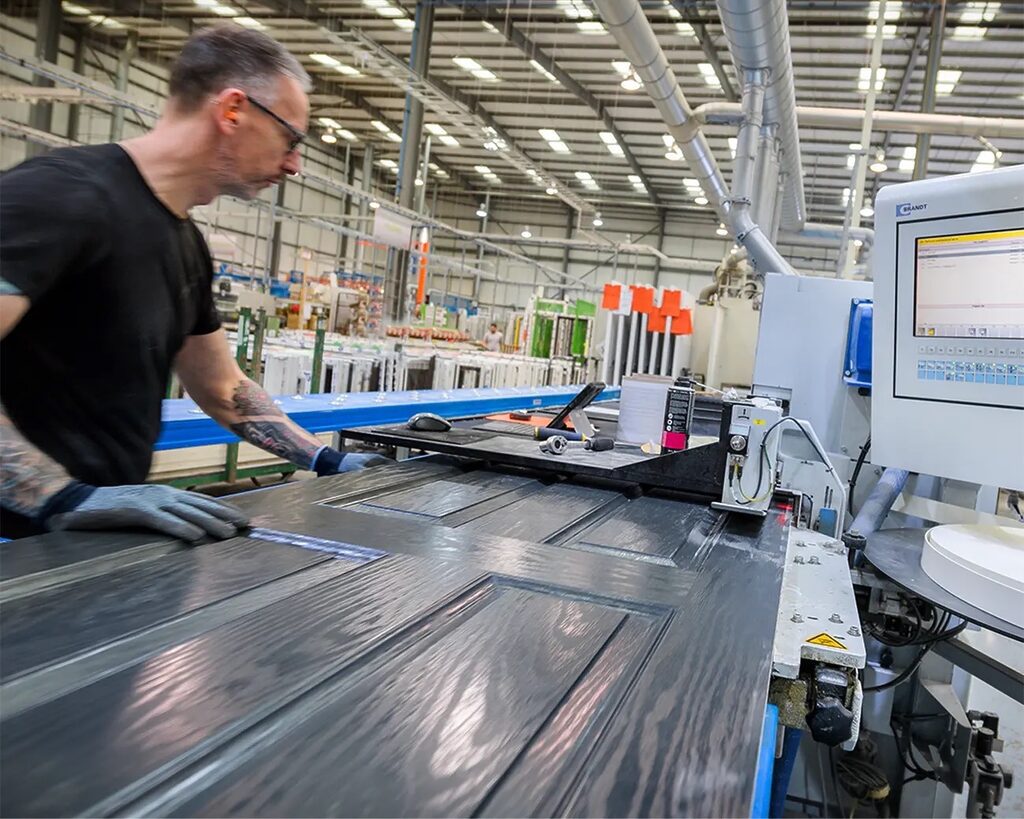 What are the benefits of a Composite Door?
There are many benefits to choosing a composite door for your home, including:
Enhanced Security
Composite doors are designed to be more secure than traditional doors. The use of multiple materials in their construction, along with the latest locking mechanisms, makes them more difficult to break into.
Our advice is to always ensure the door you are looking at has a 3 star cylinder. This is the highest security rating available, and also meets improved security standards such as PAS24, document Q (required for new build properties) and Secured by Design (a security standard developed with the UK police force).
3 star cylinders usually have anti-pick and anti-bump features, and often are designed to snap intentionally when attacked. This means that the cylinder breaks in half deliberately and therefore does not expose the internal locking mechanism, meaning the door is impossible to open.
There are various 3 star cylinders available, but all GFD composite doors come as standard with the 3 star Ultion cylinder from Brisant. The Ultion was released a few years ago after several years of development, and is widely regarded by everybody in the industry (and locksmith industry) as the most secure cylinder you can buy. It has achieved almost every award a lock can receive, and for us it's a no-brainer to only supply the best lock available.
This video shows just how easy regular euro cylinders are to break, and the difference with an Ultion. If this video worries you about your current door, and you aren't ready to order a complete new door yet, you can simply order a new cylinder for your existing door for peace of mind. It only takes a screwdriver to fit a new barrel, visit our website Euro Secure for more information on this.
Strong and durable
Composite doors are incredibly durable and can withstand all kinds of weather, unlike timber or uPVC doors which are more susceptible to the elements. They are less likely to dent, scratch, or warp compared to traditional wooden doors.
Reduces noise
The combination of materials in composite doors provides excellent sound insulation, making them an excellent choice for homes located in busy areas or near main roads, where noise can be a real problem.
Energy Efficient
Composite doors are an excellent choice for homes looking to improve their energy efficiency. The use of multiple materials in their construction provides excellent thermal insulation, and all leading composite door brands will comfortably satisfy new 2022 UK building regulations.
Aesthetics
Composite doors come in a range of styles, colours, and finishes, making it easy to find one that matches your home's aesthetics. You can choose from a range of colours, from classic white or black to more vibrant shades like red or blue.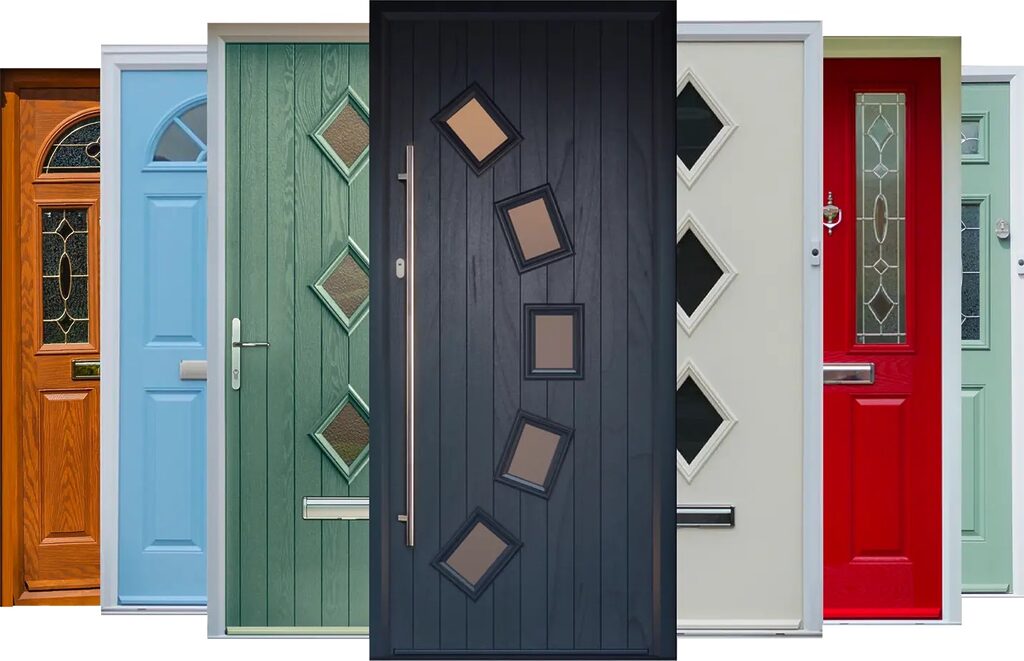 Conclusion
So, there you have it – composite doors are a fantastic choice for anyone looking to upgrade their front door. Not only do they boast impressive durability and security features, but their versatility in colour and accessories makes them a must-have for any homeowner looking to elevate their entranceway. Whether you're going for a modern or traditional look, there is an abundance of options available to complement your style preference. Be bold with a bright pop of colour or keep it classic with subtle finishes – the choice is completely up to you!
If you're still not sure whether a composite door is the right choice for you, don't worry – we're here to help. Our team at GFD Homes can answer any questions you may have and help you choose the perfect door for your home.
So why not get in touch today and start enjoying all the benefits of a beautiful, secure, and long-lasting composite front door?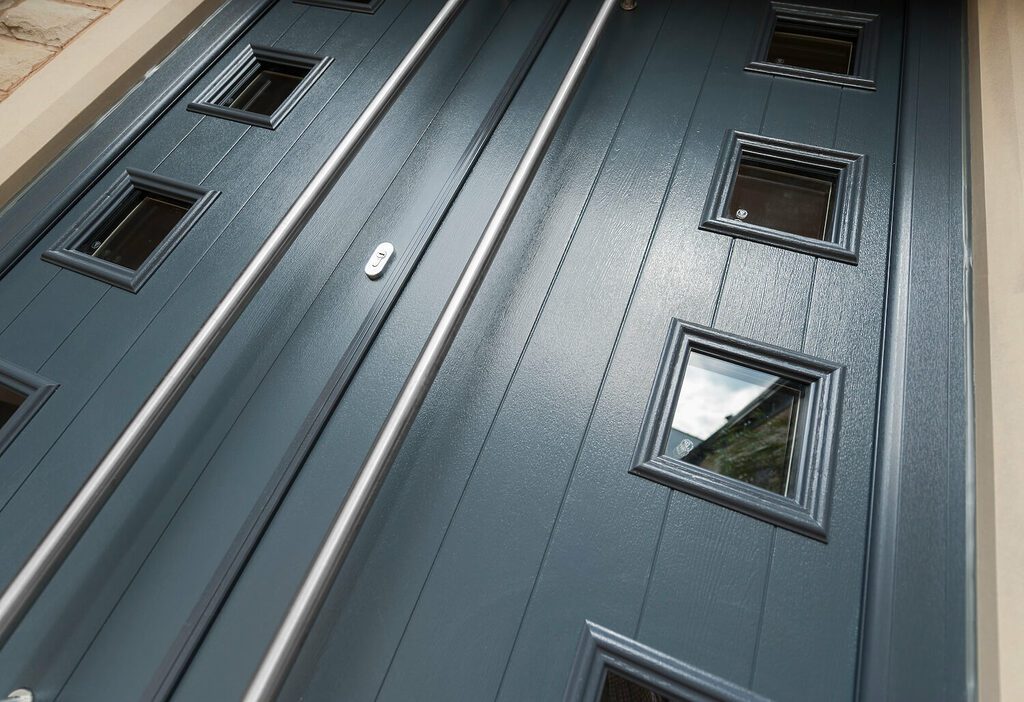 FAQs about composite doors
What is so special about a composite door?
Composite doors are special because of their construction. They offer the best of both worlds – the strength and durability of a wooden door, combined with the weather resistance and low maintenance of uPVC.
Is a composite door better than uPVC?
In many ways, composite doors are better than uPVC doors. They are stronger, more durable, and more secure, making them a great choice for homes where security is a concern. Most customers would objectively say that a composite door is more appealing to the eye than a uPVC door as well, due to the high quality woodgrain finish and massive choice of colours.
What is the difference between a uPVC door and a composite door?
The main difference between a uPVC door and a composite door is the construction. uPVC doors are made using thin uPVC skins with styrofoam inside, whereas composite doors are made from a combination of materials, including timber, uPVC, and GRP. This makes composite doors stronger, more durable, and more secure than uPVC doors.