In the realm of home improvement and design, the choices we make can significantly impact both the functionality and appearance of our living spaces. One such choice that has been gaining popularity in recent years is the composite door.
Offering a harmonious blend of security, durability and aesthetic appeal, composite doors have become a preferred option for homeowners looking to elevate their home's entrances.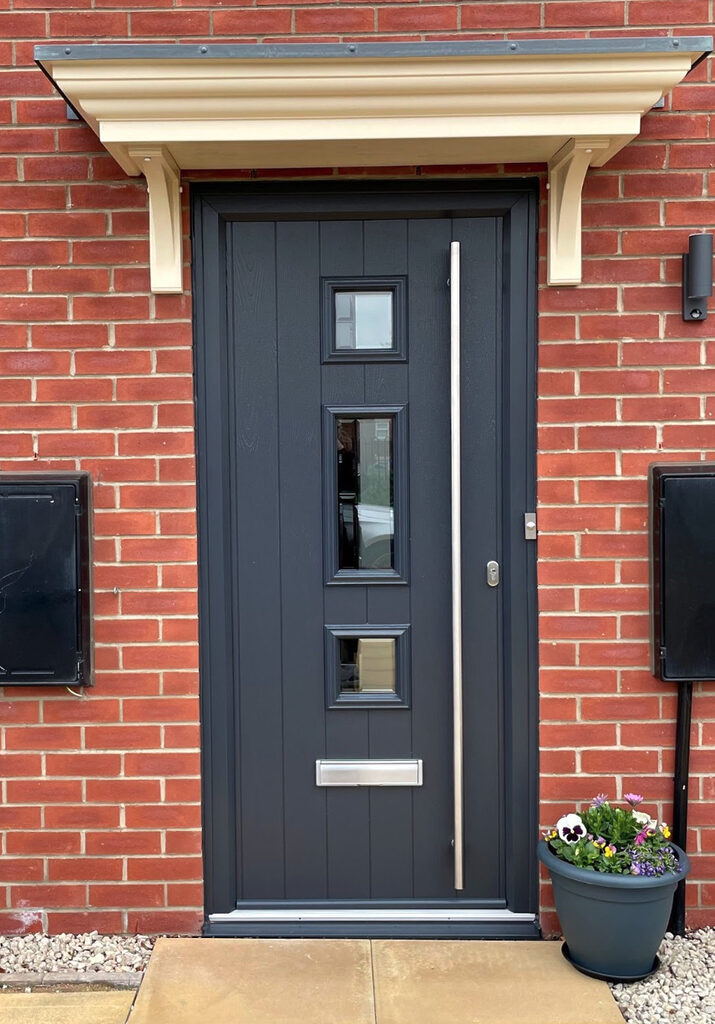 With so many Comp Door styles and colours to choose from, there's something for everyone.
What is a composite door?
A composite door is a contemporary alternative to traditional wooden, steel or uPVC doors. It's crafted using a combination of materials including; wood, uPVC, glass reinforced plastic (GRP) and insulating foam core.
The unique amalgamation of these elements results in a door that boasts exceptional qualities, meeting the demands of modern living.
What is the Comp Door?
The Comp Door is a well-known, innovative composite door that has been designed by some of the best leading figures in the industry. The Comp Door stands as a remarkable testament to innovation and quality.
Unlike most traditional composite doors, the Comp Door embraces a solid timber-core design that ingeniously addresses seasonal movement challenges. As a result, it delivers a solid door that looks and performs great all year round.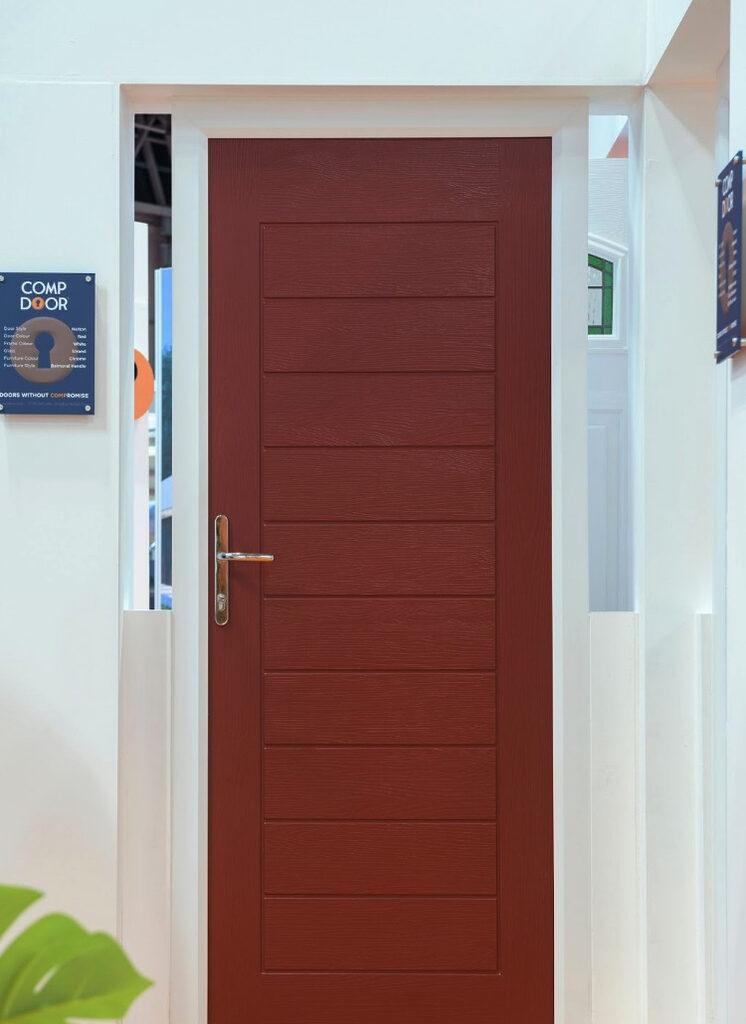 The Comp Door has a U-value of 1.4, making it incredibly thermally efficient.
Why should I choose the Comp Door?
As well as its fantastic design, the Comp Door also has the following main benefits:
Solid Timber Core: With a 48mm solid timber core, the Comp Door boasts a high level of thermal efficiency and improved security.
Auto Fire locking: An automatic multi-point lock means that once the door is closed, it's fully locked without the need to pull the lever handle back up. This brilliant function solves the biggest problem timber-core composite doors face as they are usually prone to movement when not fully engaged at all times.
CoolSkin Technology: The door skin features the revolutionary, high performance CoolSkin technology, meaning the door can tolerate extreme pressure changes, a common downfall for the majority of the other timber-core composite doors. Without CoolSkin technology, time-core composites are more prone to seasonal movement and bowing.
Energy efficiency: The Comp Door was the first-solid timber composite door to achieve a U-value of 1.4, making the door the most thermally efficient in its class. This also means that the door meets the 2022 building regulations requirement.
Triple Sealed Frames: The outer frame housing features a triple seal, meaning that it provides better weatherproofing and performance than other composite doors. This also makes the Comp Door an ideal choice for those installing it in more extreme climates.
Arched Frames: Currently, Comp Door is available in arched frames for replacement on period properties. Stable and French door options are also planned for release in the near future.
Is the Comp Door secure?
The Comp Door has been made with optimal security and performance, however, like any other type of door, it can still be vulnerable to break-ins if not properly secured. By adding different security measures, you can make the door just as secure as any other type of door.
The following 2 factors should be considered when looking into the security of the Comp Door:
1) Locking systems: Always ensure that you choose a door with an insurance approved multipoint locking system. This will make the doors more resistant if attacked. Check that the door has been installed properly and functioning correctly.
2) Security systems: Integrating motion sensor alarms or connecting the door to a comprehensive can deter potential intruders. If triggered, the alarm will sound, alerting you quickly.
All doors in our Comp Door collection come with a 3 point multi-lock as standard, giving you that ease of mind when it comes to security.
Is Comp Door high maintenance?
High quality doors in general, are pretty low maintenance by nature. It's recommended to grease any moving parts like locks and deadbolts for example, once every 6 months. Other than that, a simple wipe with warm water is more than enough.
Anything that requires major maintenance will be really easy to spot and if you do spot something, just contact your installer for advice.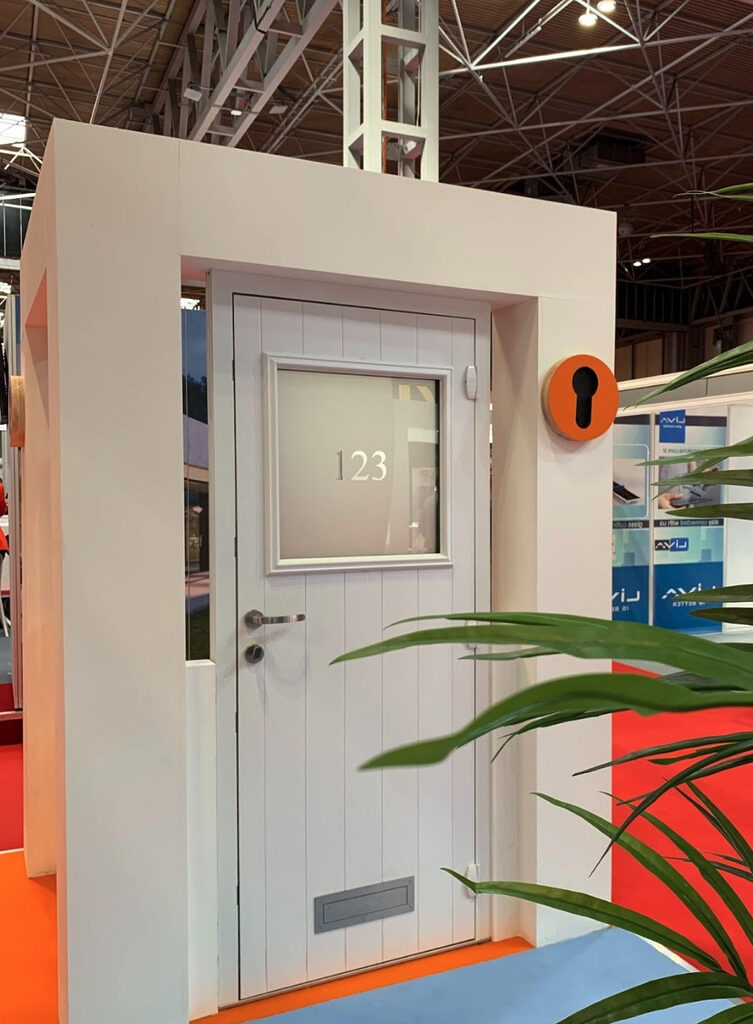 All doors in our Comp Door collection are fully customisable. To customise your door, visit our Comp Door door designer.
On a whole, the Comp Door range offers a plethora of functional benefits as well as aesthetic appeal that make them an attractive choice for residential properties.
What is the Comp Door door designer?
A door designer is a tool that allows you to create, customise and visualise your own door design, providing you with a visual representation of how the chosen design will look. This will help to ensure that the final product meets your expectations.
Comp Door is available as both a standard door, but also has the options to be turned into a Composite Stable Door or Composite French Door. Each door in our Comp Door range is fully customisable from colours and styles to hardware choices.
If you have an idea of what you're looking for and can't find it, head over to our Comp Door designer where you can customise any door based on your preferences.
If you're in need of some help or have some questions, feel free to call our friendly GFD team on 01642 309576 or alternatively, live chat us via the website.
FAQs about the Comp Door Composite Door
What is a composite door?
A composite door is a type of entrance door made by combining various materials such as wood, uPVC, glass-reinforced plastic and insulating foam core. This combination of materials results in a door that is both durable and aesthetically pleasing.
Are doors in the Comp Door range customisable in terms of design and appearance?
Yes, all doors in the Comp Door range come in a wide range of styles, colours and finishes. This level of customisation ensures that you can find a composite door that perfectly complements your home's architecture and your personal taste.
To use our Comp Door designer, just find a Comp Door you like and click 'customise this product'.
Do composite doors require a lot of maintenance?
One of the advantages of composite doors is their low maintenance nature. Unlike wooden doors that may need regular painting or staining to maintain their appearance, composite doors are extremely resistant to fading, warping and weathering. Other than greasing any moving parts every 6 months, a wipe with warm water is sufficient enough to keep them looking fresh.
How do I use the Comp Door door designer?
Our Comp Door door designer will gently guide you through the various options to help you design and customise any one of the doors in the collection. All you need to do is select a pre-made door design and further customise it to suit your own home aesthetics and preferences.
To use our Comp Door designer, just find a Comp Door you like and click 'customise this product'.