If you're in the market for a new front door, chances are you've been considering a composite door amongst your options.
There's no denying the popularity of this product right now. Far superior to a PVC door in pretty much every department, and far less troublesome (and costly) than traditional timber doors, composite's provide enough variety to keep most homeowners happy.
We've seen composite doors fitted on a multitude or property types, from modest terraced houses to multi-million pound dream homes. The versatility of the product means this is an ideal solution for any entrance door, and can suit almost any budget or taste.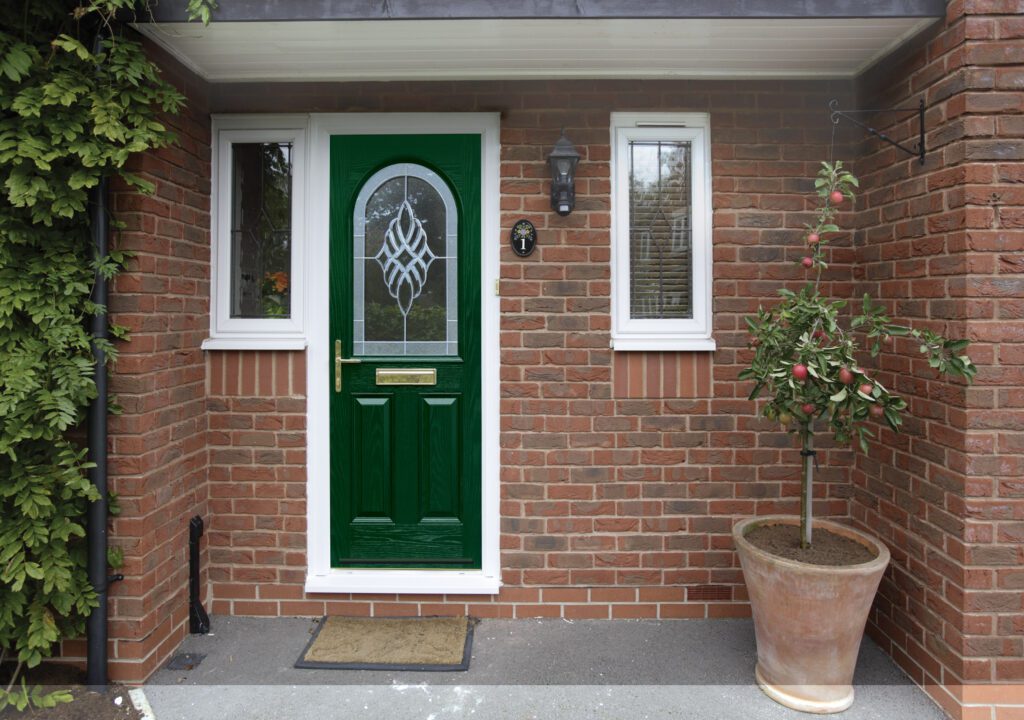 So what should you be looking for if you plan to buy a composite door?
There's a massive amount of choice out there for composite doors, and like most products they can vary in quality. To save you a potential costly mistake, we've listed the key things you should be looking for in this article.
1 – Foam filled vs solid core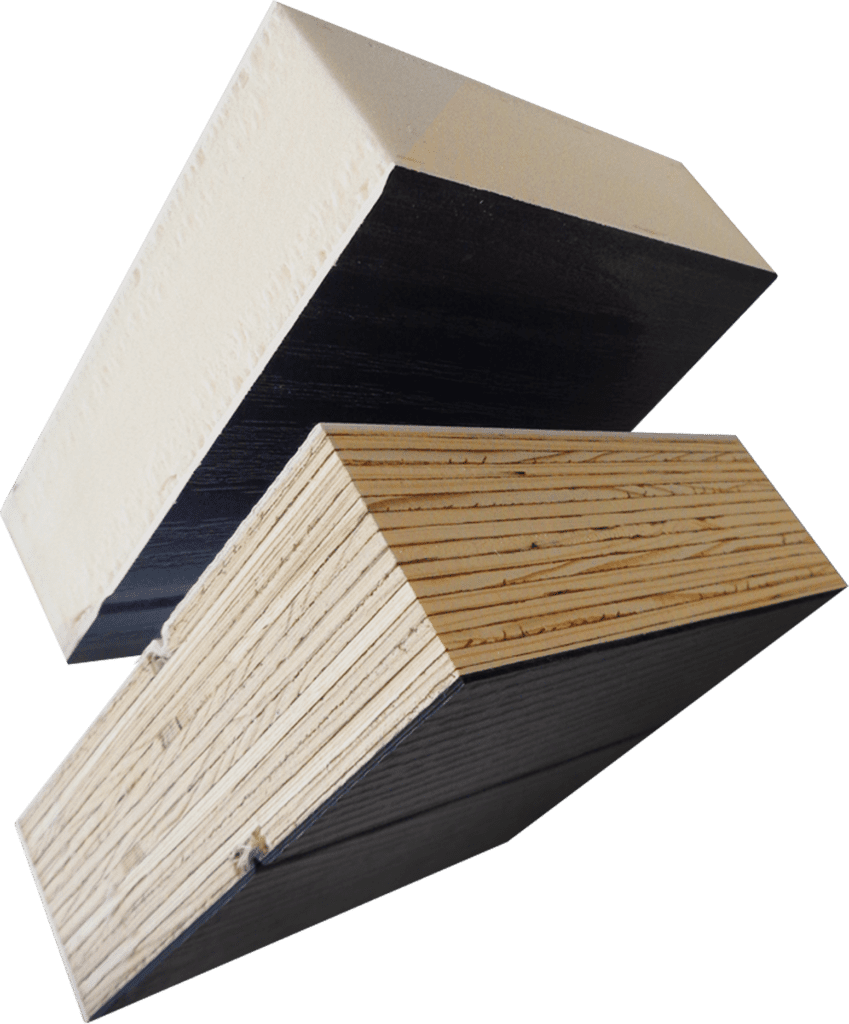 The first big difference you may come across is deciding whether you want a foam filled composite door or one with a solid timber core. In fact, you're probably wondering what the difference is!
Foam Filled
Foam filled composite doors are the traditional way that these doors were constructed. When composite doors first appeared on the scene in the mid 2000's, they were generally constructed with a mainly foam core and GRP coloured skins on the outside. Global Doors are a good example of a popular foam filled door, although to be honest foam filled composites account for around 80% of the composite door market.
The foam inside generally consisted of a mixture of hard materials (such as polyurethane) and softer foam. A timber sub-frame was also often used inside the door to provide some extra rigidity and strength.
The benefit of foam filled doors is that they are very energy efficient, and help give composite doors their excellent thermal properties. This has been a big factor in them becoming the door of choice for many new build developers.
It's also worth noting that as there are so many foam filled composite doors available now, quality can vary greatly. There is more on this point below under 'Choosing Reputable Brands', but try and stay away from 'off the shelf' products (like those found in large DIY chains) and also imported doors from the Far East.
Solid Core
When Solidor came onto the scene back in the late 2000's, their door was notably different as it featured a solid timber core inside. Although the door still has thermo-plastic skins on the outside (therefore appears the same), the solid core gives the door a slightly heavier and more robust feel.
These doors boomed in popularity because they were pitched as being stronger that the foam filled alternative. Whilst it's true they are a heavier door and do have a more 'solid' feel when operated, they do come with their own considerations. Solid timber core doors are more prone to movement, which can lead to problems if not installed correctly or installed in the wrong application. For instance, if a black solid core composite door was fitted to a home that was south facing and got the sun all day, it could potentially cause operational issues. This is known as thermal movement.
Solid core doors also have a lower energy rating than foam filled, so if keeping your energy costs down is a priority (which it is for everyone after the recent price increases), a foam filled door may be preferable.
The final point to make is that solid core door also cost more than foam filled, as the materials are simply more expensive.
Summary:
Foam filled:
Cheaper
More energy efficient
Quality can vary dramatically, many using imported slabs from the Far East

Solid Core:
Stronger construction
More 'robust' feel when operated
Can be prone to movement, making proper installation critical
Designs


Nowadays most composite doors come in a wide range of designs, generally having a traditional and contemporary range to pick from. There are so many designs available now, don't feel like you have to compromise if the supplier you're dealing with can't offer what you want. The chances are, you can find most designs these days within reason.
Traditional designs are typically based on classic Edwardian and Victorian doors, and can actually suit a range of properties including modern. There is also a huge market for doors in the style of 1930's properties, which have a distinctive look that owners of these properties do not want to lose.
Consider how much glass area the door has in relation to both security and how much light you want. For example, a narrow hallway may benefit from more light which could suggest a design with a large glazing panel is best.
If privacy is more important, you may consider a solid door design or something with a smaller glazing aperture.
Contemporary designs are now very popular, and feature some more quirky and creative designs inspired by modern architecture and the art deco period. Our biggest selling contemporary design is the Milano door with 1800mm stainless steel bar handle. If you want something really adventurous, consider designs such as the Modena or the 5 square curved.
For people who need something more bespoke, there are also stable door and French door options available from certain manufacturers. We recommend the Solidor product for anything more bespoke along these lines, including arched composite doors which are very popular on 70's and period homes.
Colours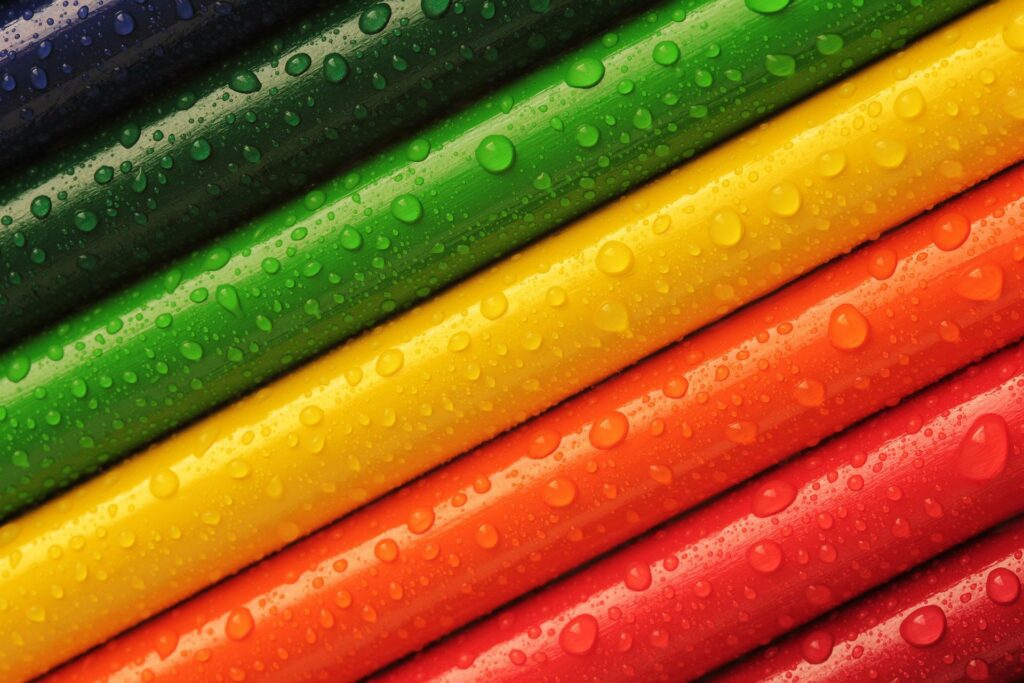 Back in the day most composite door manufacturers offered five colours. In 2022, composite door colours are massively expanded and give homeowners a good spectrum to choose from. For example, our Global Door range offers 13 colours and the Solidor range a whopping 23 colours!
All of the doors that we supply can be coloured both sides and the colours mixed, which may be a consideration for some as some composite doors are still only available white internally.
Top Tip: Be aware that if you choose a door that is coloured outside but white inside that the central spine of the door (where the locking strip is) will probably be white. It's also worth checking the colour of this if you order a coloured door both sides, as these aren't usually colour matched and will be a generic colour such as black, white or caramel (for wood effect doors). Most customers would not ever notice this, but for some it can be an eye-sore.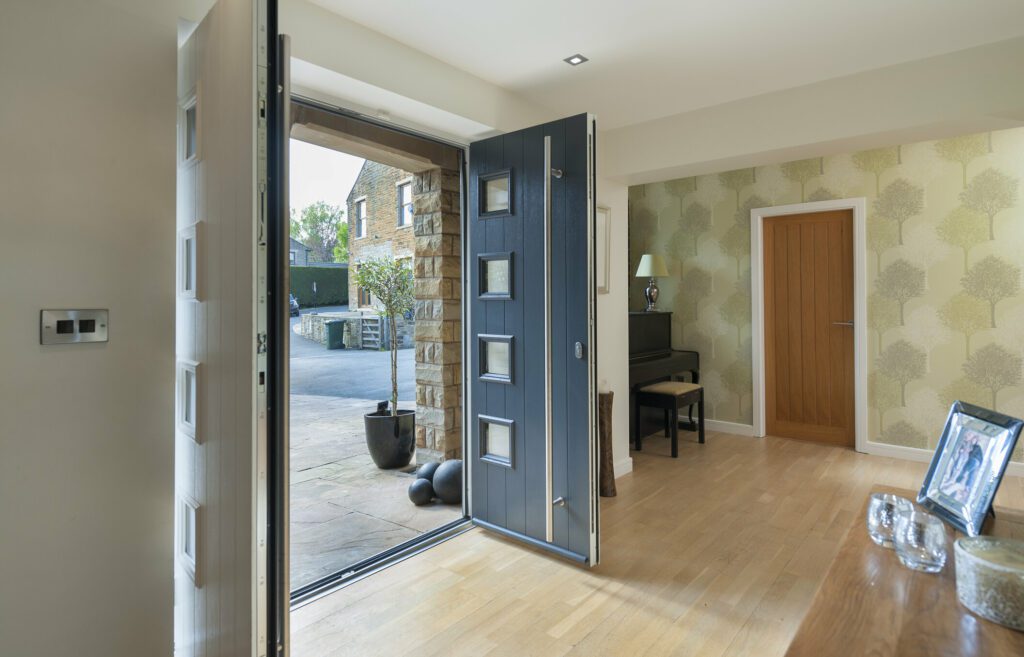 Bespoke/RAL Colours
You may also find that some companies offer a bespoke colour service, which is usually offering colours from the RAL chart. Some customers may want this to either get a completely bespoke colour, or to match with something existing such as a garage door or fascia.
We would advise exercising caution if you are considering this path, as RAL coloured doors are sprayed and therefore the finish is not as durable. (Most composite doors of good quality will have a 'through colour', meaning the colour is injected into the door skin and is therefore more hard wearing).
Doors are heavy use items that take a lot of knocks and bumps throughout their life, especially in busy households. Bags, keys, prams…there are lots of ways doors can be marked and a RAL coloured door if marked will likely show the white door skin underneath. It can mean higher maintenance and it's advisable to ask your supplier to send some touch up paint when you order the door just in case.
If you have a low aluminium threshold ask your supplier if that is also sprayed, as these are trodden on every day and a painted finish is almost certainly not going to last. We recommend ordering a low threshold in a standard powder coated aluminium finish if possible.
Security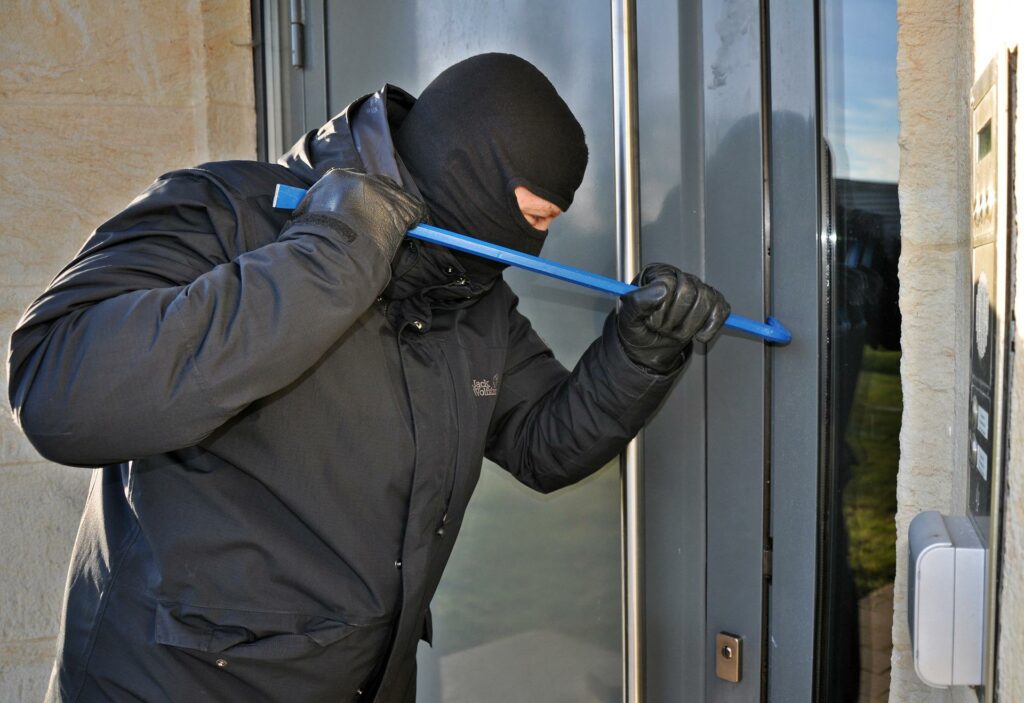 Any entrance door must now meet certain criteria to meet building regs, but you would be surprised what manufacturers can get away with.
People often worry about the glass area on a front door as an access point for intruders, but in reality it's very rare that intruders would try and smash the glass to gain entry. A recent survey published by the ONS (Office for National Statistics) showed that in 2020 an alarming 76% of attempted burglaries on residential homes target the front door. Reading further, the most popular attack point was by far the lock.
Composite doors are always fitted with a lock known as a 'Euro cylinder' or 'barrel', and chances are you are probably familiar with these locks. It's fairly common knowledge that these locks can be picked, snapped, 'bumped' or even drilled out, and once this is done it means the door can easily be opened as the internal locking mechanism is compromised. Euro cylinders are graded on a security rating from 1 star to 3 star, and come in varying degrees of quality.
It seems completely insane, but many manufacturers in the UK still provide 1 star cylinders for composite doors, and even on items such as bi-folding doors and sliding patios. That means that you could be paying thousands of pounds for a high end product, and the only thing stopping a would-be intruder from getting into your house is a cheap lock that probably cost around £2.50 to buy.
How do I know my composite door is secure?
Our advice is to always ensure the door you are looking at has a 3 star cylinder. This is the highest security rating available, and also meets improved security standards such as PAS24, document Q (required for new build properties) and Secured by Design (a security standard developed with the UK police force).
3 star cylinders usually have anti-pick and anti-bump features, and often are designed to snap intentionally when attacked. This means that the cylinder breaks in half deliberately and therefore does not expose the internal locking mechanism, meaning the door is impossible to open.
There are various 3 star cylinders available, but all GFD composite doors come as standard with the 3 star Ultion cylinder from Brisant. The Ultion was released a few years ago after several years of development, and is widely regarded by everybody in the industry (and locksmith industry) as the most secure cylinder you can buy. It has achieved almost every award a lock can receive, and for us it's a no-brainer to only supply the best lock available.
This video shows just how easy regular euro cylinders are to break, and the difference with an Ultion. If this video worries you about your current door, and you aren't ready to order a complete new door yet, you can simply order a new cylinder for your existing door for peace of mind. It only takes a screwdriver to fit a new barrel, visit our website Euro Secure for more information on this.
Choosing Reputable Brands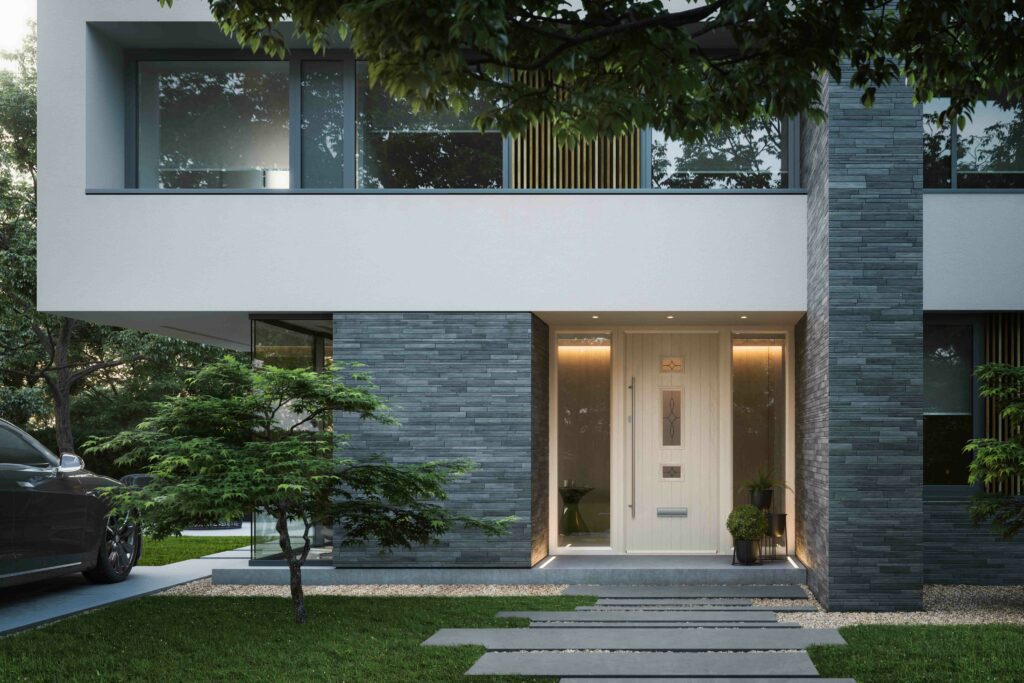 Just like you probably wouldn't buy a car from a brand you've never heard of, it's wise to exercise the same caution with composite doors. The reason is that many smaller fabricators can buy cheap composite slabs from China or elsewhere, and hang them in their own frames. Whilst there is nothing wrong with this in general, and many small fabricators do this to a very high standard, it's a bit of a lottery.
Sticking with reputable brands that are UK based means that you have peace of mind about where your door is being made and where it's come from. The brands we supply are arguably the two most popular composite doors in the UK; Door Stop and Solidor. However, you may find something more suitable for your needs from another manufacturer. Here is a list of trusted UK manufacturers you can consider:
Door Stop
Solidor
Rock Door
Apeer
Virtuoso
Endurance
Guarantees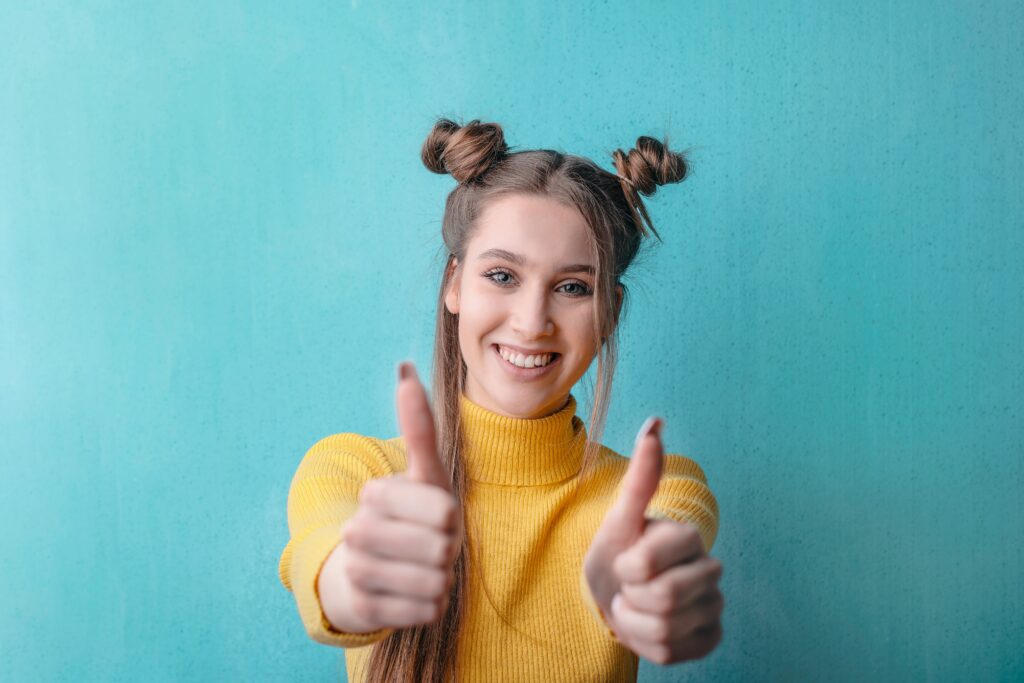 It goes without saying that any decent composite door should come with a 10 year guarantee, but be sure to read the small print. Often the case is the 10 years covers the main door and frame, but items such as hardware, moving parts and glass may come with a different guarantee altogether.
In reality, these are the parts that are likely to need replacing over the course of 10 years, not the door or frame itself, so this is one to be careful of when you make your choice. Common items to require replacement are hardware (pitted or corroded door furniture for example), gaskets that may perish over time, and hinges. Make sure you read the small print of your guarantee, because if some of these items are only guaranteed for 12 months you can expect a charge a few years down the line.
It should also be noted that many of these common issues occur as a result of the door not being maintained. It does not take much to maintain a composite door; the occasional clean with soapy water to stop hardware pitting, and a yearly oil of the hinges should be all that is required. Some manufacturers will not honour guarantees if the door is not maintained, so bear this in mind.
Some Final Recommendations
Hopefully this article has given you some things to think about as you make your choice. Here are a few recommendations based on some popular buying trends we have seen…
Popular Traditional Designs: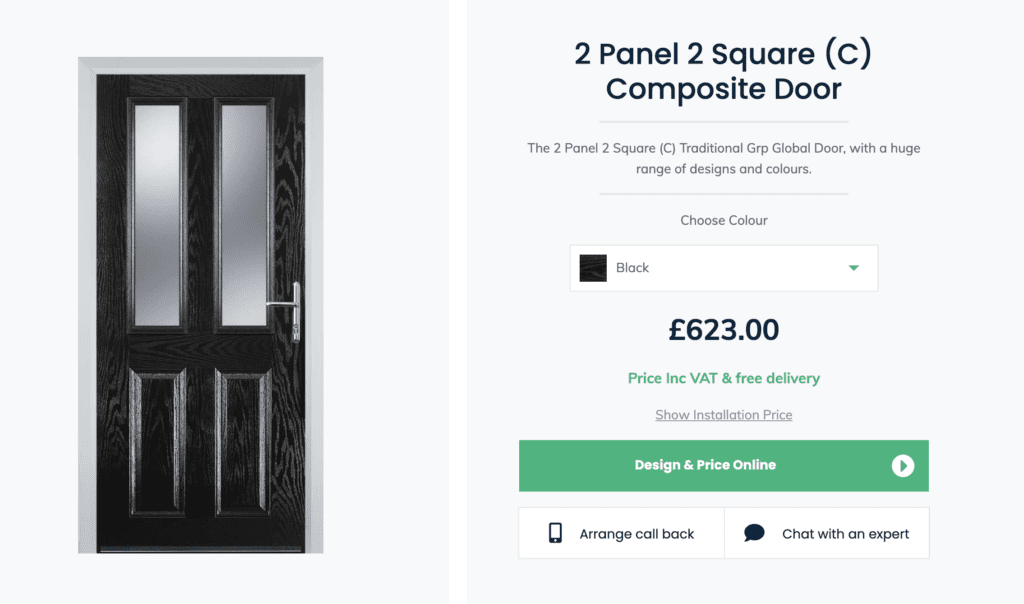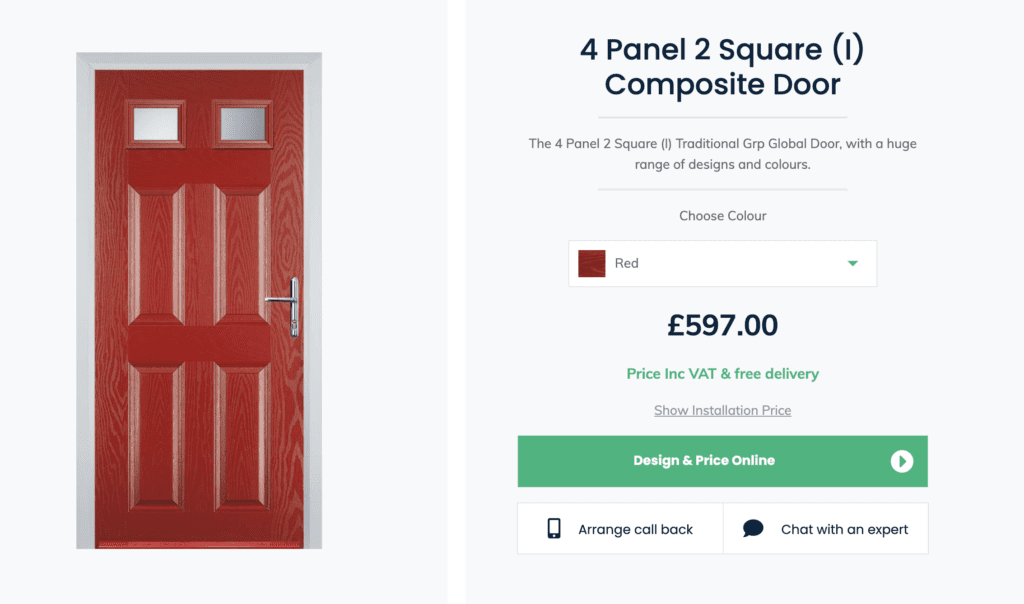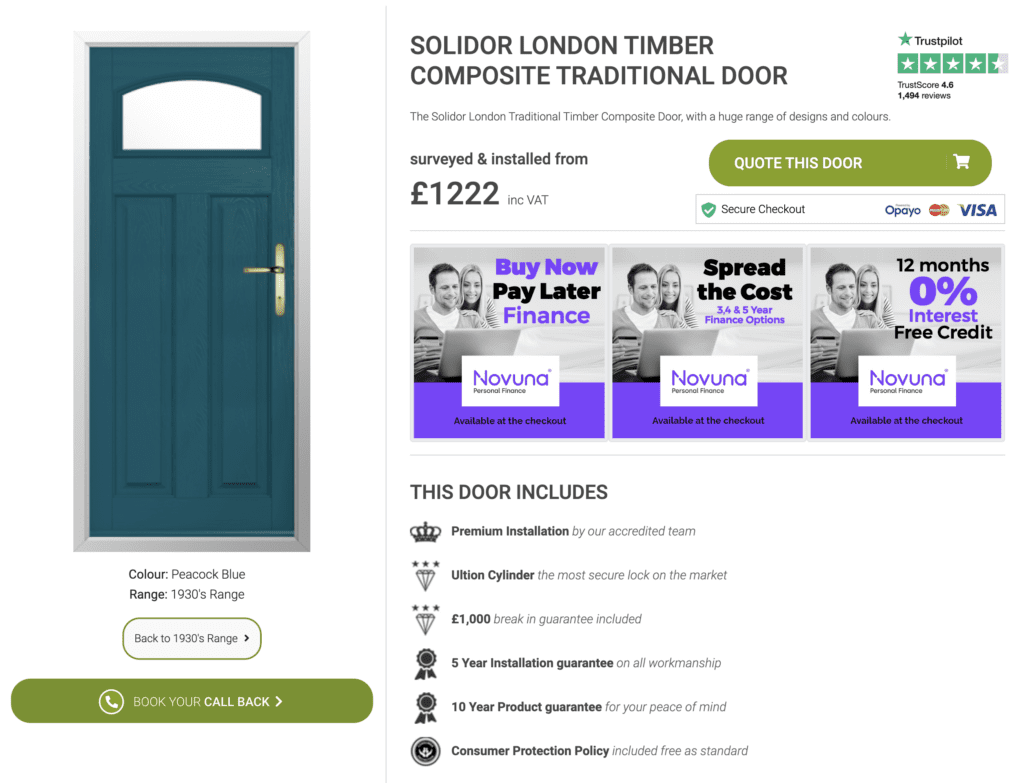 Popular Contemporary Designs: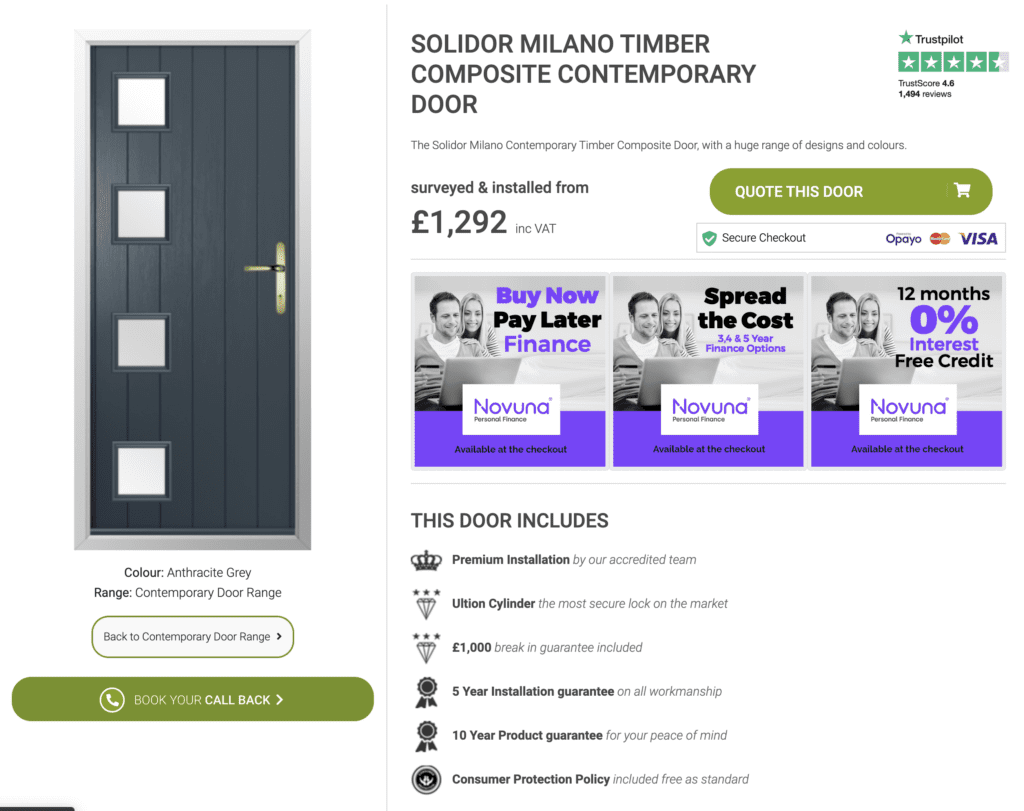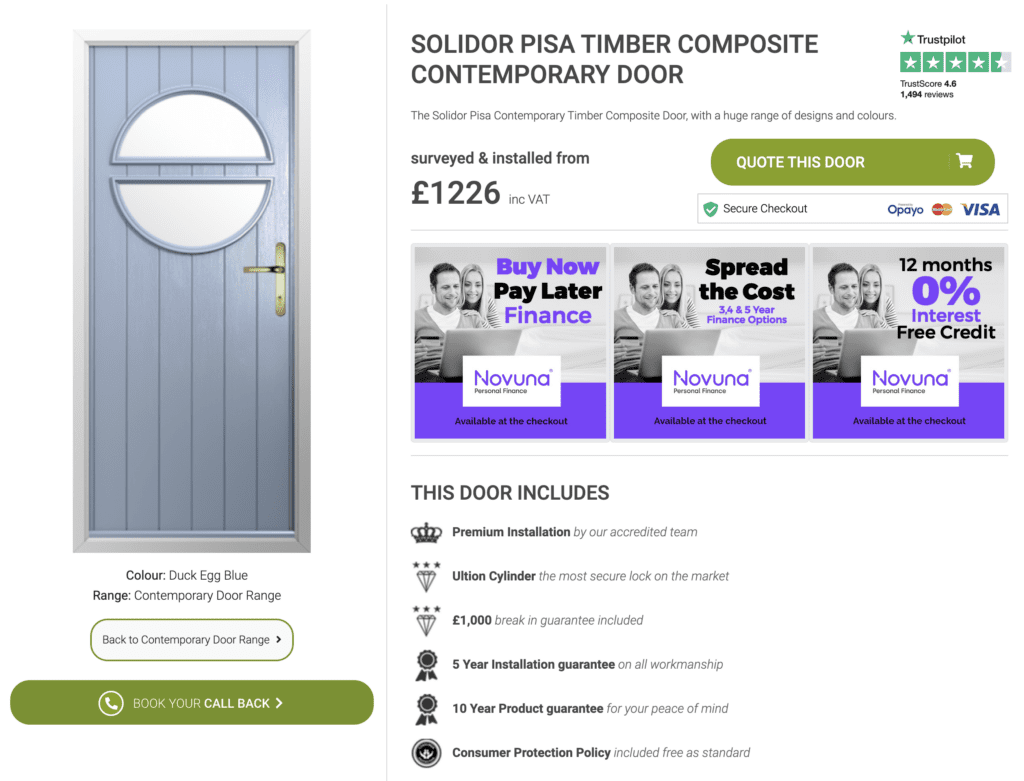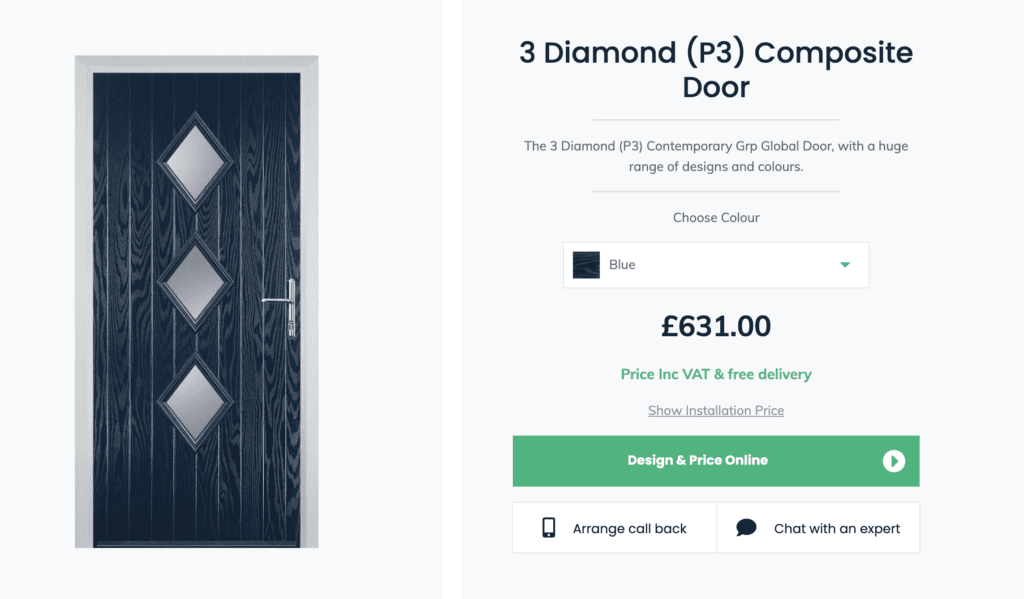 Want To Get A Quote?
If you've read this far and are in the market for a composite door, it would be crazy not to give us a try! We pioneered selling composite doors online in 2008, so we're well placed to offer any help and advice you might need.
Visit Global Door to view our Door Stop range, available in both foam filled and solid core options.
Visit Timber Composite Doors to view our Solidor range, available in a huge array of colours and designs (including stable, French and arched doors).
Want to see the full product range we can offer? Click here.