French doors are a popular type of architectural feature that adds elegance and charm to any home. Their timeless design and ability to let in natural light makes them a sought-after choice for many homeowners. However, whilst they boast aesthetic appeal, French doors, especially those that open outwards, can pose a security challenge.
In this article, we'll explore why securing French doors can be a little difficult and delve into some effective strategies to help you enhance their security, whilst maintaining their aesthetic value.
French doors are a very popular alternative to sliding patio doors due to their innovative design.
Why is it hard to secure French doors?
French doors are unique in that they consist of two panels that swing open from the centre, typically opening outwards.
Whilst this design enhances their visual appeal, it also presents security challenges. Unlike traditional doors that open inwards, outswinging French doors can be more vulnerable to forced entry due to the exposed hinge pins and the relatively weaker framing of the door panels on the exterior sides.
Additionally, the large glass surfaces that French doors are known for can make them susceptible to break-ins. Intruders can easily shatter the glass to gain access, rendering traditional security measures less effective.
How to secure French doors that open out?
Securing out-swinging French doors requires a combination of thoughtful measures to reinforce both the structural integrity and the overall security of the doors. Here are some of the most effective strategies to make the doors more secure: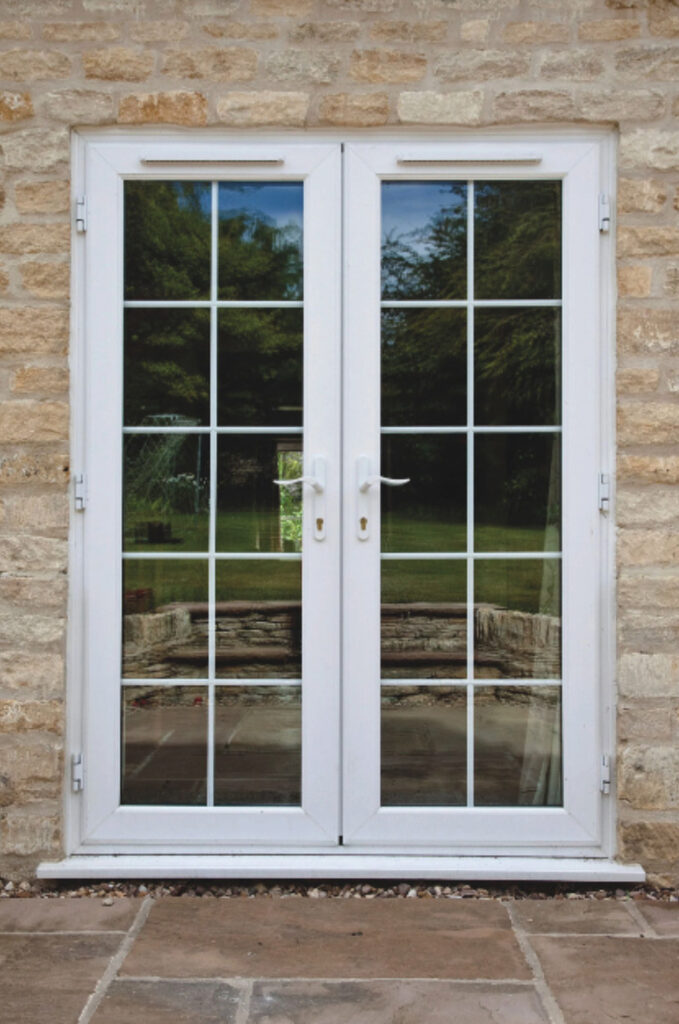 Whilst most opt for outward swinging French doors, you can choose to have inward opening doors instead.
1) Use impact resistance glass
One of the most vulnerable aspects of French doors is down to their large glass surfaces. To counter this vulnerability, consider choosing French doors that have impact resistant or toughened glass. Here at GFD Homes, all our French doors have toughened glass as standard, with the additional options of either increasing the toughened glass thickness or having laminated glass instead.
Opting for a stronger type of glass not only enhances security, but also provides protection against extreme weather events, further improving the overall safety of your home.
2) Invest in a high-quality door lock
The lock you choose also plays a pivotal role in securing your French doors. Always opt for high-quality deadbolt locks that are pick-resistant and bump-resistant, to deter more advanced forms of entry. A well-installed deadbolt adds a significant layer of security to your doors. All doors in our French doors collection come with multipoint locks as standard, as well as the ability to upgrade and add additional enhanced security features across all of our products.
3) Install security hinges
Traditional hinges on French doors are often located on the exterior side, making them somewhat susceptible to tampering. Replace these with security hinges that have non-removable pins. These pins cannot be easily removed, preventing intruders from disassembling the hinges to gain access.
4) Utilise outswing door security
There are specific security measures designed to enhance the protection of outswinging doors. One effective solution is using hinge-side security pins or screws. These pins or screws are placed in the door frame and extend into the hinge side of the door when it's closed. This prevents the door from being lifted off its hinges, a common method used by intruders to bypass standard door security.
5 ) Consider motion-activated lighting
Whilst not directly related to the doors themselves, motion-activated lighting around your French doors can significantly enhance the security of your home. Well-lit entrances can deter potential intruders and make your property less appealing as a target.
In conclusion, whilst French doors are visually stunning and can elevate the aesthetics of your home, it's extremely important to acknowledge their potential security vulnerabilities, especially when they open outwards. By implementing a combination of strategies such as impact-resistant glass, door barricades, high-quality locks, security hinges, outswing outdoor security and motion-activated lighting, you can effectively fortify your French doors against potential threats without compromising on their elegance.
One way to ensure optimal security for your French doors involves selecting materials of robust quality. The recent resurgence of aluminium doors stems from their compelling advantages, highlighted by their exceptional strength and durability, attributes inherent to the material itself. Within our collection of Aluminium French Doors, each door presents the opportunity to elevate security measures through the option to upgrade to PAS24 locks. This upgrade is required if you are adding the doors as part of a project that needs planning permission e.g. an extension or renovation.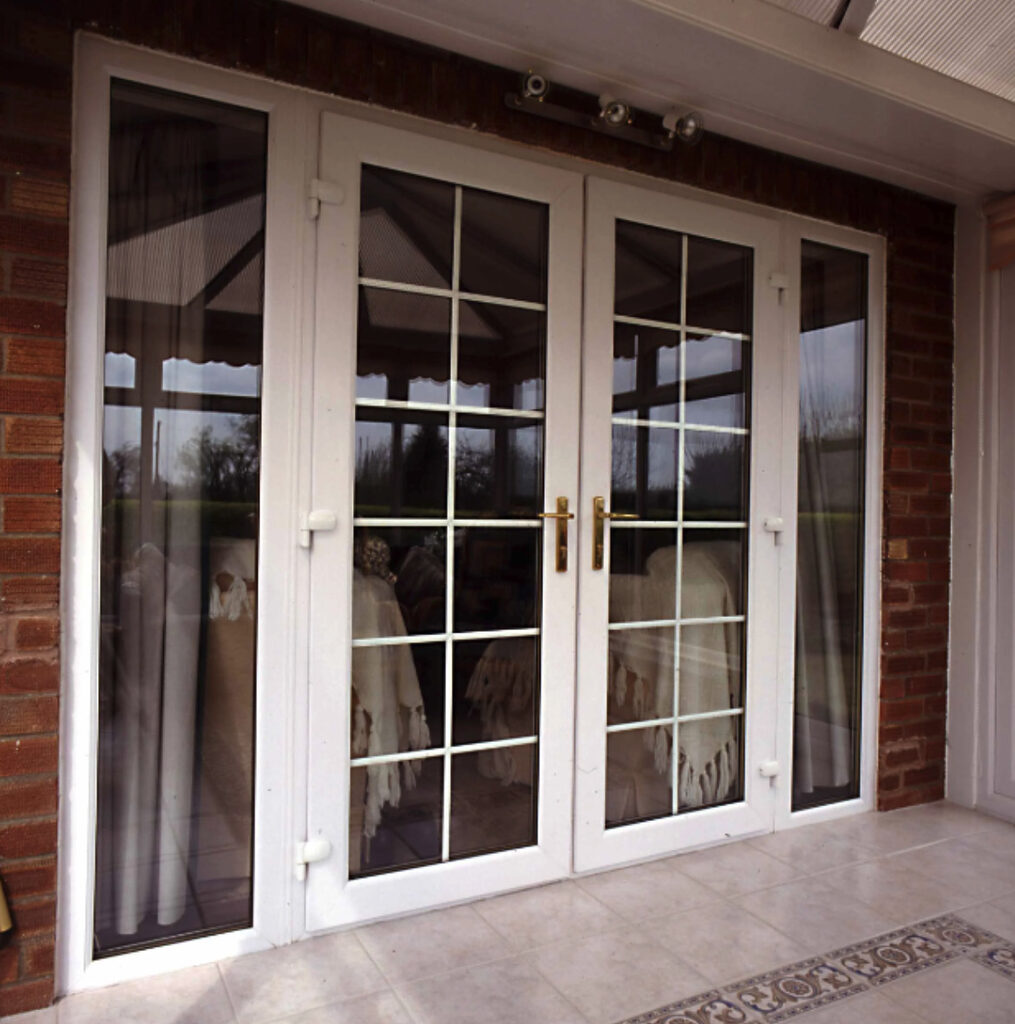 All our products come with product guarantees as standard to give you that extra peace of mind.
When purchasing new doors and home features, always try to remember that security is a holistic endeavour. No single measure is foolproof, but a well-rounded approach that addresses multiple points of vulnerability will go a long way in providing you with peace of mind and protecting your home and loved ones.
If you're unsure about the best security options for your specific French door configuration, consider consulting a professional locksmith or security expert to tailor a solution that meets your unique needs. With the right approach, you can enjoy the beauty of your French doors while also ensuring the safety of your living space.
Click here to browse our stunning collection of French doors, all with product guarantees for peace of mind. If you have some questions and need to speak to us, just call us via 01642 309576.
Not sure whether to choose French doors or Patio doors? Click here to read our article on this for more information.
FAQs about securing French doors that open out
Are outward opening doors safer?
Outward opening doors can offer certain security advantages compared to inward opening doors, but their level of safety depends on various factors and the security measures in place.
Ultimately, whether outward opening doors are safer depends on the overall security setup, the quality of materials and the measurements taken to reinforce them. Consulting with security experts can provide tailored insights for your specific situations.
Why do French doors open out?
The main reason why French doors open out is to help save space when the doors are fully opened. This gives you more room inside your living area, particularly advantageous if you live in a small apartment where every inch matters.