Roof lanterns and glazed roofs are becoming a popular addition to many homes across the country, as homeowners look for ways to elevate their living space.
Although often described as elegant overhead structures, roof lanterns are more than just aesthetic accents. They're elevated windows installed atop flat roofs, designed to flood interiors with natural light, helping to create a sense of spaciousness and charm.
However, a common concern among homeowners in the process of deciding whether or not to install one in their homes revolves around its influence on room temperature. Despite its beauty and functionality, some wonder if a roof lantern might inadvertently bring in the cold.
In this article, we'll discuss roof lantern energy efficiency, as well as answer the question above.
(If you're thinking about purchasing a roof lantern and feel a little overwhelmed with the different choices and roof lantern costs, don't hesitate to contact our team on 01642 309576. They'll be happy to help you find the right roof lantern for you and your home.)
Are roof lanterns cold? 
Roof lanterns, by design, can be a source of heat loss in colder climates. However, thanks to major advancements in the industry in technology and construction, these issues have been mitigated.
Older, poorly insulated models might contribute to a temperature drop, but contemporary designs prioritise thermal efficiency.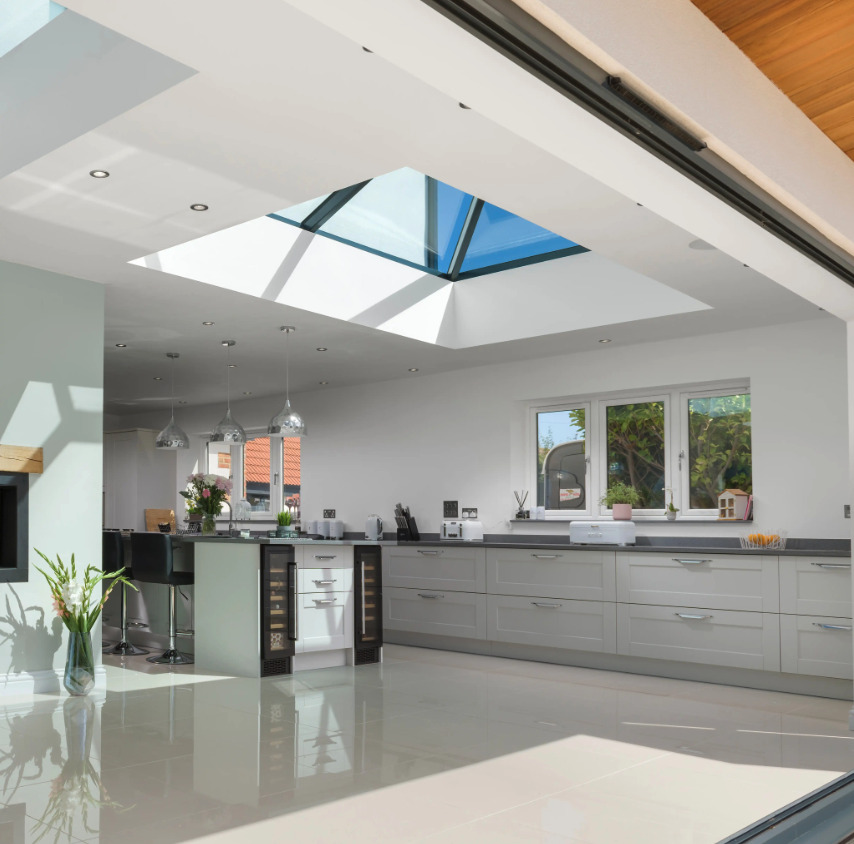 Korniche Roof Lanterns are the perfect option for creating a beautiful & inviting atmosphere for all to enjoy.
Do roof lanterns make the room hot in the summer?
Interestingly, roof lanterns can regulate temperature effectively in all seasons.
During summer, they allow natural light without letting in excessive heat. This is achieved through UV-resistant glazing, ensuring a pleasant interior without the scorching effects of direct sunlight.
How energy efficient are the roof lanterns?
Modern roof lanterns excel in energy efficiency.
They offer a delicate balance, harnessing natural light while preserving heat during colder months. Their construction, comprising advanced materials and engineering, significantly reduces heat transfer, enhancing the overall energy efficiency of a home.
Letting in natural light
One of the standout features of roof lanterns is their ability to illuminate interiors with natural light.
Their strategic placement and design allow sunlight to penetrate deep into spaces that might otherwise remain dimly lit. This influx of natural light not only brightens the interior but also offers a unique play of shadows and illumination adding depth and character to your living spaces.
Roof lanterns not only reduce the need for artificial lighting but also creates a visually appealing and vibrant living space.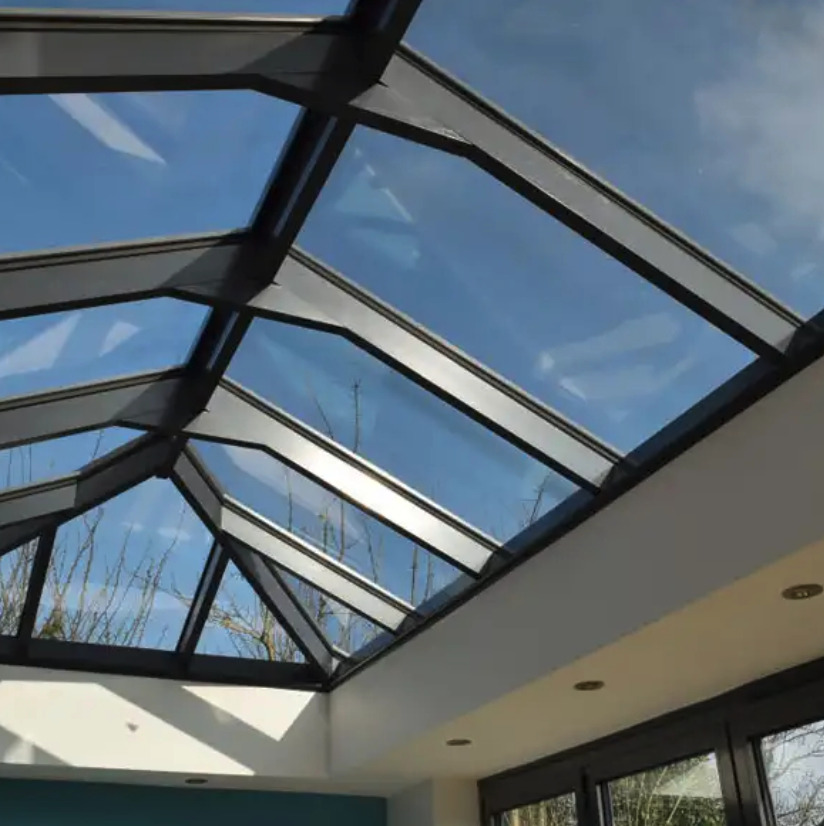 All our roof lanterns come with self-cleaning glass as standard so you don't have to worry about maintenance. 
Warmth in the sun
During winter, the sun's rays passing through a roof lantern can provide a warming effect, aiding in maintaining a comfortable indoor temperature without solely relying on heating systems.
This can once again, also lead to possible reduction in heating costs during the colder months.
Superior roof lanterns
A superior roof lantern is one that excels in the following factors:
Thermal insulation
High quality roof lanterns boast exceptional thermal insulation properties.
Advanced glazing techniques and insulated frames prevent heat from escaping, ensuring a cosy environment inside.
Durable components
Premium materials and craftsmanship ensure durability against harsh weather conditions, maintaining their thermal efficiency for years, meaning you won't have to worry about purchasing a replacement in a few years.
Energy efficient
The latest roof lantern models often feature highly advanced thermal insulation technology, including thermally broken frames and high-performance glazing.
These elements together help to minimise heat loss during colder months and reduce heat gain in warmer seasons, improving the energy efficiency of a home and potentially also lowering heating and cooling costs too.
If you're looking for a roof lantern that boasts incredible energy efficiency ratings, we would recommend choosing one from either our Atlas Contemporary range or Atlas Traditional range and selecting the triple glazing option. This will mean maximum energy efficiency for your roof lantern (to select the triple glazing option, you will need to input a bespoke size for your lantern).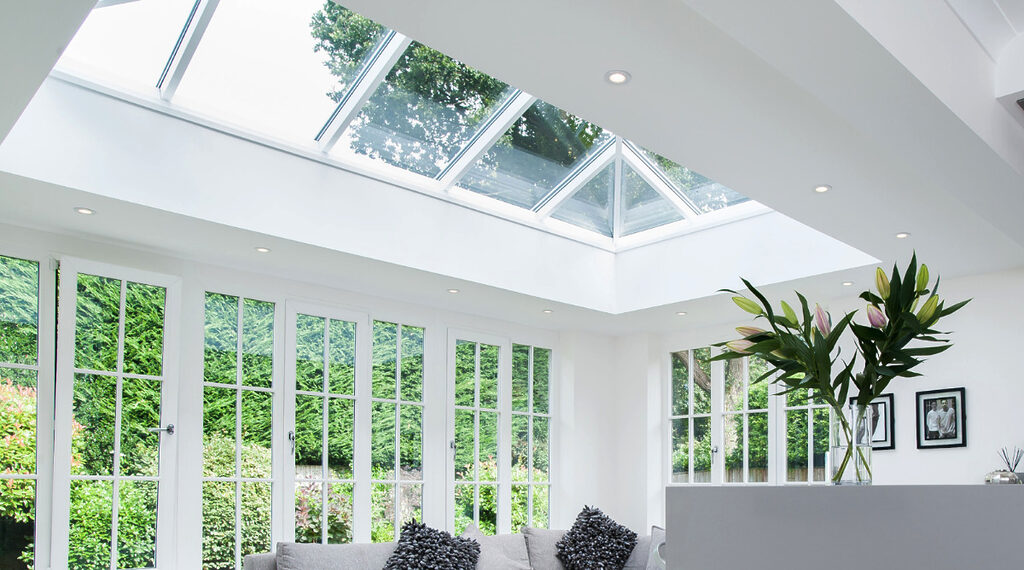 With a range of colours and finishes to choose from, you can truly find a roof lantern that suits your home perfectly.
Invest in High-Quality Roof Lanterns With GFD Homes
Investing in high-quality roof lanterns is paramount for homeowners seeking to enhance their living spaces. At GFD Homes, we prioritise excellence in every aspect of our roof lanterns, offering you not only roof lanterns that elevate the aesthetics of your home and impress your guests, but those that also prioritise functionality and efficiency too.
Crafted with premium materials, our roof lanterns are engineered to withstand the rigours of changing weather conditions, providing longevity and reliability. Our focus on durability ensures that your investment is one that offers beauty and functionality for years to come.
For more information on our roof lantern range, click here to browse our website, or you can also check out our relevant roof lantern guides here.
If you live close to the Teesside area, we'd love to invite you over to our impressive showroom so you can see a roof lantern in person and test out its quality for yourself. To book a visit to our showroom, call us on 01642 309576.
FAQs about roof lanterns in the cold
Do roof lanterns affect the overall temperature of a room?
Roof Lanterns can influence room temperature, but their impact varies based on design, insulation, and climate conditions.
Well-insulated variants minimise heat loss in colder months, helping you maintain interior warmth and minimise heat gain in warmer months, allowing for a comfortable living environment all year round.
Do roof lanterns come with built-in heating options?
Some models offer integrated heating systems, enhancing comfort during colder seasons.
However, efficient insulation often mitigates the need for additional heating elements.
Can I use roof lanterns in colder climates?
Absolutely! Advanced roof lanterns can cater to varying climates, ensuring thermal efficiency and comfort even in colder regions when properly installed and insulated.
Are roof lanterns prone to condensation issues in cold weather?
While condensation can occur in extreme temperature differentials, quality roof lanterns with proper ventilation and insulation significantly minimise this issue.
Here at GFD Homes, every roof lantern we sell is not only made from the highest quality, but also comes with a fantastic 10 year guarantee for reassurance of product quality.
For more information on our product guarantee, call us on 01642 309576.
Do I need a roof lantern cover?
Whilst a cover or shade for your roof lantern has previously been recommended to provide additional insulation and protect against harsh weather conditions, we're pleased to inform you that our high-quality roof lanterns do not require any covers.
Thanks to high quality materials and production, they are fully weatherproof and should withstand all types of standard UK weather.