Composite doors are renowned for their durability and security, making them a highly favoured choice when it comes to choosing a new front door. However, it's crucial not to overlook the significance of aesthetics in the decision of which type of frame to go for, as the frame surrounding the door should seamlessly complement the door itself.
In recent years, both chamfered and sculptured frames have gained popularity among homeowners.
Chamfered frames feature a sleek, straight-edged profile, while sculptured frames boast a more decorative, curved profile. When choosing which one to go for, always remember that either option has the ability to greatly enhance the overall aesthetics of your home and it just depends on whichever style you prefer.
In terms of the different door frames available to choose from across the industry, chamfered and sculptured styles stand out in comparison to the standard flat frames most of us are familiar with.
Here at GFD Homes, whilst we have a range of composite doors to choose from, our popular Comp Door collection is the only range where you have the option to choose between a chamfered and sculptured frame.
In this article, we'll delve into what defines either chamfered or sculptured frames, helping you to make a much more informed decision when it comes to choosing this option for your new front door.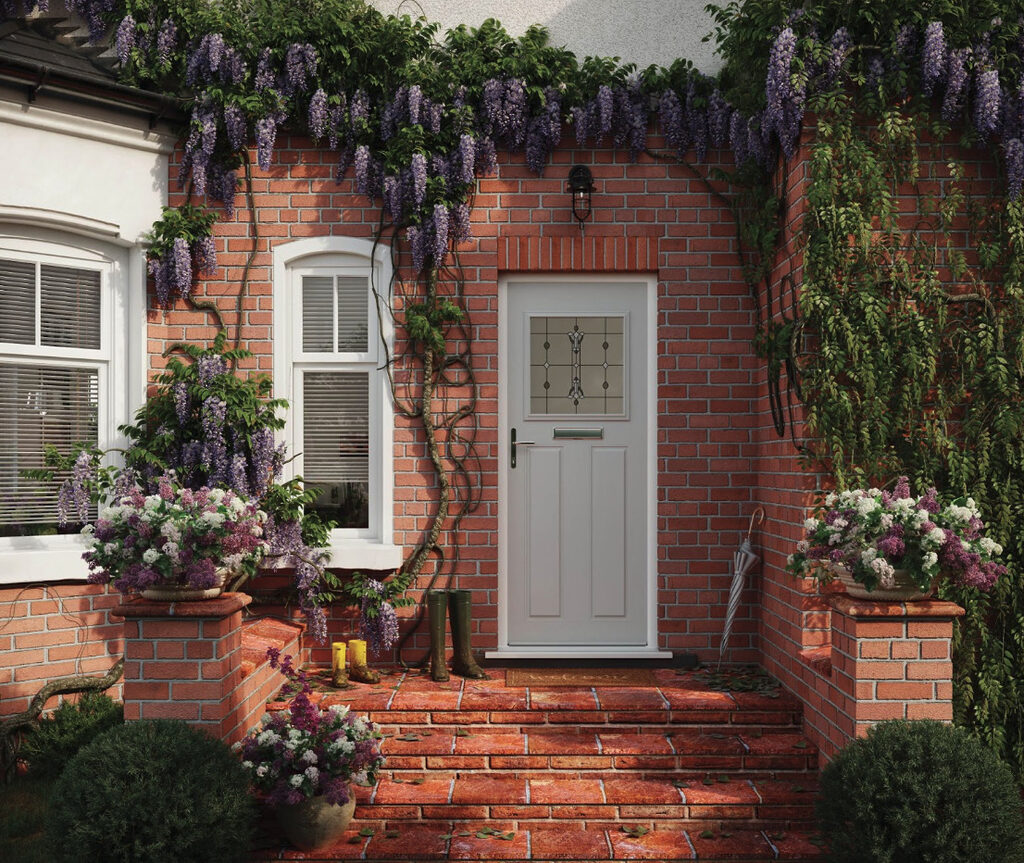 Comp Door composite doors are a popular choice for homeowners thanks to the many benefits they offer a home.
What is a Chamfered Edge?
Chamfered frames have gained popularity as a great companion for composite doors, offering a sleek aesthetic that harmonises with various architectural styles.
Featuring simple, straight edges, chamfered frames create a clean and contemporary appearance. They're the perfect option if you want to add a touch of visual interest, without overwhelming the overall design.
Beyond their aesthetic appeal, chamfered frames deliver practical advantages, including enhanced weather resistance and heightened security. These frames reduce the vulnerable surface area where moisture can infiltrate, providing protection against water damage and rot.
In summary, chamfered frames truly present as an intelligent and stylish option for most of the composite door styles.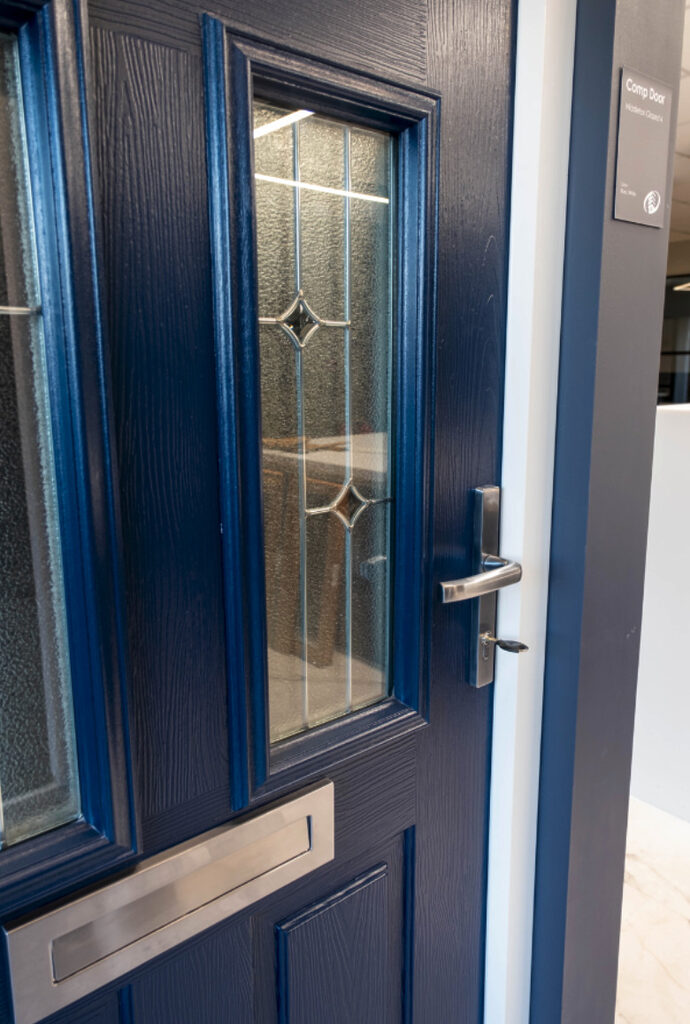 Here's an image from our showroom, featuring the Middleton Comp Door with a chamfered edge.
How is a Sculptured Edge different to Chamfered?
Instead of featuring a straight edge, sculptured frames offer a stunningly unique and charming design that has contributed to their growing popularity as an ideal choice for pairing with composite doors. With their classic, timeless style and graceful curves, sculptured frames add depth and dimension to any door they grace, helping it to stand out and instantly impress.
Beyond their undeniable visual charm, sculptured frames also offer exceptional strength and durability. Crafted to endure the harshest of weather conditions, they promise years of service with minimal maintenance.
Typically embraced in traditional settings or areas that call for a more decorative touch, sculptured frames stand as a testament to both form and function.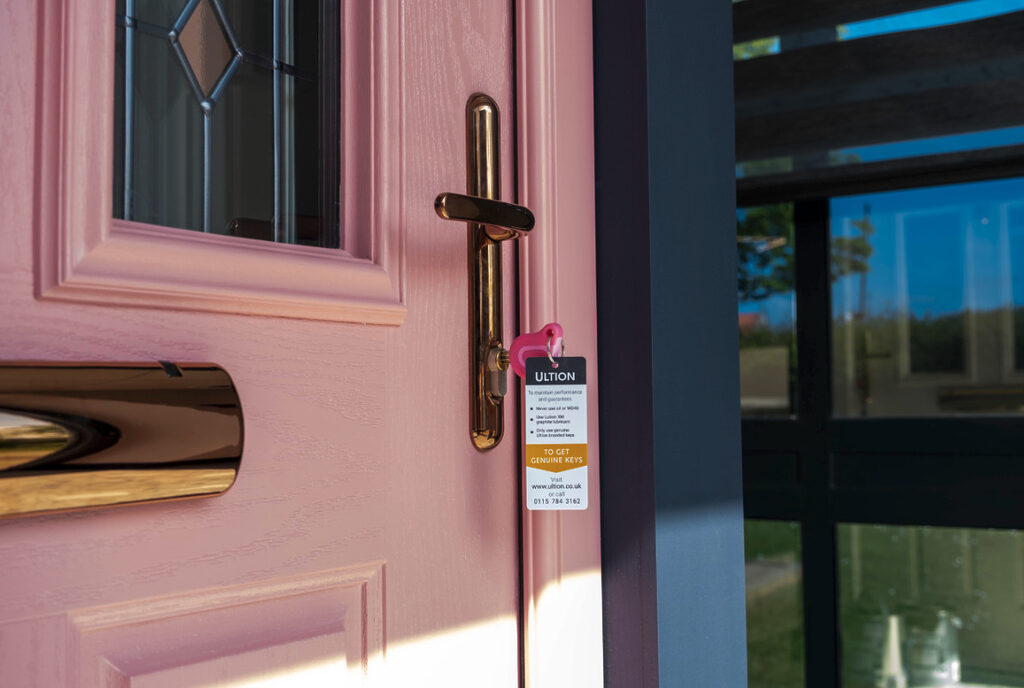 Here's another door from our Teesside showroom, showcasing the true beauty of a sculptured edge.
Chamfered vs Sculptured Frames: making the right decision
Both chamfered and sculptured frames offer the flexibility to be personalised to suit your composite door style. They come in a variety of appealing colours and finishes, ensuring you can select the perfect option that harmonises with the overall aesthetics of your home.
The choice between chamfered and sculptured frames ultimately boils down to personal preference. Chamfered frames embrace a modern and minimalist design, while sculptured frames embrace a much more traditional, decorative design as they introduce depth and dimension to the door.
Each frame type carries its own set of distinct advantages, contributing to the overall enhancement of your home's appearance.
We'd definitely recommend taking a look at various examples of doors with each type of frame before going ahead and making your decision.
If you're feeling a little unsure about which one to choose for your new front door, don't be afraid to contact our GFD Homes team for more information via 01642 309576 – they're always happy to help!
To start browsing our stunning collection of Comp Door composite doors, click here.
Faqs about Chamfered and Sculptured Frames
What are chamfered and sculptured frames and how do they differ from standard frames?
Chamfered frames feature a sleek, straight-edged profile, while sculptured frames boast a more decorative, curved profile. Both of these types of frames are chosen for their ability to enhance the aesthetics of the door and the surrounding area.
Standard frames are characterised by their unadorned, flat and straight-edged design, which prioritises functionality and practicality over decorative features.
Can I mix and match chamfered and sculptured frames for different doors in my home, or is it better to maintain a consistent style throughout?
Yes, you can mix and match chamfered and sculptured frames for different doors in your home if it aligns with your personal preferences and complements your overall interior design.
While maintaining a consistent style throughout your home can help create a cohesive look, mixing frame styles can add a unique touch and highlight the distinct character of each door.
It all depends on your personal taste and the type of aesthetic you want to achieve.
Do these frame styles have any impact on the energy efficiency of the door and home?
When it comes to energy efficiency, you'll be pleased to hear that neither frame style really has a direct impact on the energy efficiency of the door or the home.
Energy efficiency is more closely related to the quality of the door itself, type of glass, insulation and the overall installation. So, if you're in the process of getting a new door fitted make sure that both the door and frame is installed correctly to prevent drafts and help maintain energy efficiency.
Are chamfered and sculptured frames available in various colours and finishes?
For any doors in our Comp Door composite doors range, you can choose between a chamfered and sculptured frame, as well as having the option to choose from a certain selection of external frame colours and finishes.
As the selection of external frame colours you can choose from changes depending on the frame style you choose, head over to our Comp Door designer to see what colour options are available for each type of frame.
In terms of frame finishes, you can either choose between a white finish (this is a smooth finish and gives a plastic effect) or a white foiled finish (this gives more of a woodgrain effect).
How do I select either of the frame style options when making my order?
When you select the option to customise a Comp Door composite door on our GFD Homes website, you'll be taken to our online door designer where you'll be able to choose different options for your door, including colour, style, hardware and more. Here you'll see an option to choose the frame style you would like for your Comp Door.
If you need a little help when using our designer, feel free to give our team a call via 01642 309576.