In the realm of architectural design, roof lanterns have stood the test of time as an exquisite feature that infuses any space with a touch of grandeur and natural illumination. They serve as a stunning addition to an existing house or a feature as part of your plans for a new home design.
Roof Lanterns have the ability to offer many benefits to a home, including:
Helping to enhance the visual appeal of your property and adding to its overall aesthetics further.
Allowing more natural light into the room.
Giving you a sense of spaciousness for the area beneath.
Expanding the room's openness by increasing the amount of natural light available.
However, whilst they have many benefits, one of the main questions people ask first is how much they cost, especially with this feature widely known for not being cheap.
In this article, we'll delve into both the product costs and installation expenses, providing you with valuable insights to help you make more of an informed decision.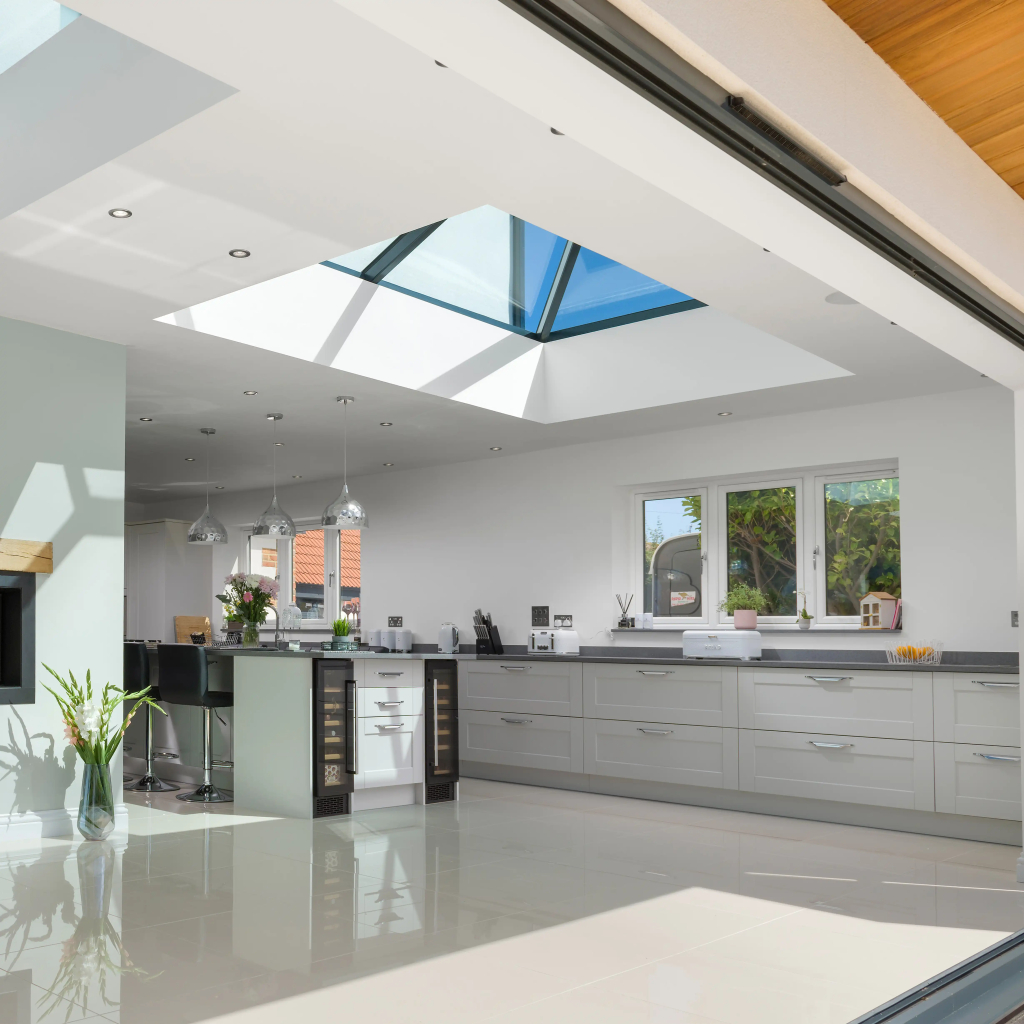 Our extremely popular Atlas Aluminium Roof Lanterns range has something for everyone
What are roof lanterns?
A roof lantern is a captivating architectural element mounted on top of a roof, typically in the form of a raised, glass-enclosed structure with a pyramid shaped design. Its primary purpose is to channel extensive amounts of natural light into the heart of a building, creating an unparalleled sense of brightness and openness.
One of the most significant advantages of roof lanterns is their ability to flood interiors with natural daylight. This not only enhances the aesthetics of the space but also positively impacts the occupants' well-being. The abundance of sunlight creates a cheerful and inviting atmosphere, improving mood and productivity, whilst reducing reliance on artificial lighting during daylight hours.
How much do roof lanterns cost?
Getting an exact figure for a roof lantern can be pretty difficult as what you pay will depend on a range of factors, all explained in the next section of the article; however, starting prices tend to be around the £1,000 mark and can go up to about £3,000.
Also, it's extremely important to understand that this range of pricing excludes the cost of installation and delivery. These two additional costs can vary depending on the type you go for and where you live. In London for example, you'll find that the installation prices are much dearer than up north.
We definitely recommend contacting a range of installers and suppliers, so you can get more of an accurate idea on what you'll be paying for the specific product you're interested in.
Roof lanterns are loved for their ability to flood the room with natural light.
What can affect the cost of roof lanterns?
As mentioned previously, the cost of an actual Roof Lantern will vary depending on a few factors and these are:
The type of material the roof lantern is made from
The size of the roof lantern
The style you're going for
Roof lantern materials?
A big price influencer is the size and material the roof lantern is made from.
Typically, roof lanterns come in a range of materials, the most popular being uPVC & aluminium.
You can purchase a uPVC roof lantern and get it fitted for about £950-£1700.
The most popular roof lantern material is aluminium as it's not too expensive, but also provides great quality and can be made with thinner struts that support the glass. If you choose a small aluminium roof lantern, you're probably looking at anything from roughly £855 to £2,000.
Roof lantern styles?
The style of the roof lantern can also affect the price too.
Here are the 3 main roof lantern styles in the market:
Octagonal Roof Lanterns: With an intricate and multi-faceted type of design, this roof lantern gives a regal dome effect with its omnidirectional light to bathe rooms.
Square Roof Lanterns: With a base square shaped, these roof lanterns can create a glazed pyramid structure in a much simpler style than the octagonal roof lantern. With a much steeper angular profile, this allows the lantern to boast its self cleaning feature.
Rectangular Roof Lanterns: This is the most popular roof lantern structure and offers a range of customisable lengths that can suit a range of rooms. With a similar angularity to square roof lanterns, rectangular roof lanterns are fantastic for creating a large path of light, as opposed to a certain highlighted area.
Whilst roof lanterns come in a range of sizes, many homeowners choose to alter the designs to help create that unique look. Thanks to modern technology, most designs allow for several forms of customisation, from the frames to the actual lantern pattern itself.
Don't forget to consider adding electric opening vents if you require extra ventilation in the room. These vents will fit between the rafters so you won't see them when looking at the lantern from underneath and can be operated with a pole or electrical remote/ wall switch.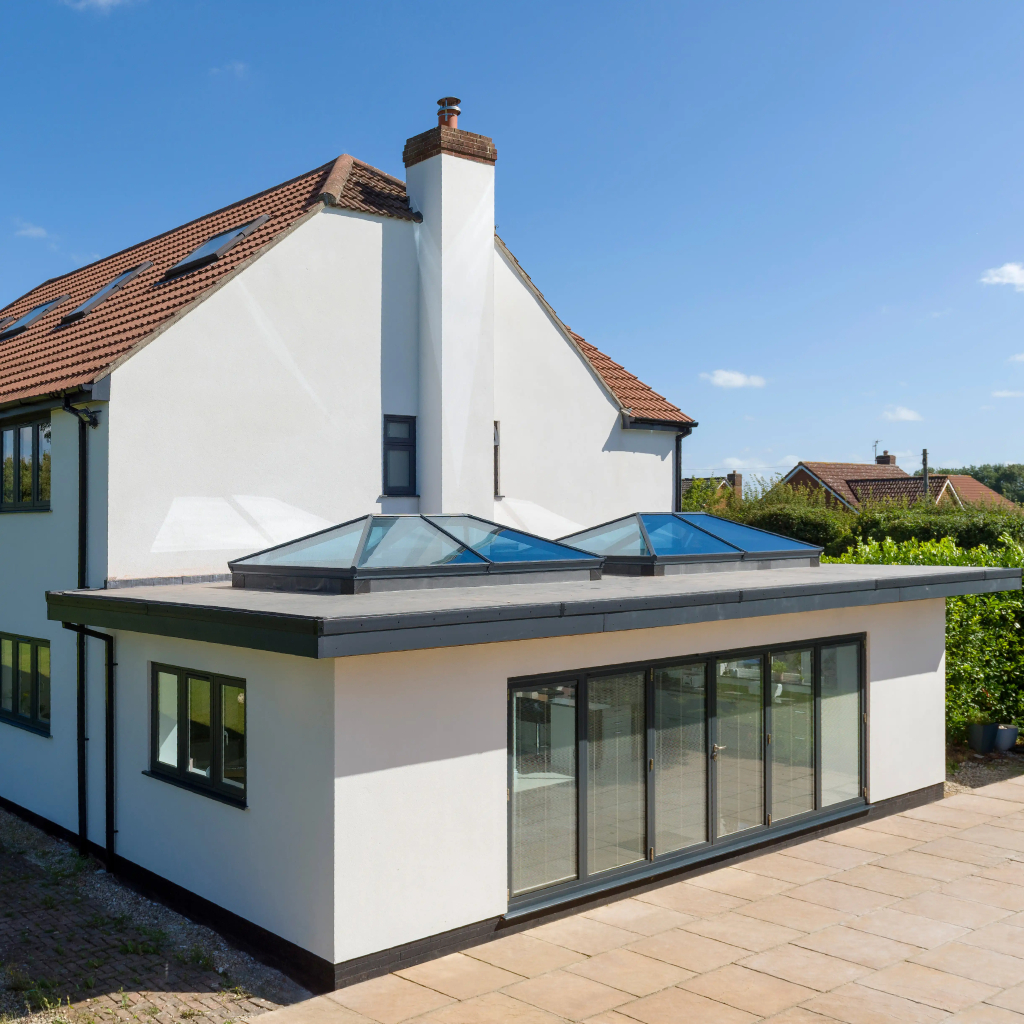 The Korniche slimline roof lantern adds a touch of warmth and elegancy to any home
How much do roof lanterns cost to install?
The more complex the style (by complex we mean more panes and sections that take longer to build), the more expensive the price will be and with labour costs varying across the country, the installation price will solely depend on where you live.
To help give you a rough idea of costs, for an installation of an average size roof lantern in the UK, you're looking at an average cost of £1,700- £3,100.
Here at GFD Homes, we're proud to offer a very popular range of roof lanterns, all with a 10 year guarantee for peace of mind. If you'd like to take a look at our website, click here.
To speak to a member of the team, please call us on 01642 309576, we're happy to help!
FAQs about the cost of roof lanterns
How much does a roof lantern cost in the UK?
If you're thinking about buying a roof lantern in the UK, you're looking at a cost of anything from around £400 to £3000 and this excludes installation & delivery costs.
What roof lantern size should I choose?
The roof lantern size you should choose all depends on your specific needs and requirements, as well as the amount of roof available.
If you need some guidance on what size to go for or have some questions, give our friendly team a call on 01642 309576 and they'll be happy to help.
Are roof lanterns energy efficient?
Roof lanterns are generally highly energy-efficient, thanks to their expertly crafted modern design and construction. They're great at retaining warmth and allowing sunlight into the home to naturally warm up the space, helping homeowners to reduce their heating costs.
How much do roof lanterns weigh?
Usually, roof lanterns can be pretty heavy objects to carry, which is why you'll need a professional installation team to install one in your home. In terms of the specific weight of a lantern, it all depends on the the amount of glass panels used to make the lantern. For example, larger lanterns that have a number of panels can easily weigh up to 300kg, with much smaller lanterns weighing around 100kg.
The weight of the roof lantern will vary based on the quantity of glass used and the casing material.
If you have any concerns over the roof lantern weight, feel free to get in touch with our team for more information.
Do roof lanterns need to be regularly cleaned?
Like any glass structure in your home, it's advised to clean them now and again to ensure that they maintain their pristine appearance.
To clean a roof lantern, you'll need an extendable washing pole/ sturdy ladder (along with someone to hold it in place), a non-abrasive sponge, glass cleaner and war soapy water. Then you can go ahead and wipe the glass. We wouldn't recommend using any harsh chemicals.
However, If you choose the right Roof Lantern, you won't need to worry about cleaning it every few months. Here at GFD Homes, the tint options we provide include Self-Cleaning Glass, meaning the specialist glass comes with a coating engineered to allow light and rainwater to break down and wash away dirt or grime that has built up on the surface.
Can I choose to install blinds on my roof lantern?
Despite common misconceptions, you do have a choice when it comes to roof lantern coverings. In lieu of traditional blinds, you can opt for a retractable screen. Unlike roof lantern blinds that cover the glass, these screens are installed beneath the entire structure and usually pretty straightforward to set up.
If you have any concerns about security or blocking out the light during the evening, roof lantern blinds can prove to be exceptionally advantageous.
Do roof lanterns add value to your property?
Roof lanterns have the ability to positively impact your home's energy efficiency and also are an attractive feature in the home. Due to this, they can increase your properties value by up to 10%!
What is the difference between roof lanterns and roof lights?
The difference between roof lanterns and roof lights is that with a roof lantern, you'll notice that they're better at channelling light from all angles and also manage to make the room feel a lot bigger thanks to their design.
With roof lights, they sit low to the roof, meaning that when you're standing outside the property, you won't notice it. Also, whilst they can also allow for more natural light into the room, you're unable to open them to let air inside, whereas you can add vents to a roof lanterns so it can open to allow air inside the property.