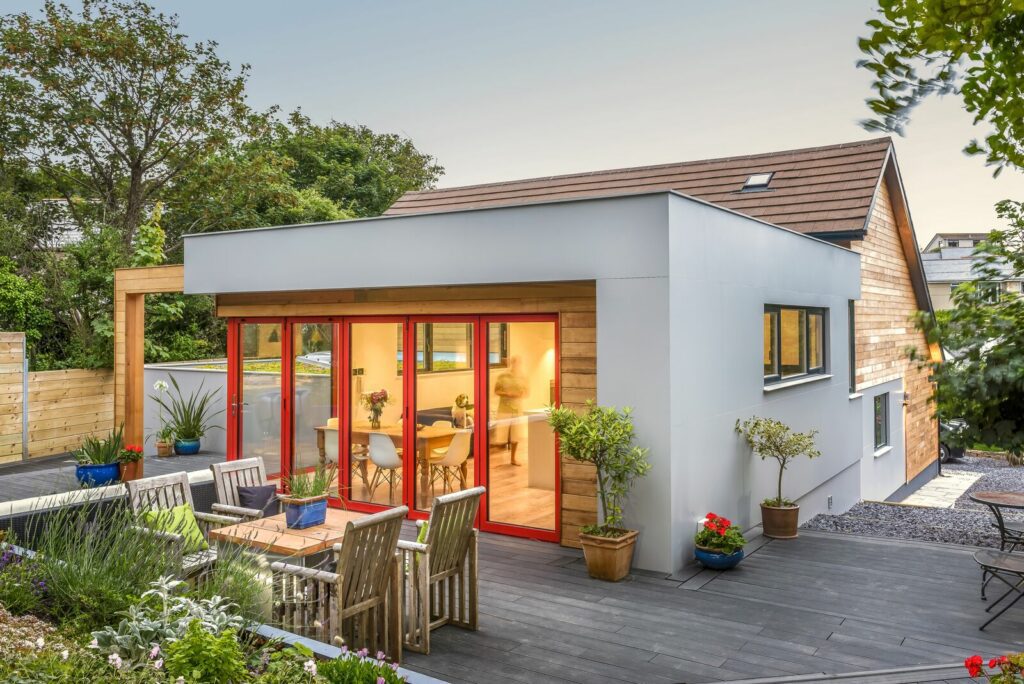 With spring upon us and summer around the corner, now is the perfect time to turn your attention to your garden and outdoor space. As the weather warms up, you can host family barbecues, parties or even just enjoy time outside with your friends after a long day at work. Making the most of the sunshine might mean it's time to upgrade your garden with decking for a relaxing, entertaining area. Decking is an easy way to set up your garden furniture and lighting without damaging your lawn.

When you are busy, installing decking might seem like an inconvenience you simply do not have time for. Traditional wooden decking requires varnishing, sealing and painting and will probably need this update every year to maintain it. Composite decking is an innovative outdoor living solution as it does not come with the same headaches as wooden decking. You can find composite decking to suit every garden or occasion, so here is our guide to finding the best composite decking for you.
What is the difference between composite and wooden decking?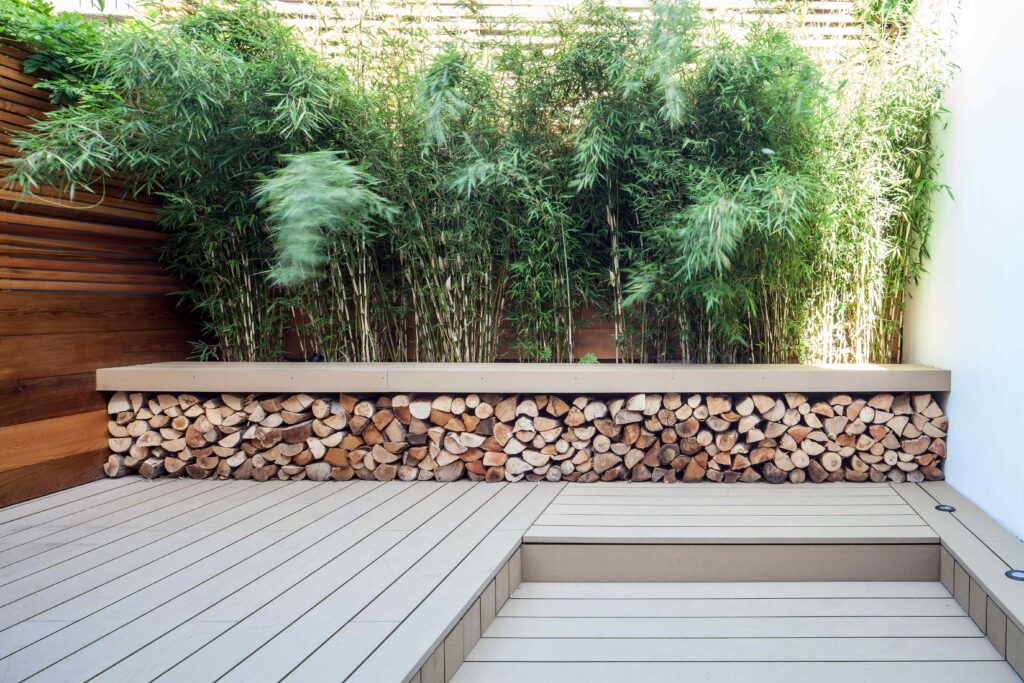 Wooden decking is a traditional way to create an entertaining space in your garden. However, it is not without its headaches. As with any wood exposed to varying weather conditions, it needs to be protected and maintained against rain and snow and will likely need a fresh seal and varnish every year to be ready for the Summer.

Composite decking is much easier to keep looking fresh. Composite is a mix of wood and plastic that does not need sealing, staining or painting. Cladco's composite decking is made from 60% recycled hardwood fibres and 40% recycled polythene with bonding agent, additives and tint. As it uses 100% recycled materials, it is more eco-friendly than traditional wooden decking. It also has a reduced risk of slipping compared to timber, making it safer for children and pets. Another bonus is that it's scratch-resistant, so if you do have pets, they will not damage the surface of your decking with their claws.
What type of composite decking is best for me?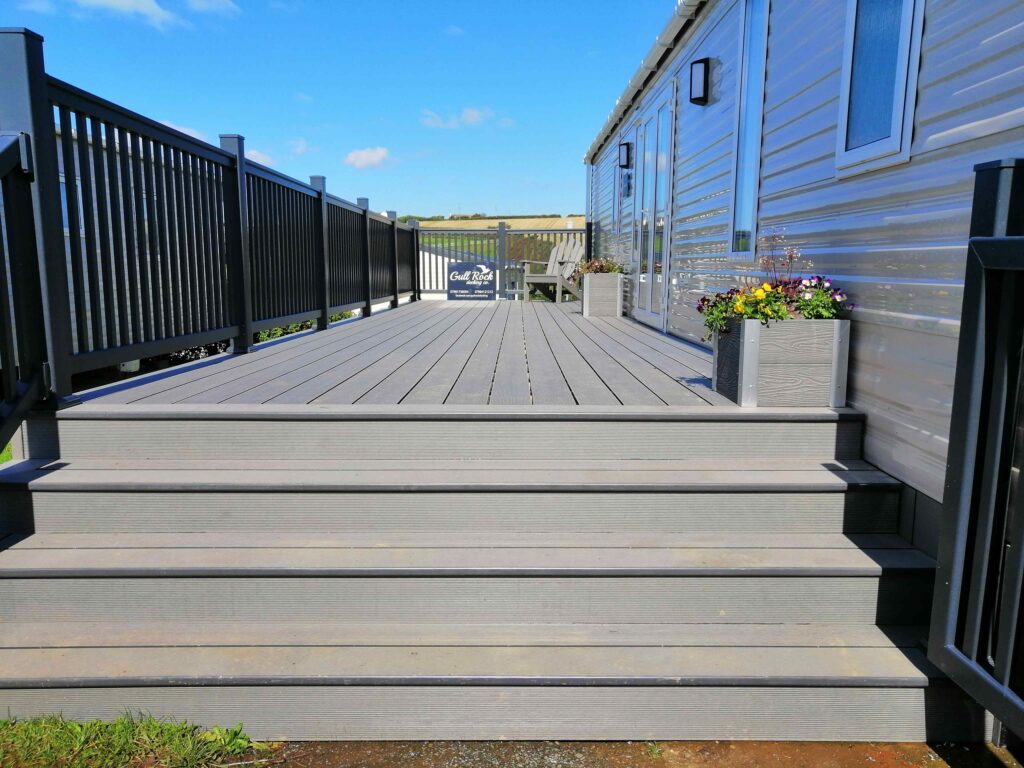 Cladco provides two main types of composite decking: hollow and solid.

Solid decking has greater strength and sound absorption because the inside of the plank is completely filled. It is recommended for commercial applications, frequent use and if you have particularly heavy garden furniture or loads to put on it. The side that needs to be facing upward has narrow spaced grooves that are a slip-preventative measure. The reverse has a completely flat surface for easy differentiation during installation. You can order them in a 2.4m length or 4m length, depending on the size of your decking space. Each board is 150mm wide and 25mm thick.

Hollow decking is perfect for light residential use. It has a honeycomb structure to make it lightweight, which makes it easier to install. It will not absorb sound as well as the solid option because it is hollow on the inside. As with the solid decking, the side that faces upwards has narrow grooves, and the reverse side has wide-spaced grooves. It comes in the same length options of either 2.4m or 4m and is the same specification at 150mm wide and 25mm thick. Cladco also offers hollow decking with a woodgrain effect instead of narrow grooves. This is ideal if you still want an authentic timber aesthetic without the ongoing maintenance.

Bullnose boards are a solid decking option that provides a professional finish to your space. They have high-end frame detailing on the edge to complete the look. These are the same specification as the other boards but can only be ordered in 4m lengths.
Why choose Cladco decking?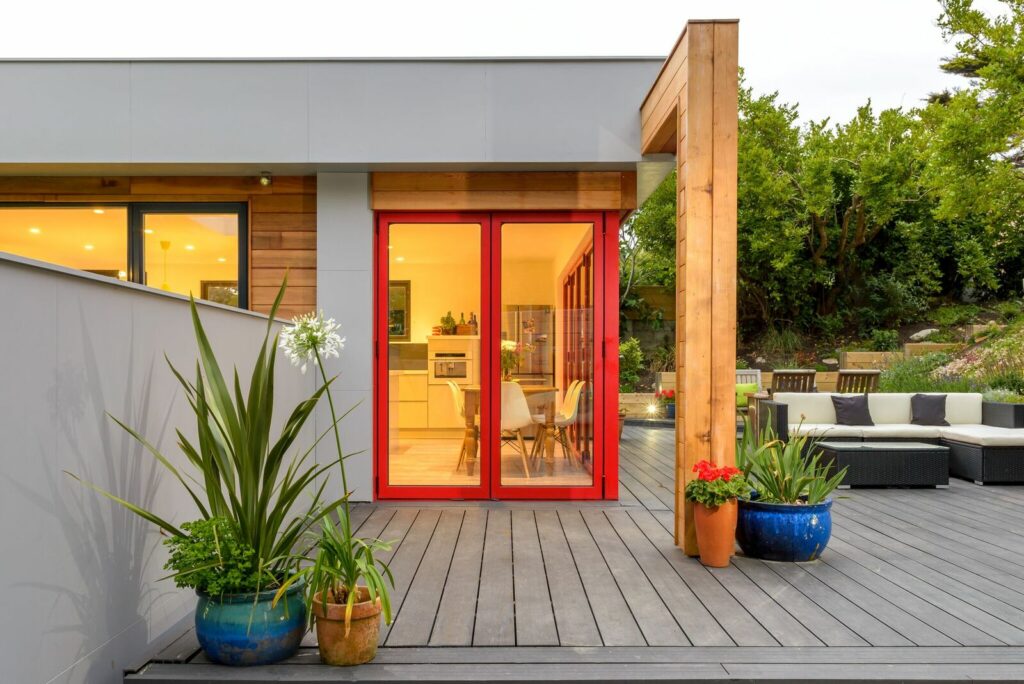 Cladco has taken into account all the usual bugbears of wooden decking and provided a solution with their composite range. They want to make sure you can spend more time enjoying your decking and your garden than having to do menial maintenance to get it ready.

Composite decking is incredibly low maintenance. It is designed for durability and regular, hard-wearing use. Unlike timber decking, it is splinter, rot and warp-resistant to keep it looking fresh for years to come. In fact, Cladco provides a 10-year guarantee on their composite decking. This protects against any material or workmanship defects during the manufacturing process to ensure when it arrives at your home, it is of the highest quality and you will not be disappointed.

Every board is water-resistant and has a low water absorption rate so that it will not attract mould or fungus that could damage the decking's integrity. The intelligently designed narrow traction grooves are slip-resistant as well, making them a safe alternative to timber decking.

Cladco's composite decking also has an anti-UV agent to resist colour fade and is resistant to attack by insects. All of this is for your peace of mind that your decking will hold up to different weather conditions and common issues found with wooden decks.
How do I add a touch of my personality to my decking?

Cladco offer 8 different colourways for their composite decking, giving you more choice over the design. This can add a splash of personality, or you can find the best colour to suit your existing garden furniture and features. Unlike wooden decking, you will not have to repaint the colour every year to keep it looking fresh and ready to use.

You can choose from charcoal, teak, light grey, ivory, olive green, coffee, redwood and stone grey. This is a great mix that has something for everyone. The wooden colours will suit if you are looking for a more traditional addition to your garden. For something a little more modern, the greys and whites will look best, and the more colourful options can become a key design feature for your outdoor space.

To avoid any colour variations between planks, it is advisable to measure your space and order all the required boards at the same time, in the same lengths.

You can order a sample pack today if you want to check the colour tint against your garden before you put in your full purchase.